SAAKASHVILI-YUSHCHENKO "BORJOMI DECLARATION" BROADENS EURO-ATLANTIC INTEGRATION VISION
Publication: Eurasia Daily Monitor Volume: 2 Issue: 159
By: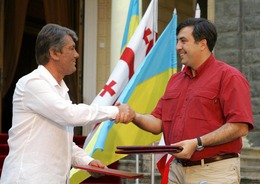 On August 12 in Borjomi, Georgia, Presidents Mikheil Saakashvili of Georgia and Viktor Yushchenko of Ukraine signed a declaration broadening the horizon of European and Euro-Atlantic integration to the entire "Baltic-Black Sea-Caspian" area, and called on the leaders of all countries within this area who share that vision to create a Community of Democratic Choice. Saakashvili and Yushchenko propose holding a founding summit of the heads of state of this Community this autumn in Ukraine.
In his remarks at the signing ceremony, Saakashvili noted that the Borjomi spa resort had in its time been frequented by members of Russia's imperial family and later by leading figures in the Soviet hierarchy. "Not even in their worst nightmares could they have imagined that an independent Georgia and independent Ukraine would exist, let alone sign in this very place a declaration on promoting freedom," he commented (Imedi TV, August 12). As if to accentuate the symbolism, Russian forces had only days earlier passed by Borjomi while withdrawing from Georgia to Russia.
The Borjomi Declaration notes that the Baltic-Black Sea-Caspian area, "which belongs in Europe," has a unique potential to offer resources to Europe in terms of human resources, energy supplies, and access from Europe to Asia. Thus, democracy and stability in the Baltic-Black Sea-Caspian area is a condition to stability and security in Europe as a whole. A Community of Democratic Choice in this area can become a major factor in "freeing our region from all remaining lines of division, from violations of human rights, from frozen conflicts, opening a new era of democracy" in this area in the interests of "the whole of Europe, from the Atlantic to the Caspian Sea."
Pledging to "conduct policies in Ukraine and Georgia based on those principles," Yushchenko and Saakashvili jointly invited the leaders of all the countries in the region to become co-founders of the Community of Democratic Choice, with a view to turning the Baltic-Black Sea-Caspian area into a "fully integrated region of Europe and of the Atlantic community." The European Union and Russia (both referenced as "close neighbors" to the area in the document) and the United States (defined as exponent of democracy) are invited to endorse this regional undertaking in the role of observers.
The declaration is cautiously formulated so as to steer clear of irritating Russia and to avoid any suggestion that some countries in the region are being asked to choose between Russia and the West. For similar reasons, but also for political consensus building in the region, the document refrains from mentioning NATO or even anti-terrorism (although many countries in the region are NATO members or aspirants and anti-terrorism coalition members, some are not). Thus, the document's emphasis falls overwhelmingly on democratic values.
Saakashvili had initially proposed holding the regional summit in Yalta to underscore the demise of the Yalta system of division of Europe and the need to consolidate freedom in what used to be Moscow's sphere of influence ("Time for a Return to Yalta," Washington Post, May 10). The Ukrainian-Georgian declaration, however, does not mention Yalta either for symbolism (as Saakashvili did with reference to Borjomi in his own remarks) or as a possible venue for the proposed regional summit. This caution clearly reflects the Ukrainian leadership's concern to improve its relations with Russia during the parliamentary election campaign, which will be in full swing in Ukraine by the time the summit convenes there.
Rather than hosting a Yalta-demise summit in Yalta, therefore, Yuschenko announced in Borjomi that he would soon be hosting a Soviet-nostalgia event with Russian President Vladimir Putin in Crimea to celebrate the 80th anniversary of the founding of the Soviet "pioneers" camp in Artek (Imedi TV, August 12). The Community of Democratic Choice summit will, in any case, also mark an "end to the history of division in Europe, of domination by force and by fear, and mark a new beginning of neighborly relations based on mutual respect, confidence, transparency" (www.georgia.president.ge).