Saakashvili's Party in Georgia Splits in Two
Publication: Eurasia Daily Monitor Volume: 14 Issue: 2
By: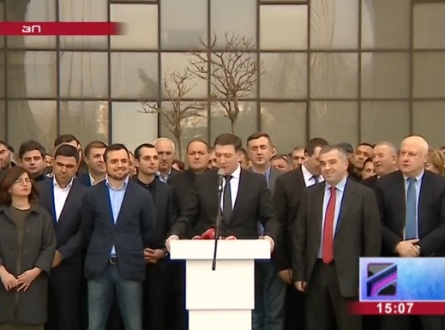 In a January 12 press briefing held at the United National Movement's (UNM) central offices, the majority of the party's leaders and most of its popularly recognizable members collectively declared their decision to leave UNM. The defectors from Georgia's largest opposition party said they lost all hope that UNM's founder, former Georgian president (2004–2013) Mikheil Saakashvili, or his supporters could constructively resolve the party's past and future internal disputes (Civil Georgia, January 12).
The sharpest rebuke came from top UNM official and former Tbilisi mayor Gigi Ugulava, who just a week earlier was released from prison on appeal. He had been serving a long sentence on charges of employing party activists in Tbilisi's municipal structures while mayor (Civil Georgia, January 6). "One person is responsible for dismantling the party—the person who established the party," Ugulava stated, referring to Saakashvili. The UNM founder "no longer radiates leadership," Ugulava added. Moreover, he renounced Saakashvili's repeated calls for UNM to not participate in elections—which Saakashvili asserted were being falsified by the ruling Georgian Dream–Democratic Georgia (GDDG)—and for his party's members to give up their seats in the legislature following the disappointing October 8, 2016, parliamentary elections (see EDM, October 27, 31, 2016). "The party that rejects elections as a method of political struggle is no longer a party—and yes, we will prepare for municipal elections," Ugulava declared (Civil Georgia, January 12).
The former president remains abroad, in Ukraine. Until last November, Saakashvili served as the governor of Odesa province, and he recently established a new Ukrainian opposition party (see EDM, November 14, 16). Appearing in live video links beamed into Georgia, Saakashvili repeatedly criticized his Georgian companions-in-arms willing to participate in elections and retain their seats in parliament (almost all have). He has even accused them of "collusion" with "the Russian oligarch"—as he often calls billionaire Bidzina Ivanishvili, the founder of Georgian Dream.
However, disagreements over participation in parliament as well as divergent assessments of Georgia's democratic process or prospects for a peaceful power transition were not the only reasons for UNM's split. In fact, particularly after Saakashvili's departure from Georgia, most UNM party leaders had been unsuccessfully urging him to scale back his active intervention in domestic political life. Upon leaving the country in 2013 and taking up Ukrainian citizenship to work in that country's government, Saakashvili was stripped of his Georgian citizenship. Georgian law expressly forbids foreign nationals from engaging in political activities inside Georgia (Georgiatoday.ge, December 4, 2015).
For this reason, the position of UNM party chairman has remained vacant. But all attempts by the party leadership to elect a new head were met with active resistance from Saakashvili, who alleged that the process was designed to push him out (Kommersant, January 12). Most recently, Saakashvili and his remaining supporters within UNM blocked a suggestion to hold a small party congress to resolve the chairmanship issue (Civil Georgia, January 17). Instead, a large forum of 7,000 delegates—most of whom still consider "Misha" (Saakashvili) to be the party's "main resource"—will gather in Tbilisi on January 20.
Saakashvili faces charges of four criminal counts of embezzlement of public funds and abuse of office, which were levied against him by the Georgian Dream government. As such, political analyst Mikhail Getsadze argues, the former president believes he will never be able to return to power in Georgia through regular elections. Rather, he must once again lead a revolution (Ghn.ge, November 11, 2016). However, the vast majority of UNM deputies believe this approach is undemocratic and dangerous.
Soon after the public UNM split, Mikheil Saakashvili wrote on his Facebook page, "The rule of losers is over… Our people showed their strength and did not allow the implementation Ivanishvili's plan to distance me from the United National Movement and take over [the party]." He maintained that despite all the defections, the true strength of UNM would be visible at the January 20 party congress: "The party is as united and as strong as it has ever been in the last four years, since tens of thousands of our activists regained control over the party" (Civil Georgia, January 12).
Former speaker of parliament David Bakradze categorically disagrees with such optimistic estimates. Notably, the party leadership had tried to nominate him for the post of UNM's chairman instead of Saakashvili. But having defected, Bakradze is now officially helping to establish a new opposition party under the name "European Georgia" (Civil Georgia, January 13), though he has emphasized that the struggle against "Ivanishvili's regime" will continue. He promised that his faction would cooperate with UNM against the ruling GDDG and declared as goals ousting the GDDG government through the democratic process and bringing back "development and progress to the country" (Civil Georgia, January 12).
Following its split, UNM will be represented by only six members in parliament, while the newly formed European Georgia faction will have 21 sitting legislators. Gigi Ugulava is considered the head of the new opposition party. In 2012, he was regarded as the most probable successor to Saakashvili as president of Georgia; but later, serious disagreements arose between them. Ugulava himself makes no secret of the fact that he was ready to inject some intra-party competition to UNM, which Saakashvili rejected. According to Ugulava, the former Georgian president refused to recognize the new political realities on the ground following UNM's decisive electoral defeat in 2012 (Ipress.ge, January 12).
At the upcoming UNM congress, Saakashvili's supporters will face no more obstacles to maintaining the status quo: the post of chairman will stay vacant, while Saakashvili will remain the party's informal leader. Saakashvili will continue to direct UNM's activities from Ukraine, where he will simultaneously lead his Ukrainian opposition party, "The Union of New Forces," and act as an aggressive critic of President Petro Poroshenko (RFE/RL, November 11, 2016).
Most Georgian experts are convinced that UNM's division will only weaken the democratic forces in the country. Arguably, each of the spun-off "factions" of UNM will be politically and electorally weaker than the former single, united party. "Unfortunately, Georgian elite did not show the ability to negotiate and generally failed to demonstrate the precious culture of compromise," according to political scientist George Lezhava. In his opinion, a deficient political culture and the prevalence of personal or group interests have not only undermined UNM but also damaged the country itself. Lezhava contended that Georgian voters are unlikely to reward the fracturing of UNM at the ballot box, thus further damaging the country's pro-Western political forces (Ghn.ge, January 12).