Scandal in the Ukrainian Security Service: Last Breath of the Old Political System?
Publication: Eurasia Daily Monitor Volume: 12 Issue: 116
By: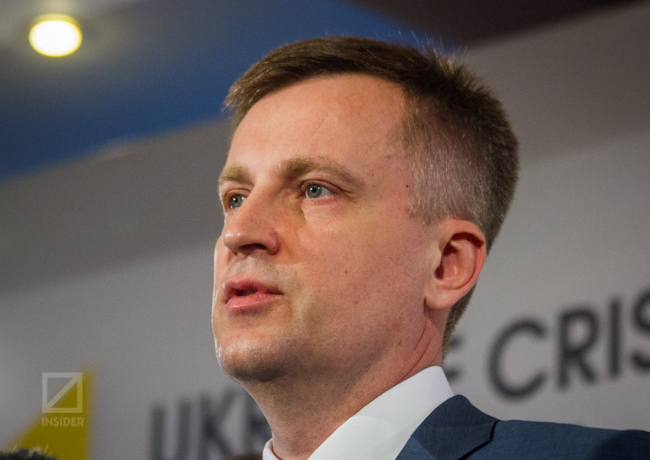 On June 18, 248 Ukrainian lawmakers—out of the 422 present in the Verkhovna Rada (parliament)—approved President Petro Poroshenko's request to fire Valentyn Nalyvaychenko as head of the Security Service of Ukraine (SBU) amid rising public criticism and top officials' growing recriminations over the government's inability to investigate and punish multibillion-dollar corruption and crime (Pravda.com.ua, June 18). The Rada's vote has seemingly concluded the first episode in a long saga of horse trading and backroom intrigues at the top of the Ukrainian government, which is now becoming public.
The story started in the first half of June 2015, when the SBU chief decided to sack several top officials (including all the regional heads) of the SBU's Department K (tasked with fighting corruption and organized crime) without permission from the presidential administration (Pravda.com.ua, June 12). "The avalanche of corruption, which disturbs the public, gives the right to the SBU chief to carry out a restart," declared Vasiliy Wolf, the head of SBU's Central Investigation Department (Ukrinform, June 12). However, the suspended officials were Poroshenko's men. For instance, Yuriy Artyukhov, the head of Department K, who was accused of being involved in corrupt schemes, is associated with Borys Lozhkin, who currently directs the presidential administration (Theinsider.ua, June 17).
On June 15, Nalyvaychenko publicly accused former Deputy Prosecutor General Anatoliy Danylenko of covering up cases of corruption and alleged Danylenko was even a de-facto co-owner of BRSM-Nafta (Pravda.com.ua, June 15)—the oil firm near Kyiv, which has become notorious for the June 10 fire at its oil depot that killed six people and resulted in a local ecological disaster (Mvs.gov.ua, June 10). The SBU head even announced Danylenko's arrest, but was instead interrogated himself by the Prosecutor General's office and thus cancelled his planned visit to the United States. Furthermore, President Poroshenko asked for his parliamentary faction's support to dismiss the SBU boss, instead offering him the post of the head of the Foreign Intelligence Service.
Shocked by the scandal provoked by Nalyvaychenko's accusations against Poroshenko's political allies, the president planned to dismiss Nalyvaychenko already on June 16 (Pravda.com.ua, June 15), but failed to mobilize the parliament's support. Poroshenko claimed key factors behind his decision were Nalyvaychenko's low efficiency in combating corruption and smuggling (Pravda.com.ua, June 15).
On June 17, Nalyvaychenko attributed his possible sacking to the Kremlin's alleged desire to get rid of him. He added that the Kremlin also wanted Ukrainian Prime Minister Arseniy Yatsenyuk to be fired, citing information obtained by the SBU's counter-intelligence department (Lb.ua, June 16). That allegation apparently had no effect on the premier, however, as his People's Front party backed Nalyvaychenko's sacking the very next day. So did Nalyvaychenko's fellow members of Kyiv Mayor Vitaly Klitscho's UDAR party. Klitschko had allegedly agreed to support Nalyvaychenko's dismissal in exchange for introducing single-round mayoral elections and having his candidate appointed as the city's top prosecutor (Nv.ua, June 18).
Instead, Nalyvaychenko unexpectedly enjoyed support from Ihor Kolomoisky's newly forming UKROP faction, whose members used to accuse SBU officials of running a protection racket for smuggling goods into Russian-occupied territory (Lb.ua, March 23).
Nalyvaychenko's dismissal was accompanied and followed by scandalous rumors and media speculations.
Thus, Serhiy Leshchenko, a prominent investigative journalist and member of Poroshenko's faction, charged Nalyvaychenko with being a protégé of Ukrainian tycoon Dmytro Firtash. Firtash had co-owned RosUkrEnergo, the intermediary that flourished by supplying Russian natural gas to Ukraine in 2006–2010—while Nalyvaychenko was running the SBU for the first time (Pravda.com.ua, June 16). Other legislators believed that by firing Nalyvaychenko, Poroshenko was attempting to break his alleged links with Firtash, who revealed his cooperation with top-rank Ukrainian politicians, including Poroshenko and Klitschko, while being questioned by a Vienna court (Zn.ua, April 30). Nalyvaychenko himself has denied any ties with oligarchs. "All accusations that were made about any links to RosUkrEnergo and Firtash were refuted by me a long time ago, including on March 17, 2009, in Parliament," he said (Lb.ua, June 16).
In fact, Nalyvaychenko's resignation exposed similar problems at other law enforcement agencies—the Prosecutor General's Office and the Ministry of Interior.
Oleh Berezyuk, the head of the United Self-Help (Samopomich) parliamentary faction, noted that Nalyvaychenko had provided information on the incompetence of other law enforcement agencies. The SBU had submitted data on major criminal investigations to other agencies, but no progress was made (Censor.net.ua, June 17). And Pavlo Kishkar, a United Self-Help member, said that almost no cases against former allies of Viktor Yanukovych had been sent to court. The SBU, prosecutors and the interior ministry have also faced criticism for failing to prevent the escape of Yanukovych's ally and parliamentarian Serhiy Klyuyev earlier this month.
Following his dismissal, Nalyvaychenko declared his readiness to enter politics (Obozrevatel.com, June 18). According to Taras Berezovets, the head of the political consulting firm Berta Communications, Nalyvaychenko may become a competitor to Klitschko in their UDAR party, launch his own political project or head a political project linked to Kolomoisky and the UKROP faction (Facebook.com/taras.berezovets, accessed June 22). Some experts even ascribe presidential ambitions to the former SBU boss (Theinsider.ua, June 18). "He will be positioned as a 'European Putin'—an intelligence officer with a European attitude and a strongman," Berezovets said.
Meanwhile, Nalyvaychenko's would-be replacement at the top of the SBU (Vasyl Grytsak, the agency's current first deputy head, or Andriy Taranov, the presidential administration's deputy head, both fully loyal to Poroshenko) will almost certainly not be an independent political figure. Lawmaker Yegor Firsov, UDAR's chairman in Donetsk region, believes that, consequently, the Security Service will work with zero efficiency, just like the Prosecutor General's Office, (Facenews.ua, June 19).
Political analyst Viktor Nebozhenko argues that the Poroshenko-Nalyvaychenko stand-off is not personal, but a political conflict between government officials with two different approaches to executing their services: One approach means following the constitution and statutory orders, while the other one implies cronyism and manual control over the law-enforcement agencies, just as under the Yanukovych regime (Deutsche Welle–Russian service, June 16).
"The year and a half since the Maidan has not seen the most important thing: the creation of dramatically new political institutions capable of dumping the old party scene into the past," wrote publicist Leonid Shvets (Focus.ua, June 16). What observers are witnessing now is, in his opinion, the last breath of the political beast created during former president Leonid Kuchma's era (1994–2004) but that has been wasting away since then.
The sooner this political beast can be replaced with an accountable democratic system, the sooner Ukraine can develop into a healthy European country.