Saakashvili Grapples With Daunting Odds in Ukraine's Odesa
Publication: Eurasia Daily Monitor Volume: 12 Issue: 116
By: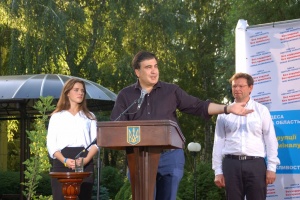 Three weeks ago, Ukrainian President Petro Poroshenko appointed Georgia's former president, Mikheil Saakashvili, as governor of Ukraine's Odesa province, with a dual mission: to jump-start reforms based on his experience in reforming Georgia, and to consolidate Ukrainian control in a territory potentially targeted by Russia. Saakashvilli's Odesa mission entails launching reforms in one of Ukraine's most impoverished and most mal-administered provinces, overturning that status quo, without, however, triggering a backlash from vested interests that could destabilize the province and facilitate Russian interference. The Ukrainian leadership in Kyiv needs some demonstrable, early successes on reforms in Odesa to be emulated in other parts of Ukraine (see EDM, June 2, 4).
This province is deeply stagnant economically despite its potential to develop; it is intractably complex politically and is prey to a proverbial culture of corruption in the administration and business at all levels. Yet, Saakashvili is mandated to turn Odesa province into the foremost testing ground for reforms in Ukraine. Given Saakashvili's role with his team in the transformation of the Georgian state, expectations are high for a repeat performance in Odesa. Similar expectations have inspired the Ukrainian government to recruit members of Saakashvili's Georgian team for government posts in Kyiv (see EDM, June 5).
Concurrently with his gubernatorial position, Saakashvili continues serving as chairman of the International Advisory Council on Reforms in Ukraine, as appointed by President Poroshenko in February. Furthermore, on June 12, Ukraine's Economic Development Minister Aivaras Abromavicius (Lithuanian liberal economist, recently naturalized in Ukraine) appointed Saakashvili as chairman of a newly created Council for the Oversight of State-Owned Enterprises. Abromavicius is a proponent of privatization and deregulation, in tune with Georgia's economic reforms of the Saakashvili era. The Oversight Council is an international body that proposes to rejuvenate the managements of Ukrainian state enterprises through competitive appointments and expedite the credible auditing of such enterprises with a view to their possible privatization. The Odesa Port Plant, flagship of Ukraine's chemical industry, tops the list of state enterprises to be privatized (Unian, Ukrinform, June 12).
Also on June 12, Gia Lortkipanidze was appointed as head of the Ukrainian Ministry of Interior's Main Directorate in Odesa province (chief of police). Lortkipanidze had previously served as a Georgian police general and deputy minister of internal affairs during Saakashvili's presidency. Ukraine's Internal Affairs Minister, Arsen Avakov, assigned Lortkipanidze to Odesa on Saakashvili's recommendation and with Poroshenko's prior consent. Odesa is expected to become the next city and province, after Kyiv, to introduce the new police patrol service, designed by First Deputy Interior Minister Ekaterine Zguladze in Kyiv, on the model she had previously applied in the same ministerial capacity in Georgia (Ukrinform, UNIAN, June 12).
Yet, even with Kyiv's political backing, Saakashvili lacks the instruments that were available to him in Georgia to carry out reforms by dispensation from above. Ukraine's legal and administrative system circumscribes the remit of the executive branch in the provinces. The coalition nature of the government in Kyiv, reproduced on the province level, further complicates decision-making and implementation. For example, governor Saakashvili cannot dismiss, appoint, or hand down orders to customs, tax, transportation, regulatory agencies' officials, or the prosecutors in the province. Those are subordinated to various Kyiv ministries and agencies, with their various party-political affiliations. And while he holds a personal mandate from the Ukrainian president, Saakashvili does not hold a popular electoral mandate as he did in Georgia.
As governor, Saakashvili has no control over local elective bodies, such as the Provincial Council and mayors' offices—which, in Odesa, are replete with holdovers from the former Party of Regions and corrupt interest groups averse to reforms. In parallel with these formal institutions, multiple informal power brokers divide the turf among themselves locally. Neither the governor nor the president backing him from Kyiv possess the "power vertical" mechanism, necessary to push through the reforms and indeed to ensure state coherence. This was a sine qua non prerequisite to Georgia's reforms in the Saakashvili era, but it does not function in Odesa or in Ukraine writ large. The Georgian government at that time capitalized on ample talent from civil society, which transitioned seamlessly into government; but that resource is not in evidence to any comparable extent in Odesa.
Saakashvili's efforts will encounter institutional resistance from Odesa branches of state agencies beyond the governor's control, from power brokers in the elective local authorities, and from corrupt interests that permeate both types of institutions in this province. Such resistance will range from quiet obstruction to overt opposition, possibly in collusion with organized crime. Although Odesa province is factionalized into many interest groups and clans (more so, perhaps, than any Ukrainian province pre- or post-2014), rival factions may well coalesce to defend the status quo. Saakashvili's Georgia dealt with that problem by reforming law enforcement early on, laying the foundation for the subsequent economic and political reforms. As governor, Saakashvili may follow that same sequence, police reform being the first necessary step (see above).
As a newcomer to Odesa, without a local political base of his own, Saakashvili is reaching out to the civil society groups. These have mostly developed from the Euro-Maidan and the Ukrainian patriotic associations' response to Russia's threats. Saakashvili's recurrent message is that local civil society and public opinion writ large are his natural allies in supporting reforms and combating corruption. Implicitly or explicitly, he is hitting at the incumbent power brokers and holdovers, many of whom have been calling the shots in this province since the 1990s (Odessablog.com, June 1–18; Dumskaya.net, June 14, 17, 18, 20).
At the same time, Saakashvili seems to be testing the willingness of some of the holdover authorities to support his agenda of reforms. Odesa city mayor Henadiy Trukhanov, a Party of Regions holdover and a power onto himself in Odesa, seems to have adopted a fence-sitting attitude at this stage. The political situation in this province will not clear up before the local elections, which are scheduled to be held throughout Ukraine in October.