Security Situation Along Afghan-Tajik Border Alarms Regional Powers
Publication: Eurasia Daily Monitor Volume: 13 Issue: 165
By: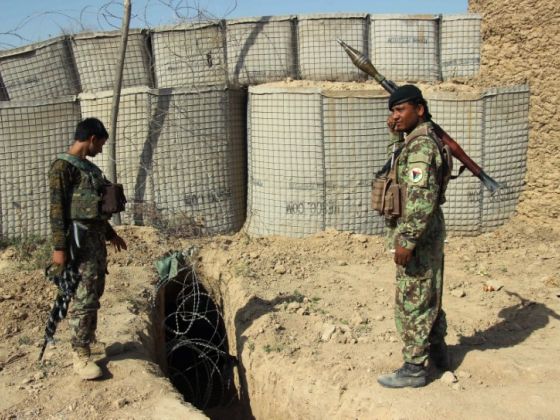 Two high-ranking Russian security officials—General Nikolai Patrushev, the secretary of the Security Council of Russia, and General Nikolai Bordyuzha, secretary general of the Moscow-led Collective Security Treaty Organization (CSTO)—recently paid official visits to Tajikistan within days of one another. Generals Patrushev and Bordyuzha met with General Abdurahim Qahhorov, the secretary of the Security Council of Tajikistan, on September 28 and October 4, respectively. Both meetings were held to address a common concern—the deteriorating security situation in Afghanistan, particularly along the border with Tajikistan. All parties emphasized the need for stronger military cooperation through regional blocs—especially, the CSTO, Shanghai Cooperation Organization (SCO) and the Commonwealth of Independent States (CIS). Particular attention was given to the question of strengthening Tajikistan's Armed Forces to confront the emerging security threats coming from extremist and terrorist organizations based in Afghanistan and the wider region (Khovar.tj, RIA Novosti, Scrf.gov.ru, October 4; Odkb-csto.org, September 28; Khovar.tj, September 30).
Afghan provinces like Kunduz, Tahor, and Badakshan, which share a border with Tajikistan's Khatlon and Badakhshan provinces, have repeatedly come under attack by Taliban forces in recent years. But in each of those past cases, the Taliban was ultimately defeated by the Afghan National Security Forces (ANSF). Yet, the most recent Taliban offensive in Kunduz province, which borders southern Tajikistan, ongoing since October 3, has made Moscow and regional governments nervous. Reportedly, the fighting between the ANSF and the Taliban particularly intensified around the provincial capital of Kunduz city. Muhammadyusuf Ayubi, the chairman of the Kunduz provincial assembly, stated that fierce clashes between the ANSF and Taliban fighters are still continuing and that the Army was struggling to push the Taliban out of Kunduz city. According to Ayubi, there have been around 200 civilian casualties as of October 8, and the local population is suffering from shortages of drinking water, food, electricity and fuel. Due to the intensification of the security situation in Kunduz, Tajikistan's border forces were ordered to increase their readiness (Сccp.tj, October 3; Ozodi.org, October 8).
Most of the Tajikistani-Afghan border is situated in high terrain, which makes patrolling this frontier extremely difficult. Infiltration into Tajikistan by militant groups could quickly spill into the rest of the region. From there, these groups could move into Russia, China and Eastern Europe with astonishing speed, aided and abetted by some of the nearly eight dozen active underground terrorist organizations reportedly present in the region. In a press conference last June, General Bordyuzha stated that there were 92 terrorist and extremist groups operating across Central Asia as opposed to 47 in 2010 and 32 in 2009 (Khovar.tj, June 26).
Tajikistan's officials are also concerned by the fact that some of its citizens have actively joined Islamic State (IS) forces in the Middle East. Last year, the government put the figure of Tajikistani IS fighters at around 400, while one militant alleged there were as many as 2,000 fighting in Syria and Iraq (see Terrorism Monitor, July 24, 2015). One such notable IS recruit is Colonel Gulmurod Khalimov, the former commander of the Special Operations Unit of the Ministry of Interior of Tajikistan. He has joined the Islamic State and, in September, was appointed the group's newest "minister of war" (Avesta.tj, Kommersant.ru, September 5; see Militant Leadership Monitor, October 5). Some analysts predict that the Islamic State will seek to secure a much stronger foothold in Afghanistan as the group continues to lose territory in Syria. As such, General Sherkhon Salimzoda, who heads Tajikistan's Counter Drug Trafficking Agency, does not see a serious threat of the Taliban seizing any bordering provinces in Afghanistan; but he does believes that Tajikistani citizens who joined the IS could soon try to take advantage of the vulnerable situation in northern Afghanistan to seek entry points into Tajikistan (Ruzgor.tj, August 10). The appointment of Khalimov as the Islamic State's minister of war can become an inspirational cause for more recruits from Tajikistan into the Islamic State's global network, particularly IS groups in Afghanistan. Khalimov, who had received military training in the Soviet Union and then undertook counter-terrorism training in the United States, is in a particularly advantageous position to increase IS presence in northern Afghanistan should he eventually try to do so. As the IS loses ground in Syria, it is highly possible that Khalimov may be deployed to Afghanistan to establish stronger terrorist networks there (Faraj.tj, September 9).
Central Asian militant groups have already begun to demonstrate leadership in orchestrating terrorist attacks in the Middle East as well as in the current siege of Kunduz city. According to Davlat Vaziri, spokesperson of the Ministry of Defense of Afghanistan, the Islamic Movement of Uzbekistan (IMU) and the Tajikistan-based Ansarulloh are coordinating the fight waged in Kunduz against the ANSF. Foreign fighters from Africa, Pakistan, the Philippines, Bangladesh, China, Uzbekistan and Tajikistan have all been identified in Kunduz. Afghan forces regained some lost ground, but the Taliban is still in control of some areas (Ozodagon.com, October 7). Meanwhile, the press office of the National Security Unit of Afghanistan's Badakhshan Province recently reported the arrest of four members of the IMU who were in possession of explosives and other weaponry (Ozodagon.com, Octber 5).
Military drills at Kyrgyzstan's Edelweiss range by the SCO on September 15–21 ("Peaceful Mission 2016"), and by the CSTO on October 4–7—which were held while militant groups advanced on northeastern Afghanistan—were strategically planned to demonstrate the military power and rapid deployment of joint forces. The SCO's Peaceful Mission 2016 joint drills engaged about 2,000 military officers from Kyrgyzstan, Kazakhstan, China, Russia and Tajikistan, and 300 pieces of military equipment along with 40 aviation units. The CSTO military exercises mobilized over 1,000 troops from Kazakhstan, Kyrgyzstan and Russia, along with 200 armored vehicles  (T-72 tanks, BTR-80 armored fighting vehicles, Grad multiple-launch rocket systems, etc.), and 20 aircraft and helicopters, including long-range aviation (Tu-22M3s and Tu-95MSs) (Ritmeurasia.org, September 23; Inform.kz, October 4; News.tj, Sep 28; Odkb-csto.org, September 28; TASS, October 4).
All these large-scale military activities and back-to-back high-level bilateral meetings highlight serious regional concerns that terrorist threats emanating from Afghanistan pose major security challenges to the entire Eurasian region. Rashid Alimov, the secretary general of the SCO, expressed worry regarding the security situation in Afghanistan and called on all parties to undertake additional efforts to address this issue at the Brussels Conference on Afghanistan on October 4–5 (Sectsco.org, October 5). But a variety of socio-political issues in Central Asia (see EDM, September 7, 13, 19) makes the region vulnerable, despite the huge military-technical support provided by Moscow and Beijing.