Shifting China-NATO Relations: From Selective Cooperation to Strategic Rivalry?
Publication: China Brief Volume: 22 Issue: 8
By: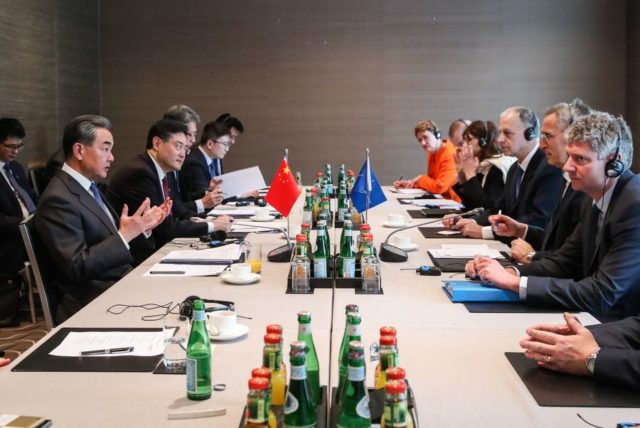 Introduction
On March 15, North Atlantic Treaty Organization (NATO) General Secretary Jens Stoltenberg called on China to withdraw its support for Russia and to condemn its "brutal" invasion of Ukraine (NATO, March 15). The next day, the nationalistic state media outlet Global Times issued a scathing criticism of NATO as a "puppet" of the United States that is "stained with blood" (Global Times, March 16). China's aversion to NATO is hardly new. However, as China continues to rise and the global center of gravity shifts to the Indo-Pacific region, Beijing's fears that U.S. is seeking to establish an "Asian NATO" via partnerships like the Quadrilateral Security Dialogue (Quad), have also increased (China Daily, June 6, 2004; Global Times, October 11, 2020). Concurrently, China's exponential rise, its coercive behavior and Beijing's 'special' relationship with Moscow have significantly altered its relationship with NATO.
This article analyzes the drivers of the recent disconnect between NATO and China, especially given Beijing's ambivalent position on the Russian invasion of Ukraine. In doing so, this piece seeks to answer the following questions: are Beijing's fears of NATO expanding or replicating in the Indo-Pacific legitimate? Will the "no-limits" China-Russia friendship test existing U.S.-led Indo-Pacific security coalitions?
Europe's Growing Divergence with China
Despite longstanding mutual mistrust, China and NATO viewed each other with a "mixture of hope and fear" until recently (China Brief, July 6, 2012). In 2002, the two sides launched a "political dialogue" and have hitherto continued to pursue selective cooperation on shared security challenges, such as promoting stability in Afghanistan and Central Asia, counter-terrorism and counter-piracy operations, e.g., in the Gulf of Aden (NATO, 2009; China Institute for International Strategic Studies, January). Furthermore, NATO allies were not united in their respective stances against China because of their different bilateral relations with Beijing, especially with regards to Chinese investment in Europe.
By 2021, however, cracks in China's burgeoning relationship with the European Union (EU) and its member states, most of whom are also NATO members, were increasingly evident. In 2019, the EU labelled China a "systemic rival" and in 2021, sanctioned Chinese officials for human rights abuses in Xinjiang (European Commission, March 12, 2019). China responded with retaliatory sanctions that drove the  EU to freeze ratification of the EU-China Comprehensive Agreement on Investment (CAI), which was signed in 2020 after years of negotiations (European Parliament, May 20, 2021; China Daily, May 22, 2021). The rift reached new depths in December 2021 after the EU announced its €300 billion (roughly $334 billion) Global Gateway strategy and released a European Parliamentary Research Service (EPRS) briefing on establishing "a joint Western alternative" to China's Belt and Road Initiative (BRI). The briefing criticized BRI as a corruption-prone "opaque project" that hindered the EU's "enlargement policy" and value-based "infrastructure framework" (European Commission, December 1, 2021; EPRS, December 2021).
At the same time the EU began to acknowledge fundamental differences with China, NATO also noted the "systemic challenges" to the existing rules-based world order posed by authoritarian states at the Brussels Summit in June 2021. NATO specifically admonished China for its "lack of transparency, use of disinformation," and "coercive policies" (NATO Communique, June 2021). Stoltenberg stressed the need for NATO to adopt a more global approach due to essential changes in the "global balance of power," primarily driven by China's rise, although he also maintained that China is "not an adversary" (NATO, June 30, 2020). This was a departure from the 2019 communique, which recognized China's rise as presenting both "opportunities and challenges" for NATO (London Declaration, December 4, 2019). The omission of the word "opportunities" from the latest communique encapsulates the shift in China-NATO interaction toward a predominantly competitive relationship. With the war in Ukraine still raging, the next NATO Strategic Concept, which will be released around the Madrid Summit in June, assumes greater significance in outlining the transatlantic vision to address the increasing authoritarian convergence between Russia and China.
Notwithstanding historical tensions, several recent events have shaped NATO's comprehensive approach to addressing the challenges posed by China. The Biden Administration has pushed the alliance to develop a united and assertive tone that aligns at least in some measure with Washington's approach. Furthermore, China's aggressive and coercive actions in its regional neighborhood and beyond—the oppression of Hong Kong; military excursions around Taiwan, in the South China Sea and along the Sino-India border; promulgation of COVID-19 disinformation; economic coercion in Europe; and BRI "debt trap" diplomacy—make it increasingly difficult for leading actors like France and Germany to sidestep the U.S.'s tougher approach. Above all else, the Ukraine war has compelled the broader European community to stay united, and cautious about any future engagements with Russia and/or China. The war has also fostered greater awareness in Europe as to the U.S.'s role in global politics and has generated renewed interest in strengthening transatlantic ties.
China's Rejection of NATO Enlargement amid Fear of "Asian NATO"
Beijing's foreign policy outlook toward the West is heavily influenced by the notion that China endured a "century of humiliation" (百年国耻,bainian guochi) from the mid-19th to the mid-20th century at the hands of the colonial powers. This narrative has also long been propagated by the Chinese Communist Party (CCP).
Distrust of NATO increased after the U.S. bombing of the Chinese Embassy in Belgrade during the 1999 Kosovo War, which killed three Chinese journalists. Ever since, Beijing has maintained that the US-led security bloc owes it a "debt of blood" (CGTN, November 11, 2021; Xinhua, May 7, 2021; Ministry of Foreign Affairs of the People's Republic of China, February 24). In principle, China does not support alliance systems much less their expansion. The latest Chinese defense white paper in 2019 expresses opposition to any lingering "Cold War mentality" and emphasizes bilateral dialogues and partnerships over multilateral alliances (China Brief, March 4 2009; PRC State Council, 2019).
For Beijing, NATO's Eastern expansion epitomizes the gradual consolidation of an American presence across the European continent since the 1990s. At that time, Beijing evinced concern that a similar U.S.-led security bloc was emerging in its neighborhood, which stemmed from deteriorating U.S.-China relations and a growing convergence of the U.S. with South Korea and Japan (NATO, 1999). Although NATO enlargement was a "secondary national interest" for China in the 2000s , it has gained widespread official currency,  particularly against the backdrop of the Russian invasion of Ukraine (China Brief, March 4, 2009; FMPRC, March 16).
Presently, Beijing echoes the Kremlin's narrative on NATO, expressing support for Russia's "legitimate security concerns" in Eastern Europe, which are based on the "principle of indivisible security" and opposition to the "five waves of NATO expansion eastward all the way to Russia's doorstep" (Permanent Mission of PRC to the UN, February 27; Chinese Embassy in the U.S., February 23). This rhetorical backing has lent credence to President Vladimir Putin's dubious historical rationale for attacking Ukraine. The CCP has repeatedly referred to NATO as a Cold War relic that needs to "adapt to changing circumstances," and that Europe must "eventually form a balanced, effective and sustainable European security mechanism" (Munich Security Conference, February; Permanent Mission of PRC to the UN, February 27).
Meanwhile, NATO has expanded its reach in the Indo-Pacific, deepening relations with its four Asia-Pacific partners, Australia, Japan, South Korea, and New Zealand, in order to "address cross-cutting security issues and global challenges, as well as to defend the rules-based international order" (NATO, July 8, 2021). In addition, the successful revival of the Quad (Australia, India, Japan, and U.S.) and the emergence of new security mechanisms like AUKUS (Australia, UK, and U.S.) have stoked the long-held Chinese belief that the West is animated by a "Cold War mentality" that seeks to hamper China's rise, and thereby imperils global peace and stability (People's Daily, April 1; FMPRC, December 3, 2021). For example, in his address to this year's Munich Security Conference (MSC), Foreign Minister Wang Yi indirectly criticized U.S. foreign policy with his assertion that a "certain big power is reviving Cold War mentality and stoking confrontation between blocs" (MSC, February 19).
Recent U.S.-led security initiatives such as AUKUS have strengthened China's anxieties over an "Asian NATO", which former U.S. Deputy Secretary of State Stephen Biegun characterized as "loose talk about an Indo-Pacific NATO" (U.S. Department of State, August 31, 2020; Global Times, October 11, 2020). As a "revolutionary revisionist power" seeking to supplant the reigning global hegemon, China's primary concern is the increasing strength of the U.S.-led military-security architecture, which it views as a key deterrent to its own global ambitions. [1] The question then is whether the West's growing antipathy toward China will drive Moscow and Beijing closer together in the strategic triangle. In an opinion article, Wang Huiyao, founder and director of the Center for China and Globalization (CCG) in Beijing, dismissed the Western emphasis on the revival of a U.S.-Russia-China "tripolarity" as a "zero-sum" outlook redolent of Cold War geopolitics (South China Morning Post, March 1). Beijing has also dismissed "disinformation" and "rumors" about China's alleged role in Russia's military action in Ukraine as the U.S "slinging mud" (China Daily, March 17).
More broadly, China's perspective on NATO is also influenced by its geostrategic ambitions in Eurasia, where it has sought to expand its clout through the Silk Road Economic Belt, which is a critical component of the Belt and Road Initiative (BRI). As a result, China is hardly in favor of leaving the Eurasia market completely to Russia. At the same time, for China, the partnership with Russia is both a strategic deterrent, and a means to challenge the prevailing American or West-dominated order (National Interest, March 3; Kremlin.ru, February 4)
True vs. Selective Multilateralism
Despite the limitations of the Sino-Russian partnership, Beijing and Moscow have reaffirmed their intent to cooperate to bring about "true multilateralism," as opposed to the universal-values based "selective multilateralism" of the West (China Daily, January 7; Kremlin.ru, February 4). In his January 2022 speech at the World Economic Forum, President Xi Jinping reiterated that to achieve this multipolar vision for "peaceful coexistence" and "win-win outcomes" it is necessary to abandon a "Cold War mentality" and to desist from construction of "parallel systems." Per Xi, "exclusive small circles or blocs" are responsible for polarizing the world, and "overstretching the concept of national security to hold back economic and technological advances of other countries, and fanning ideological antagonism and politicizing or weaponizing economic, scientific and technological issues" (World Economic Forum, January 17). Xi's remarks are a clear criticism of the existing U.S.-led alliance system, and in turn of NATO as the foremost example of a "selective" multilateral (collective) security system (NATO, May 5, 2020). As a result of China's emphasis on "true multilateralism,"  the Shanghai Cooperation Organization (SCO) and the Russia-led Collective Security Treaty Organization (CSTO) are two multilateral bodies that Beijing will continue to promote. In fact, both groups appear to have gained additional momentum following the U.S. and NATO withdrawal from Afghanistan in August 2021.
Though Beijing draws a distinction between the CSTO and  the SCO due to India's membership in both the latter and the Quad; China still perceives India as having role to playing in fostering 'true multilateralism' particularly given the "special relationship" between New Delhi and Moscow. In fact, China has included India in an array of overlapping international groupings that promote 'true multilateralism' in a multipolar world order. Beijing has sought to stay connected with Moscow and New Delhi through the RIC (Russia-India-China) trilateral, BRICS (Brazil-Russia-India-China-South Africa) and the AIIB (Asian Infrastructure Investment Bank) where both Russia and India are the two largest voting shareholders. The key for Beijing will be how to strengthen relations with Moscow to exploit the emerging situation in Eurasia and beyond in order to advance the China-Russia relationship as the "cornerstone of [a new] multi-polar international order" (Global Times, February 17, 2022).
Conclusion
Chinese state media consistently seeks to discredit the transatlantic alliance, as seen on multiple recent occasions: the Taliban's return to power in Afghanistan; during the China-Europe Comprehensive Agreement on Investment (CAI) negotiations; after the US-France rift following the signing of AUKUS, and now throughout the Ukraine conflict (Global Times, January 3, 2021, August 18, 2021, October 29, 2021, February 22). Beijing's goal remains to foster an aura of mistrust in Brussels toward Washington. It can be argued that in a bid to counter NATO, China could focus on the SCO (albeit in limited ways), which is not exclusively a military alliance, although its members participate in joint military exercises. However, India's membership in the SCO continues to be a key deterrent to any inherent ambitions by Beijing to establish the organization as a counterweight to NATO.
Nonetheless, Xi's push for "true multilateralism" and "a new type of international relations," which stresses the exclusive CCP-mandated version of international politics and order, including democracy, sovereignty, and human rights, ultimately implying the unfurling of Beijing's own hegemonic agenda, is a legitimate concern for the Western alliances (China Daily, March 24, 2013; CGTN, January 25, 2021; China Daily, November 5, 2021).
Dr. Jagannath Panda is the Head of the Stockholm Centre for South Asian and Indo-Pacific Affairs (SCSA-IPA) at the Institute for Security and Development Policy (ISDP), Sweden. He is the Co-Editor/Author of the book "Chinese Politics and Foreign Policy under Xi Jinping: The Future Political Trajectory" (Routledge, 2020) and the author of "India-China Relations: Politics of Resources, Identity and Authority in a Multipolar World" (Routledge, 2017).
Notes
[1] Jaganath P. Panda, "China as a Revisionist Power in Indo-Pacific and India's Perception: A Power-Partner Contention," Journal of Contemporary China, 30 (127), 2021, https://doi.org/10.1080/10670564.2020.1766906.