SHORTFALLS IN RUSSIAN OIL DELIVERIES TO GERMANY
Publication: Eurasia Daily Monitor Volume: 4 Issue: 163
By: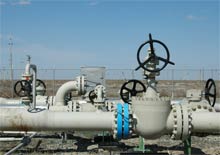 Russian oil deliveries to Germany through the Druzhba pipeline fell abruptly in the month of August by some 30%. Lukoil is mainly responsible for the deliberate reduction in supplies that had been pre-contracted. Supply shortfalls had begun in July on a small scale, before the abrupt August drop. The German government and affected companies kept this development under tight wraps until the Sueddeutsche Zeitung broke the story in its August 24 issue.
Germany imports some 22 million tons of Russian oil annually (1.8 million tons monthly) through the Druzhba pipeline. Of these, Lukoil delivers approximately 6 million tons annually (500,000 tons monthly), with Surgutneftegaz supplying much of the remainder.
The German refineries that had pre-contracted the supplies are in Schwedt and Leuna, which are connected to the Druzhba system's German spur. These refineries' shareholding owners are Shell Deutschland, BP/Ruhr Oel, Italy's ENI Agip, and Total of France. The Schwedt refinery alone processes almost 11 million tons annually (900,000 monthly), amounting to 10% of Germany's total oil-processing capacity, and almost fully depending on the Druzhba pipeline.
Once the story broke, Lukoil remained secretive about the reasons behind the reduction in supplies. According to one theory, Lukoil was seeking to squeeze an intermediary out of the Russo-German oil trade. That intermediary is Sergei Kishilov, head of the "German" company Sunimex, who is said to have fallen out with Lukoil's chief Vagit Alekperov. Alekperov seemed to confirm this version by telling a Moscow news conference, "We do not need intermediaries. I do not understand why the presence of intermediaries suits German companies" (Interfax, August 30). However, abrupt cuts in pre-contracted supplies to Germany would seem to be an unacceptable price for Lukoil to "understand" that issue.
Other theories in German and Russian oil-trade circles hold that:
1) Lukoil's cuts may seek to force up the price of supplies to Germany for the next contract period;
2) deliveries through the Druzhba pipeline became less profitable since Belarus raised the transit fee by 30%, to $3.6 per ton;
3) Russia's state pipeline monopoly Transneft, operator of the Druzhba system on Russian territory, may have begun redirecting part of the flow from that pipeline toward Russian Baltic maritime export terminals;
4) Lukoil may be aiming to intimidate the German refineries' owners into ceding share packages to it as a "guarantee" of steady supplies in the future; or
5) the Russian state itself is trying to demonstrate that supplies have become too tight to suffice for all customers and that only the politically favored ones can count on steady supplies from now on.
Whatever the merits of those theories (most of them not mutually exclusive), the most relevant fact remains that German refiners and commentators alike are reduced to guessing. The German government (largely on automatic pilot during the August break) reacted with remarkable caution. Economy Minister Michael Glos (Christian-Democrat) meekly cited Russia's Ministry of Industry and Energy as having said back in April that deliveries to Schwedt and Leuna are "guaranteed for the future"; and an unnamed German government representative opined that short-term reductions are less important than the fact of long-term supplies being guaranteed. Thus, the government seemed to stop shy of questioning the value of such Russian "guarantees."
The refiners' reaction, particularly at Schwedt, has been equally subdued. At first they kept the story a secret during almost four weeks of supply cuts. Once the story had broken in late August, Schwedt acknowledged the cuts but claimed that they were a commercial secret. It announced that it was talking with Russian companies to find out the reasons (a rather academic point of inquiry at that late stage) and that it was replacing the missing volumes by resorting to imports by tanker through the port of Rostock (a more expensive option).
Germany (and specifically the Schwedt and Leuna refineries) had experienced oil supply shortfalls for three days in January of this year; and Schwedt's desulphurization installations were damaged by that stoppage. At that time, Russia's Transneft stopped all the deliveries to Europe through the Druzhba pipeline amid a dispute with the transit country Belarus over the terms of Russian oil deliveries to that country. Although that dispute was purely bilateral, a number of countries farther downstream were affected by the stoppage. In Germany, Chancellor Angela Merkel described the stoppage as potentially "destroying confidence" in Russia's reliability as an energy supplier (see EDM, January 3, 8, 9, 10, 11, 15).
Moreover, the January 2007 oil stoppage was regarded throughout Europe as a repeat performance of Russia's January 2006 gas delivery shortfalls to certain European countries amid the gas dispute with Ukraine. And Lukoil's latest moves in Germany are partly reminiscent of (even if Germans now seem oblivious to) Lukoil's halt in oil supplies to Lithuania in 1999-2001 when it tried to bankrupt and take over the Mazeikiai refinery and associated enterprises. Transneft emulated that behavior by halting all supplies to Lithuania through the relevant spur of the Druzhba system, as punishment for the privatization of Mazeikiai by a Polish company.
Yet, few in Germany — and no one in the country's government or energy industry — are pulling those facts together for appropriate conclusions; at least not publicly. Meanwhile, Lukoil has promised to resume a regular supply schedule in September.
Germany is overly dependent on Russian-delivered oil. In 2006, Germany imported a total of 110 million tons of crude oil, of which Russia supplied 36.9% while ex-Soviet-ruled countries supplied another 9.7% (mainly Kazakhstan and mainly via Russia). Thus, Germany depends on Russian production and transit for an estimated 45% of Germany's oil imports (while OPEC countries supply 23.1% of Germany's annual oil consumption at present). Given such imbalances, Russian authorities and companies apparently feel able to vex Germany at the receiving end.
(Interfax, August 24-31; Sueddeutsche Zeitung, Frankfurter Allgemeiene Zeitung, Maerkische Allgemeine, August 24–31; Der Spiegel, July 3)