Sino-Indian Trade and Investment Relations Amid Growing Border Tensions
Publication: China Brief Volume: 20 Issue: 18
By: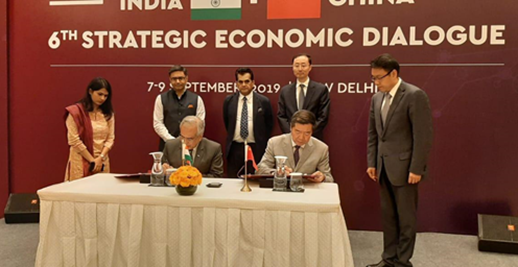 Introduction
Following Chinese intrusions into India's northern territory of Ladakh beginning in June (China Brief, July 15), relations between the two countries have seen a major downturn. Two strands of official Chinese thinking have emerged from statements by People's Republic of China (PRC) officials, as represented by PRC Foreign Minister Wang Yi (王毅) and PRC Ambassador Sun Weidong (孙卫东) in New Delhi: that Beijing does not offer any prospect of an early settlement to the border dispute, and that it accuses India of infringing on China's territorial sovereignty. Wang Yi maintains that the Sino-Indian boundary between China and India "has not yet been demarcated," and that China will firmly safeguard its sovereignty and territorial integrity (Global Times, September 1). Sun Weidong asserts the official PRC line that there has been no Chinese transgression in Ladakh, and that the disputed territory belongs to China (PRC Embassy in India, August 28).
Despite earlier flare-ups such as the 2017 Doklam crisis, New Delhi in recent years has viewed India's politico-economic connection with China through rose-colored glasses. At the Wuhan (2018) and Chennai (2019) summits Prime Minister Narendra Modi saw a Sino-Indian strategic convergence at hand (Indian Ministry  of External Affairs, April 28, 2018; Xinhua, April 29, 2018). In Chennai he reportedly envisioned "a beautiful future" for India-China relations (Xinhua, October 13, 2019). For his part, President Xi Jinping has urged the elephant and the dragon to further align their development strategies and to build a partnership in manufacturing industries.
In response to the recent border incidents, the Indian government has looked to restrict Chinese investment in India, and there have been public calls for boycotts of Chinese-made goods. However, this has highlighted the disparity in economic power between the two countries, as well as the extent to which India is dependent on Chinese goods. Ambassador Sun, and commentaries in PRC state media, continually highlight India's economic weakness, the ultranationalism that its widespread poverty allegedly inspires, and the difficulties it faces in overcoming its problems as one of the countries most affected by COVID-19. The Global Times editorialized this summer that the "gap between China's and India's strength is clear" (Global Times, June 17; Global Times, August 27).
India Confronts Major Gaps in Its Economic Relations with China
In 2019, India's gross domestic product (GDP) per capita was $2,104, while China's was $10,261 (World Bank, June 17). India's defense budget for 2020-21 is $66.9 billion (IDSA, February 4); China's is $178.6 billion (ChinaPower, May 22). In its worst contraction on record, India's GDP has contracted by 23.9 percent this year during the COVID-19 pandemic (Financial Times, August 31); conversely, China's GDP has reportedly risen by 3.2 percent in the second quarter of this year (Financial Times, July 16). In light of such figures, it is little wonder that China frequently contrasts India's weakness with its own power.
The China-India Trade Deficit
After the United States, China has become India's second-largest trading partner. China is the biggest source (14 percent) of India's imports, as well as the destination for 5.4 percent of its exports. Less than 1 percent of China's imports come from India, but 3.1 percent of its exports go to India (Trading Economics, undated). The volume of trade has increased considerably over the past two decades. In 2000, trade volume between the two countries stood at $3 billion. In 2008, bilateral trade reached $51.8 billion; after another eight years, in 2016, Sino-Indian bilateral trade amounted to $71.8 billion (Indian Ministry of External Affairs, October 2017). In 2018, it reached an all-time high of $95 billion (Indian Ministry of External Affairs, September 26, 2019; Global Times, January 14).
India's trade deficit with China increased by more than 200 percent from $16 billion in 2007-2008 to $51 billion in 2016-2017 (BloombergQuint, April 16, 2018). In 2018 India's deficit expanded to $57.86 billion (Indian Ministry of External Affairs, September 26). The deficit accounted for an estimated 58 to 60 percent of India's total bilateral trade (Indian Embassy in PRC, undated; Global Times, January 14; Hindustan Times, August 26). A decline in imports from China caused the deficit to fall to $48.66 billion in 2019-20 (Economic Times, July 2).
Chinese Investment in India
Chinese investment in India rose sharply in the last six years. In 2014 net Chinese investment in India was $1.6 billion; current estimates range from $8 to $26 billion, and the true figure could be even higher. [1] China has become a significant source of foreign direct investment (FDI) for India in recent years, with some estimates pointing to investments adding up to $10 billion from 2017 to 2019 (Global Times, June 30). Much of the investment has been made in strategically crucial areas, by state-owned companies involved with military technology development and intelligence work for the People's Liberation Army. Half of Indian "unicorns" (private start-up tech firms) have Chinese funding (Timesnow, June 18). Chinese investment has driven the development of multiple Indian industries, to include mobile phones and technology, household electrical appliances, infrastructure, automobiles, and pharmaceuticals (Yale Global, October 24, 2017).
In 2015, India's Ministry of Commerce envisaged increased Chinese investment in India's industrial parks, and special economic and manufacturing zones (Business Standard, July 26). In the same year, the Chinese tech giant Alibaba invested in 40 percent of Paytm, a digital services platform (Alibaba, September 29, 2015; NDTV, December 3, 2016). The investment paid off a year later, when New Delhi carried out a demonetization policy that disrupted India's economic life and promoted a cashless economy (Livemint, 10 Jan 2017).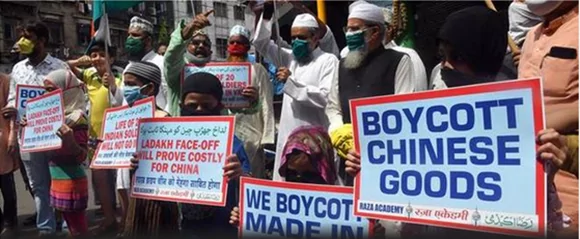 India Takes Action Against Chinese Tech Companies
Even before the Ladakh intrusion, New Delhi had decided to scrutinize investment from neighboring countries to counter the chances of "opportunistic takeover" of Indian companies as the coronavirus pandemic devastated India's economy (Business Standard, April 20). The PRC protested that the barriers set by India for investors from specific countries violated the World Trade Organization's principle of non-discrimination and failed to comply with general trends in terms of the liberalization and facilitation of trade and investment. China asserted that its companies had created a large number of jobs in India and promoted "mutual beneficial and win-win cooperation" (China Daily, July 4).
Restrictions on Chinese-Made Mobile Apps
Soon after the clashes broke out in Ladakh, India banned 59 Chinese apps, including TikTok, WeChat, and Helo (Economic Times, July 29; Xinhua, July 28). India has been TikTok's largest foreign market (Global Times, July 3); but now ByteDance, the parent company of TikTok, stands to lose $6 billion and might have to stop doing business in India (Global Times, July 1; Business Standard, July 3). On September 2, India banned another 118 mobile apps including the hugely popular mobile gaming app PUBG, whose largest subscriber base is in India (Xinhua, September 2; Business Standard, September 3; Global Times, September 3).
In announcing these bans, India's Ministry of Electronics and Information Technology cited concerns about data security, and asserted that the mobile applications were harmful to Indian sovereignty and the defense of its cyberspace. PRC state media has alleged that anti-China feeling in India flowed from "something more than just the border clashes between the two countries… It reflects the rise of Hindu nationalism and the prominence of India's ambition and pursuit to become a major power," and asserted that, in a society characterized by "great uncertainties," the anti-China stance was "one of the main means for certain individuals to forge social consensus" (Global Times, July 1).
Chinese Telecoms and India's 5G Network
On August 13, India announced that Huawei and ZTE would be excluded from India's plans to roll out its 5G networks (Business Standard, August 13). PRC Ambassador Sun Weidong alleged that such treatment of a Chinese private company by "a certain country" impeded "normal market cooperation and scientific and technological development under the pretext of 'national security' even without any factual basis and concrete evidence." According to Sun, such "hegemonic actions" flouted the rules of the market and the principle of fair competition, and would eventually harm India's interests and credibility (PRC Ambassador in India, TV interview, August 28).
Contradicting the earlier announcement, India's Minister of State for Electronics and Information Technology, Sanjay Dhotre, informed parliament on September 17 that there was no plan to exclude Huawei or ZTE from 5G infrastructure contracts (Business Standard, September 17). Huawei has reportedly made agreements with the Indian companies Airtel and Reliance Jio in Bengaluru, and with Vodafone Idea in Delhi; while ZTE has reportedly negotiated a deal with Airtel for coverage in Kolkata. Indian telecommunications companies have indicated willingness to withdraw applications made with the Chinese companies if the government makes a clear statement of intent. However, in light of contradictory statements, the current state of government policy is unclear.
India Remains Dependent on Trade with China
Despite talk of restricting trade and investment with China, the outstanding fact is that India remains dependent on trade with China—to include dependence on Chinese imports for producing its own exports. For example, China is the source of more than 60 percent of ingredients for Indian pharmaceuticals exported to other countries (Hindustan Times, July 13). In 2019-20, 93 percent of Indian imports of plastic dolls and 97 percent of its imports in integrated circuits came from China (Livemint, June 26). Hindus comprise some 80 percent of India's population, but even figurines of Hindu gods and goddesses have been imported from China (Yale Global, October 24, 2017)!
India could be China's fastest-growing market, but Ambassador Sun contends that discriminatory restrictions hurt Chinese companies—and has urged India to provide an open, fair, transparent, and non-discriminatory business environment for Chinese enterprises to invest and operate in India (Xinhua, August 29). Sun has further stated that China and India are "partners rather than rivals," and that they should "put the boundary question at an appropriate place in our bilateral relations and not allow differences to disturb the relationship" (PRC Embassy in India, August 28). By contrast, India prioritizes borders and territory over trade: as External Affairs Minister Subrahmanyam Jaishankar affirmed in August, the stand-off is "surely the most serious situation after 1962"  (Defence Aviation Post, August 27).
Conclusion
India faces two awkward facts: first, an entrenched territorial contest with China is India's biggest security headache; and second, it possesses a weaker economy and dependence on Chinese trade and investment. India can neither reduce its strong trade and investment ties with China quickly, nor undo them completely. It must also navigate both political and diplomatic aspects of the relationship: authoritarian, expansionist China's strong trade and investment ties with most democracies have confirmed that the strength or weakness of economic ties between countries may not determine the tone of political relationships.
Beijing will continue to complain about India's restrictions on its investments. It will also harp on what it perceives as India's violation of China's territorial sovereignty, India's enfeebled economy, and its alleged poverty-driven ultranationalism. China sometimes depicts India as weak; sometimes as a country infringing international economic norms; and sometimes as an aspiring global power. For India, the territorial dispute threatens to outweigh the benefits of economic collaboration with Beijing, but India cannot easily give up its economic reliance on China. The coronavirus pandemic, the border clashes, and New Delhi's curbs on Chinese investment have deepened the Sino-Indian rift. No solutions to either the border or economic disputes between the two countries appear to be on the horizon.
Anita Inder Singh, a citizen of Sweden, has been a Founding Professor of the Center for Peace and Conflict Resolution in New Delhi. She has been a Fellow at the National Endowment for Democracy in Washington, D.C. and has taught the international relations of Asia and Europe at the graduate and doctoral levels at Oxford and the London School of Economics and Political Science. Her articles have appeared in many publications, to include The Guardian, The Far Eastern Economic Review, The Wall Street Journal Asia, and Nikkei Asian Review. Her books include The United States, South Asia and the Global Anti-Terrorist Coalition (2006). She is currently writing a book on the United States and Asia. More of her work may be viewed at: www.anitaindersingh.com.