The Security Component of the BRI in Central Asia, Part Three: China's (Para)Military Efforts to Promote Security in Kazakhstan, Uzbekistan and Turkmenistan
Publication: China Brief Volume: 20 Issue: 18
By: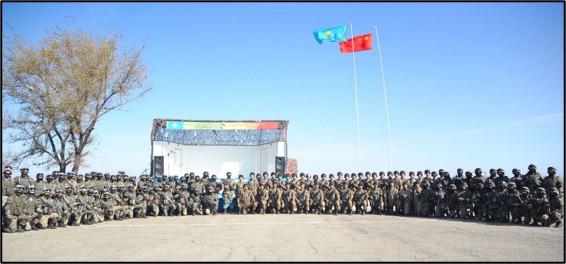 Editor's Note: This is the third installment of a three-part China Brief series about the Chinese government's efforts to exert greater influence over regional security arrangements and policy in the states of Central Asia. The first part, "The Security Component of the BRI in Central Asia, Part One: Chinese and Regional Perspectives on Security in Central Asia," appeared on July 15; the second part, "The Security Component of the BRI in Central Asia, Part Two: China's (Para)Military Efforts to Promote Security in Tajikistan and Kyrgyzstan," was published in our August 12 issue. In this third and final installment, Jamestown Fellow Sergey Sukhankin analyzes the ways in which China's growing presence is affecting developments and security relationships in Kazakhstan, Uzbekistan, and Turkmenistan.
Introduction
Addressing the 56th Munich Security Conference in February, Kazakhstan President Kassym-Jomart Tokayev emphasized Central Asia's strategic importance for the realization of the Belt and Road Initiative (BRI), the crown jewel foreign policy program of the People's Republic of China (PRC) (Belt and Road News, June 4). President Tokayev's speech failed to mention that the opportunities for regional development along the BRI are balanced by security-related challenges. The first two articles of this series provided an overview of the general security environment in the region, followed by an analysis of the PRC`s security activities in Kyrgyzstan and Tajikistan (China Brief, August 12). This third article will examine the PRC's military and paramilitary security initiatives in Kazakhstan, Uzbekistan, and Turkmenistan—three of the larger and more economically developed countries in the macro-region of Central Asia.
Kazakhstan: The Central Pillar of the BRI?
According to PRC officials, Kazakhstan occupies a key position in the Central Asian segment of the BRI (PRC Foreign Ministry, September 7, 2013). Kazakh authorities share this perception, describing their country as "the first and key country of the Silk Road Economic Belt, a kind of geo-economic gateway of China to the West" (Belt and Road News, February 18, 2019). As evidence of the depth of the bilateral relationship, Beijing has pledged to invest more than $5 billion in local infrastructure through 2022, while Kazakhstan is the only country in Central Asia to have established an "all-around strategic partnership" with China (Belt and Road News, June 6). Kazakhstan is expected to play an instrumental role in BRI-related infrastructure projects, such as: the China-Kazakhstan-Russia-Western Europe Transport Corridor; the China-Kazakhstan-Western Asia Transport Corridor; and the China-Kazakhstan-South Caucasus/Turkey-Europe Transport Corridor (Astana Times, June 3). The Kazakhstan government is also expected to help China promote free trade zones along these routes (Belt and Road News, September 20, 2019).
One major topic of concern for Beijing is the potential threat posed by Islamic radicals and their potential ties to ethnic minorities such as the Uyghurs. According to Human Rights Watch, in 2019 alone Kazakh authorities detained 500 alleged members of the Islamic State and their families, and sentenced fourteen citizens for participating in conflicts in Syria, Iraq and Afghanistan (Human Rights Watch (Russia), undated).
Rapidly spreading Sinophobia in Kazakhstan has also become a great concern for China. As noted by the political commentator Dosym Satpiev, "Kazakhstan is the only Central Asian country that has always had anti-Chinese sentiments" (Azattyq.org, September 9, 2019). The year 2019, described in local media as the "year of growing anti-Chinese sentiments," culminated in a major demonstration in the city of Zhanaozen (Central Asia News, January 17). Anti-Chinese demonstrations have sometimes grown openly hostile, especially in the western part of Kazakhstan—to include protests around the North Troyes oilfield and the town of Atyrau (Diapazon.kz, September 23, 2010; Kapital.kz, November 29, 2013; Atpress.kz, February 28, 2018). One 2019 conflict triggered by unequal payment issues between locals and Chinese workers resulted in a harsh, first-of-its-kind warning by Geng Liping (耿丽萍), the PRC's Consul-General in Almaty. Local sources construed this as a sign of China's growing dominance in the country, which could potentially result in "[Chinese] police or security forces [deployed in Kazakhstan] under the pretext of protecting Chinese private property" (Ehonews.kz, October 15, 2019).
Joint (Anti-Terrorist) Military Exercises
The PRC and Kazakhstan have conducted sixteen anti-terrorist military exercises since 2002 (Carnegie Institute (Russia), March 25). The drills in 2019 included the use of UAVs to detect, round up and destroy hypothetical terrorist groups entering Kazakhstan under the guise of migrant workers from the territory of the Xinjiang Uygur Autonomous Region (Sputnik News, October 14, 2019). As a part of its anti-terrorism policies, the PRC is also actively promoting the intensification of academic exchanges and knowledge transfers, building a steady link between Chinese and Kazakh military academies and institutions (Central Asia News, March 8, 2019).
Arms Deals and Military Aid
China's arms deals with Kazakhstan deserve attention for two important reasons. First, the bilateral relationship has allowed Kazakhstan to acquire increasingly sophisticated weapons systems: for example, in 2016 China supplied a number of Wing Loong-1 (翼龙-1) strike-capable drones, comparable to the U.S.-manufactured MQ-1 Predator (Inform.kz, March 19, 2016). Second, the Chinese appear to have supplanted Russia as Kazakhstan's primary supplier of arms. The PRC is supplying the Kazakh military with platforms analogous to Russia/USSR-produced models—such as the Y-8 (运-8) transport aircraft, a copy of the Antonov An-12 (Vpk.name, June 19, 2018). These two factors demonstrate differences in Chinese military aid to Kazakhstan, in contrast with circumstances in Tajikistan or Kyrgyzstan: in the latter two countries, military sales and assistance—such as a transfer of thirty heavy trucks (Lada.kz, February 23, 2015)—play a less significant role in the bilateral relationship.
The Potential Deployment of Private Security Companies
Some of China's paramilitary state organizations, such as the Xinjiang Production and Construction Corps (新疆生产建设兵团, Xinjiang Shengchan Jianshe Bingtuan), are reorienting their services towards serving the needs of the BRI. Local sources in Kazakhstan have also speculated about the potential deployment of Chinese private security companies (PSCs) in the country, such as the Hong Kong-based Frontier Services Group (先丰服务集团, xianfeng fuwu jituan) (The Diplomat, July 3, 2019). This is a sensitive issue, given the reality of growing Sinophobia alongside the expanding presence of Chinese businesses. Leading Kazakh politicians, including senator Dariga Nazarbayeva, have voiced categorical disapproval of any PSCs—either foreign or domestic—operating in the country (Kapital.kz, March 1, 2018).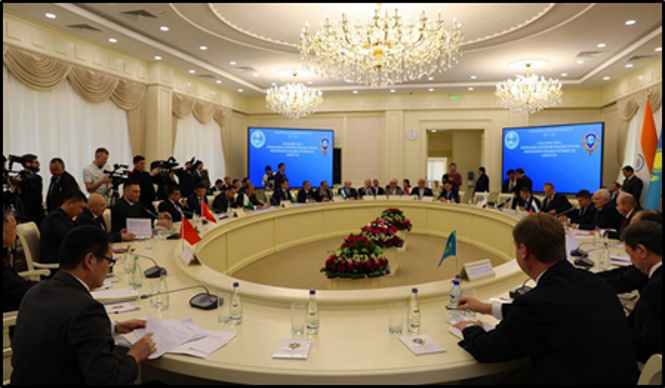 Uzbekistan: Testing New Forms of Security Cooperation?
The government of Uzbekistan, which seemingly stepped onto a reformist path after the 2016 election of President Shavkat Mirziyoyev, has viewed the BRI as a chance to become an integral part of the China-Central Asia-West Asia Economic Corridor. This aspiration has been welcomed by the PRC. Last year, the Chinese state-managed Silk Road Fund (丝路基金, Silu Jijin) agreed to provide the Uzbek state-owned oil and gas corporation JSC Uzbekneftegaz a $585 million loan (Belt and Road News, October 26, 2019). Similarly, the PRC-dominated Asian Infrastructure Investment Bank (亚洲基础设施投资银, Yazhou Jichu Sheshi Touzi Yinhang) declared its readiness to grant a $165.5 million loan (81 percent of the total cost) to pay for the Bukhara Road Network Improvement Project, to be completed by 2025 (AIIB, undated).
The main threat to Chinese investors in Uzbekistan comes primarily from the activities of violent jihadists, many of whom have gained international experience fighting in Syria, Iraq, Afghanistan, and Pakistan. This past May was marked by a series of troublesome events: first, the Taliban carried out operations near the Afghan-Uzbek border (Stan Radar, May 18); then a network of Hizb ut-Tahrir, which had known cells in five different parts of the country, was reportedly uncovered in the Fergana Region of eastern Uzbekistan (Russian.people.com, May 29).
Joint Military Exercises
In December 2017, discussions between the PRC's then-Minister of Defense Chang Wanquan (常万全), Uzbekistan's then-Minister of Defense Abdusalom Azizov, and President Mirziyoyev produced agreements for closer security cooperation. This culminated in the emergence of "Cooperation-2019" (合作-2019, Hezuo-2019), a joint anti-terrorism exercise between the Chinese People's Armed Police (中国人民武装警察部队, Zhongguo Renmin Wuzhuang Jingcha Budui) and the Uzbek National Guard, which took place in May 2019 (Gazeta.uz, December 21, 2017, China Military, May 17, 2019). According to PLA exercise commander Wang Ning (王寧), China views Uzbekistan as "an important strategic partner" in achieving peace and stability in Central Asia (Xinhua, May 16, 2019).
Arms and Weaponry Deals
While Uzbekistan is not a top priority for China in terms of arms exports, some notable changes have taken place since 2014, when Uzbekistan became the first Central Asian state to acquire the PRC-manufactured Wing Loong I military drone system (Securityassistance.org, June 5, 2014). Subsequently, Tashkent purchased (and successfully tested) the FT-2000—an export version of the Hongqi-9 (紅旗-9), which is similar to the Russian S-300 medium- to long-range missile system (Podrobno.uz, November 8, 2019). The most recent Chinese weaponry acquired and tested by the Uzbek armed forces was the QW-18 (前卫-18) shoulder-fired anti-aircraft missile system, which entered Uzbekistan's inventory in 2019 (Polygon, November 29, 2019).
Non-Standard Forms of Cooperation
Chinese PSCs, represented by the China Security Technology Group (中国安保技术集团, Zhongguo Anbao Jishu Jituan) already offer services in Uzbekistan, albeit without an official local office (Cstghk.com, undated). The Frontier Services Group has also announced plans to deploy in Uzbekistan due to the country's growing involvement in the BRI (Frontier Services Group, March 2, 2018), and it is likely that PSCs will continue to expand their operations there. The majority of Uzbek policymakers, like their Kazakh counterparts, frown upon the idea of Chinese security personnel operating in Uzbekistan (Expertonline.kz, August 24, 2017). Given Uzbekistan's growing economic dependence on BRI-related initiatives and its acute need for foreign investment, this position may be subject to change in the future. A second important facet of the Sino-Uzbek military partnership is military journalism and propaganda. In 2019, a delegation from the Uzbek Defense Ministry visited the PRC to study organizational and operative principles of the Chinese military media. During their trip, the delegation visited the head office of the People's Daily and the School of Journalism at the Renmin University of China (Podrobno.uz, December 10, 2019).
Turkmenistan: The Broken Buckle of the BRI?
Turkmenistan is a neutral state, kept in isolation by its extravagant leader and beset by problems of ethnic nationalism. At the same time, it has hoped to occupy a leading role in the BRI, and to benefit from Chinese economic investments. An October 2017 book written by President Gurbanguly Berdimuhamedov—filled with legends, historical descriptions and local folklore, and titled Turkmenistan is the Heart of the Great Silk Road—underscores these high aspirations (Turkmenistan Today, September 21, 2018). Turkmen authorities have primarily vested their BRI hopes in two major infrastructure projects:
The China-Kazakhstan-Turkmenistan–Iran Railway (Orient.tm, November 28, 2017).
The Turkmenbashi International Seaport (completed in 2018), which links Turkmenistan, Azerbaijan (Baku), Kazakhstan (Aktau), and Russia (Astrakhan). The port serves as an integral part of the Lapis Lazuli Corridor, facilitating the transportation of goods between Central Asia and the Persian Gulf (Turkmenistan Railways, undated; Silk Road Briefing, July 10, 2018).
Although the PRC's ties with Turkmenistan are not as close as those with Kazahkstan and Uzbekistan, Beijing has increased both economic and security-related contacts with Turkmenistan in recent years. Chinese military experts have always viewed Turkmenistan as a weak state in terms of military capabilities (Mil.qianlong.com, April 5, 2016). This year, China overcame Russia to become the second largest arms supplier to Turkmenistan by selling weaponry in return for natural gas payments. (China has monopolized exports of Turkmen natural gas to such an extent that gas been used as a de facto form of currency in economic contacts between the two countries.)
China now supplies 27 percent of Turkmenistan's foreign arms purchases, behind only Turkey (Dfnc.ru, 2019). Between 2016–2018, Turkmenistan acquired HQ-9, Kai Shan-1 (凯山-1), and FD-2000 missiles from China (Lenta.ru, April 4, 2016; PRC Ministry of Defense, February 27, 2018). However, cooperation was strained in 2018, when the price of natural gas on the Chinese market skyrocketed. An ensuring disagreement resulted in China blacklisting Turkmenistan and putting a de facto temporary ban on all major types of security-related cooperation (Mnews.world, September 20, 2019).
Conclusion
While developing both economic and security-related cooperation in connection with the BRI, Beijing has become clearly aware of negative perceptions surrounding its increasing security presence in Central Asian countries. Accordingly, Beijing will continue to prioritize economics while downplaying military (or paramilitary) relationships. At the same time, Beijing will also continue to strengthen its security-related efforts at the inter-governmental level. PSCs and other semi-state actors will either keep operating without local offices (rendering ad hoc services), or could launch pilot projects in Tajikistan and Kyrgyzstan—countries whose economic reliance on China is overwhelming.
Despite levels of security and military involvement that are limited at present, Chinese investments in these three Central Asian states are nonetheless increasing. This means that Central Asia—which has long remained under the Russian security umbrella—may be slowly drifting away from Moscow and towards Beijing. As the result of overwhelming Chinese economic dominance and growing "soft power" over its neighbors, the next two decades will likely witness the PRC strengthening the security vector of its Central Asian policy.
Dr. Sergey Sukhankin is a Fellow at the Jamestown Foundation, and an Advisor at Gulf State Analytics (Washington, D.C.). He received his PhD in Contemporary Political and Social History from the Autonomous University of Barcelona. His areas of interest include Kaliningrad and the Baltic Sea region, Russian information and cyber security, A2/AD and its interpretation in Russia, the Arctic region, and the development of Russian private military companies since the outbreak of the Syrian Civil War. He has consulted or briefed with CSIS (Canada), DIA (USA), and the European Parliament. He is based in Edmonton, Alberta, Canada.