Snapshot: China's Eastern Theater Command
Publication: China Brief Volume: 17 Issue: 4
By: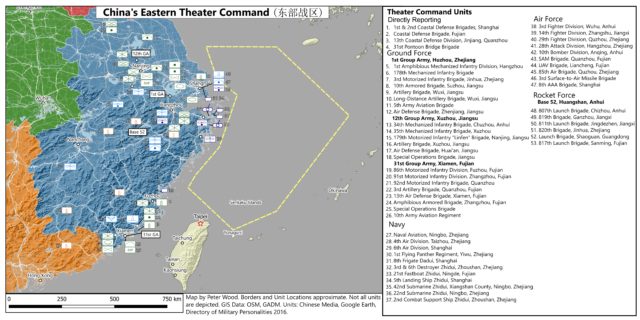 Delivering his work report to the National People's Congress, Chinese Premier Li Keqiang noted that "the Chinese mainland will resolutely oppose and contain 'Taiwan independence separatist activities'" ("台独"分裂活动) (Xinhua, March 5). [1] President Xi Jinping, however, was even more explicit in early November 2016, when he said "1.3 billion Chinese people will oppose Taiwan independence. We have the ability, the determination and are prepared to deal with Taiwan independence. If we do not, we will be overthrown (推翻) by 1.3 billion people" (Apple Daily, November 2, 2016). China's ability to "deal" with Taiwan involves political and economic pressure. These tools have already seen some success as the number of countries that recognize Taiwan shrinks, and Taiwan's participation in international organizations is severely restricted. However, as China's military becomes more effective, military coercion is increasingly a viable option. An overview of China's Eastern Theater Command (ETC) provides some insight into the Chinese military's current capabilities against Taiwan.
China's Eastern Strategic Direction
Although eastern China is one of the most densely populated and important areas of the country, China's east coast has not always been its primary strategic direction. Chinese military writings note that China's historical focus on ground forces arose out of a lack of maritime threats to China from the east. In ancient times, and again during the 20th century, the threat of land invasions from the west and north outweighed threats to the east and south. [2] With the renewal of ties with Russia in the mid-1980s the strategic focus shifted again to the east, raising the importance of aerospace and maritime forces.
In the mid-1990s, the Third Taiwan Strait Crisis put the region back in headlines. Missile launches in 1995 and 1996 prompted the United States to send two carrier strike groups to the area around Taiwan. The incident also revealed a number of deficits in PLA capabilities. While Taiwan remained a key issue for the PLA, its lack of sufficient maritime lift capacity, air superiority and even intelligence, surveillance and reconnaissance (ISR) capabilities meant that an invasion across the strait would not succeed. The U.S. navy's ability to operate without real challenge was another major problem, and Chinese defense planners recognized the need to have layered offensive and defensive systems to project power into the East China Sea.
The Japanese governments' 2012 purchase of the Senkaku Islands from a private owner sparked tensions and prompted widespread protests throughout China. Projecting power not just toward Taiwan but throughout the East China Sea gained additional importance. The Chinese government followed up on this by declaring an Air Defense Identification Zone in late November 2013 (China Brief, December 5, 2013). The area has since seen a steady increase in Chinese military aviation and maritime patrols (China Brief, October 26, 2016). Accompanying these events, China's military has reformed and reorganized to better deal with security issues along its eastern strategic direction.
The military organizations responsible for most of eastern China have undergone a number of changes since the 1980s. Until 1988, China had 11 military regions (MR) including ones centered on Fuzhou in northern Fujian province and Nanjing. The Fuzhou MR was incorporated into the Nanjing MR, which, after the latest round of reforms, has been folded intact into the Eastern Theater Command. An important result of the 2015 military reforms is that the Theater Command acts as joint headquarters for Army, Navy and Air Force (China Brief, June 21, 2016). The Rocket Force also has units present in the ETC, although they are directly subordinate to the Central Military Commission, China's highest military body.
The Geography of Eastern China
Province/

Municipality

Population Millions (2015)

Anhui

69.5

Fujian

38.3

Jiangsu

79.8

Jiangxi

52

Shanghai

24.2

Zhejiang

55.4

Total

319.2
The current ETC is composed of military units within the borders of Anhui, Jiangsu, Jiangxi, Fujian and Zhejiang provinces, as well as Shanghai Municipality. Together, their populations include over 319 million citizens and three of China's top ten ports—Shanghai, Ningbo, Xiamen. Bisected by the Yangtze River (长江), the region's geography is dominated by plains in the north portion and mountains in the west and south. A cluster of multi-million person megacities connected by high-speed rail dot the landscape between the ETC's headquarters in Nanjing in southwestern Jiangsu province to Shanghai on the coast. A number of large lakes, including Lake Tai (太湖), break up this geography.  The three provinces and municipality on China's coast together make up the Yangtze river delta (长江三角洲). So important is it to China's economy, industry and population, The Science of Military Strategy, a PLA textbook, describes this area, along with the Pearl River Delta in China's South, as one of its "centers of gravity" (重心所在). [3]
The Yangtze River connects eastern China with its central core, and the river plays a vital role commercially and logistically. The 1st Group Army, based in Huzhou, Zhejiang province contains a mix of units meant to defend the central coast of China. This includes an amphibious unit capable of operating in this environment of lakes and rivers that would also be used in a Taiwan scenario. The same group army contains well-equipped mechanized brigades and an armored brigade. Further to the north, the 12th Group Army is headquartered in Xuzhou, Jiangsu, and has mechanized brigades protecting Nanjing and northern Jiangsu. This central core of the ETC is also protected by the Air Forces' 3rd Fighter Division, with a variety of air interception units.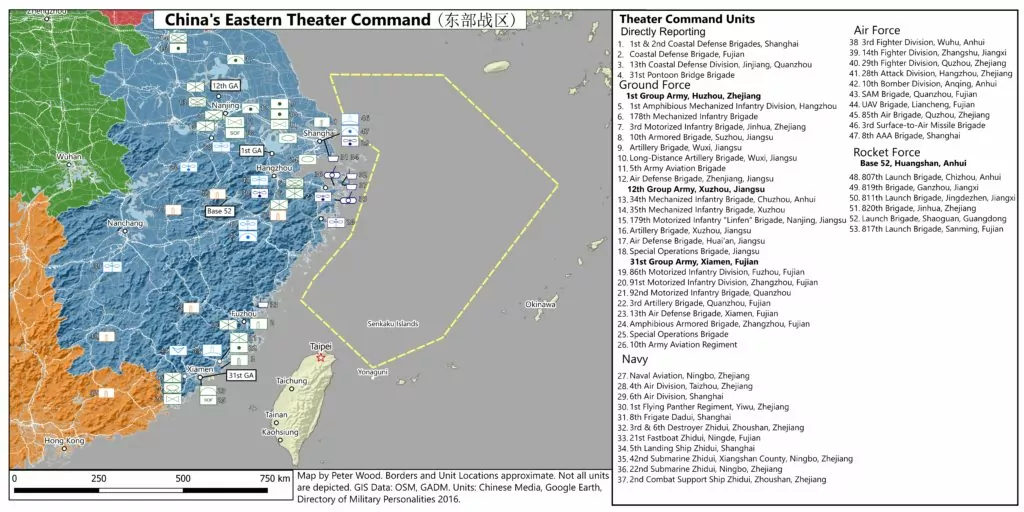 China has its largest concentration of naval forces at the mouth of the Qiantang river (钱塘江). The East Sea Fleet is headquartered in Ningbo, and home to naval aviation units and several destroyer and submarine squadrons (zhidui; 支队), typically of 4–5 ships. PLA Naval Aviation units play an important role as they are responsible for patrolling the line between Taiwan and the PRC in the Taiwan Strait. Long-range naval H-6G bombers from Benniu air base regularly participate in long-distance patrols through the Miyako Strait and into the western Pacific.
The southern half of the ETC is dominated by rough terrain, and was the birthplace of the PLA's predecessor, the Red Army, in Nanchang, Jiangxi province. Jiangxi's mountains served a home base for a weakened Red Army in the early stages of China's civil war. Now, Rocket Forces launch brigades present within the ETC are primarily located in the complicated terrain of Jiangxi and Anhui.
The coastal cities of Xiamen and Fuzhou, situated directly across the strait from Taiwan are also home to a large concentration of forces. The PLA Ground Forces' headquarters is located in Fuzhou, and the area is well protected by Air Force and Ground Force air defense units, including long-range surface to air missiles that cover the entirety of the Taiwan Strait. Amphibious and Special Forces units vital to an invasion of Taiwan are also present under the 31st Group Army.
Joint Operations
The ETC's Commander is Liu Yuejun (刘粤军) and its Political Officer is Zheng Weiping (郑卫平). Liu and Zheng are both ground force commanders with experience in China's former Guangzhou military region in the south. Liu even participated in China's last military conflict, its short border war with Vietnam in 1979 (The Taiwan Link, April 3, 2016). In any conflict, these men would need to coordinate closely with their subordinate commanders of the Ground Forces, Navy and Air Force, as well as the Rocket Force commander. In March 2016, in the midst of the shift to theater commands, Liu and Zheng coauthored an editorial in the Communist Party's journal Seeking Truth in which they described the creation of the theater commands as a key enabler of joint operations (Seeking Truth, March 31, 2016).
The PLA has made progress in learning how to conduct joint operations, but the complications of conflict on its eastern seaboard also necessitates coordination between Theater Commands, particularly the Southern and Eastern Commands (China Brief, July 22, 2016). China's two marine brigades, for example, are located near Zhanjiang in Guangdong province. Although Shanghai is home to a landing ship squadron, such forces would need to work together. Other units would need to be redeployed from other theater commands. This would allow, for example, strategically important areas to rapidly increase their air defenses by redeployment from the Central TC to the area around Fuzhou, as recently practiced by an HQ-9 Surface-to-Air Missile (ChinaMil, October 12, 2016).
The PLA regularly practices the types of operations it would need in a Taiwan scenario. Amphibious units practice long-distance movement overland as well as maritime operations (China Brief, August 4, 2015). The Liaoning, China's test-bed aircraft carrier, has recently begun live-fire air superiority and anti-ship operations (China Brief, December 21, 2016). As China completes and brings online its own indigenously built carriers, both operations could be used off the northeastern coast of Taiwan. Air Force and Naval Aviation have conducted joint long-distance patrols near Taiwan and through the Miyako Strait (China Brief, October 26, 2016).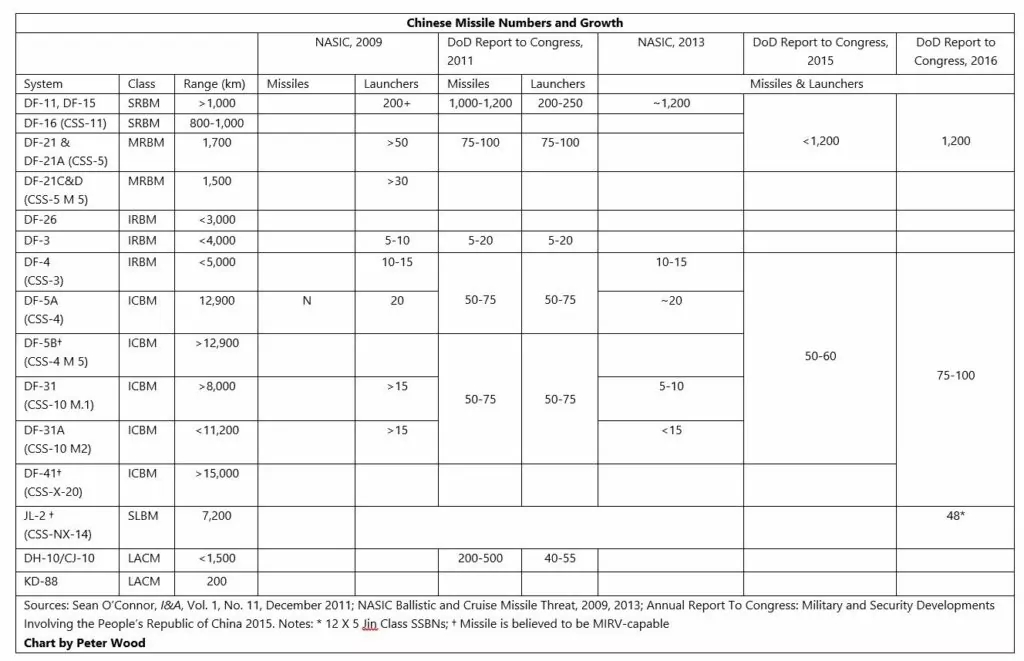 The Rocket Forces also play an important role in the ETC's offensive power projection. There are at least four Rocket Force Launch Brigades in the ETC, under Base 52 in Huangshan, Anhui, as well as an additional brigade in Shaoguan, Guangdong. According to the latest Annual to Congress on the Chinese military, some 1,200 short- and medium-ranged ballistic and cruise missiles are aimed Taiwan and beyond. (See chart for specific numbers).
These forces would be expected to strike quickly at air bases and ports in Japan as well to neutralize threats. The Rocket Force even dubs its advanced DF-16 SRBM the "Okinawa Express" (People's Daily Online, February 15).
Though beyond the scope of this discussion, network warfare units under the Strategic Support Force in Shanghai, Quanzhou and elsewhere would play an important role in any Eastern Theater Command campaign. A large number of signals intelligence units are also present opposite Taiwan (TheTaiwanLink, August 8, 2016). Rocket Force units, along with operations by the Strategic Support Force against key ISR infrastructure would take the lead in attacking Taiwan or Okinawa in a conflict.
Conclusion
Chinese rhetoric regarding Taiwan and Japan have gone through several cycles. Ahead of the Communist Party's 19th Party Congress later this year, it is possible that such rhetoric has a political rather than strategic meaning. However, the PLA continues to modernize, and Taiwan's military deterrent continues to suffer due to budgetary and political issues (China Brief, August 22, 2016; October 4, 2016). The United States itself is reexamining its own policies toward East Asia, introducing an additional element of uncertainty. However, despite the many changes that China's military strategy has undergone, it unlikely that the Eastern strategic direction will lose importance any time soon. If conflict breaks out between China and another country, the Eastern Theater Command will play a leading role.
Peter Wood is the Editor of China Brief. You can follow him on Twitter @PeterWood_PDW
Notes
While such language has long been part of official statements on Taiwan, it is a recent edition to the NPC report. A review of the 2014, 2015 and 2016 NPC Work reports did not find similar language, although the 2015 report included the phrase "opposing independence".
The Science of Military Strategy [战略学], 3rd ed., Beijing: Military Science Press [军事科学出版社], 2013, p. 32
The Science of Military Strategy [战略学], 3rd ed., Beijing: Military Science Press [军事科学出版社], 2013, p. 101
General References
Dennis J. Blasko, The Chinese Army Today: Tradition and Transformation For the 21st Century, 2nd Edition, New York: Routledge, 2012.