Somalia's al-Shabaab Movement Turns on Itself
Publication: Terrorism Monitor Volume: 11 Issue: 16
By: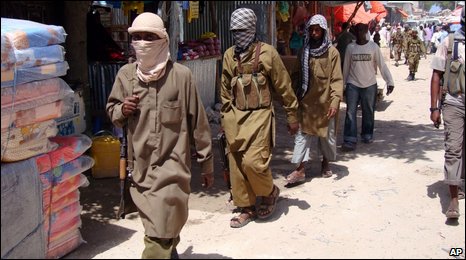 Once strong and united, Somalia's al-Shabaab militant group is on the brink of self-destruction following a multi-year power struggle and the development of internal divisions within its leadership. At present, the group's amir, Ahmad Abdi Godane (a.k.a. Shaykh Mukhtar Abu Zubayr), is attempting to consolidate his position though a bloody campaign involving the elimination of his rivals within the movement. 
Abdi Godane, who took over the al-Shabaab leadership in May 2008 after a U.S. airstrike killed the movement's founder, Adan Hashi Ayro, was victorious in a June 19 battle against his rivals in the coastal town of Barawe (Lower Shabelle region), one of the last remaining al-Shabaab strongholds in the south (Radio Muqdisho, June 20). The battle pitched Godane's faction against another led by Ibrahim Haji Jama (a.k.a. al-Afghani), a co-founder of al-Shabaab and was the first incident to turn al-Shabaab's secret enmity into an open war. The power struggle between the two men, who both hail from the same Isaaq clan prominent in the breakaway northern region of Somaliland, has been underway for the past three years and mirrors the deepening ideological divisions within the group. 
Godane's faction is a purveyor of the global jihadi agenda and has close ties with al-Qaeda leader Ayman al-Zawahiri, while al-Afghani was allied with the nationalist faction of Shaykh Mukhtar Robow "Abu Mansur" and Shaykh Hassan Dahir Aweys, both high-ranking Islamist leaders. The foreign jihadists within al-Shabaab were also aligned with al-Afghani's group. However, Godane's specially trained Amniyat fighters, the group's intelligence division, killed both al-Afghani and fellow high-ranking Shabaab commander Shaykh Abdihamid Hashi Olhaye (a.k.a. Moallim Burhaan) in the battle at Barawe, about 110 miles southwest of Mogadishu (Hiiran.com, June 22). 
Al-Shabaab's military spokesman, Shaykh Abdiaziz Abu Musab, confirmed the death of the two top leaders on June 29 by saying they were killed in a shoot-out when they tried to resist an arrest warrant from the group's court (Bar-Kulan, June 30). Several other al-Shabaab officers were killed alongside al-Afghani, who earned his moniker from his al-Qaeda training in Afghanistan. Moallim Burhaan was responsible for recruiting and mobilizing young fighters for al-Shabaab. 
Al-Afghani, who was the target of a $5 million bounty offered by the United States, was the public face of a growing faction within al-Shabaab opposing the leadership of Abdi Godane as the movement split into two factions based on ideological differences and clan affiliation.
In April, al-Afghani wrote a letter to al-Qaeda leader Ayman al-Zawahiri that was published on various Islamist websites. In the letter, al-Afghani criticized Godane's leadership and the group's mistreatment of American jihadist Omar Hammami (a.k.a Abu Mansur al-Amriki), a well-known propaganda mouthpiece for the movement (Kismaayo News, April 16).    
The letter was co-signed by Shaykh Mukhtar Robow (a.k.a. Abu Mansur), a high-ranking Shabaab leader and the group's former spokesman, Shaykh Hassan Dahir Aweys, the former chairman of Hizb al-Islam, an Islamist group that eventually merged with al-Shabaab and Moallim Burhaan, who warned against "blind obedience" to Godane's leadership and orders (Sabahionline, April 12). 
The letter was a clear indication of the growing hostility inside al-Shabaab's leadership, but it was unexpected that the group's amir would have the courage to silence al-Afghani, who was widely seen as a successor to Godane. The al-Shabaab leader's action may be seen as a last attempt to maintain power while sending a warning to his remaining opponents – a message that did not fall on deaf ears. 
Shaykh Hassan Dahir Aweys, a former army colonel and a hero of the 1977 Somalia-Ethiopia war, escaped from Barawe by boat on June 22. Aweys went first to the coastal town of Hobyo to seek asylum from his clan and then surrendered to the administration of Himan and Heeb (an autonomous regional state within the Somali federation) on June 25 following the killings of al-Afghani and several other Islamist officials (Mareeg Online, June 24; Jowhar.com [Mogadishu], June 13). 
The 78-year-old Shaykh Aweys was initially reluctant to surrender to the UN-backed government of Somalia and to disown al-Shabaab, but later agreed to talks with the government about his fate after receiving assurances from his clan elders' that he would receive a government amnesty. However, on his arrival at Mogadishu Airport on June 29, Somalia's Special Forces arrested Aweys and beat up members of his delegation, including politicians and traditional elders (Dhacdooyinka.com, June, 29). 
Aweys' arrest has angered politicians and elders from Aweys' Hawiye/Habr Gadir/Ayr clan, who felt betrayed and demanded the immediate release of the leader without conditions.  Warlord Yusuf Muhammad Siyad, a former state minister for defense and a relative of Aweys, threatened to rescue the Shaykh by force (Dhacdooyinka.com, June 30). 
After several local media outlets announced that Aweys, who appears on the UN sanctions list and is a U.S.-designated terrorist, would be handed over to the CIA, hundreds of violent protesters took to the streets of Mogadishu to demand his immediate release. Government authorities, however, denied that Aweys would be turned over to any foreign intelligence agency (Sahanjournal.com, July 5). 
Though Aweys is still in the custody of Somalia's National Intelligence and Security Agency (NISA) and is believed to be negotiating with government officials secretly, his surrender has not helped the government. Aweys' detention is instead hampering the government's efforts to stabilize the country because militias from his clan, who enjoy a large presence in the capital, could be a threat to Mogadishu's security. It also represents a missed opportunity that the government could have exploited to attract senior al-Shabaab leaders to surrender because Shaykh Aweys has the influence to convince members of the group to join the government if he is given the chance. 
Shaykh Aweys' erstwhile companion, Shaykh Mukhtar Robow, is now thought to be the last major opponent of Godane in the field. After fighting Godane's forces at Hudur (Bakool region) on June 22, Mukhtar Robow withdrew to the southern Bay and Bakool region, the home turf of his Rahanweyn clan, where his forces were reported to have again engaged in heavy fighting with Godane's faction on August 3 (Mareeg Online, July 30; Garowe Online, August 3). Prior to Aweys' arrest, Mukhtar Robow was in contact with clan leaders to negotiate the possibility of turning himself in under a government amnesty program (alldhacdo.com, June, 28). However, seeing the government's mistreatment of Shaykh Aweys and the betrayal of the Shaykh's clan, Abu Mansur is now unlikely to hand himself over to the government voluntarily, even though there is no way of returning to the Godane-led al-Shabaab. Shaykh Hassan Dahir Aweys, who was the first senior Islamist leader to surrender to the government in some years is now likely to be the last high-ranking al-Shabaab officer to defect as senior commanders of the movement will prefer remaining in the lines between the government and Godane rather than risk public humiliation. 
Muhyadin Ahmed Roble is a Nairobi-based analyst for the Jamestown Foundation's Terrorism Monitor publication.