SOUTH STREAM: GAZPROM'S NEW MEGA PROJECT
Publication: Eurasia Daily Monitor Volume: 4 Issue: 123
By: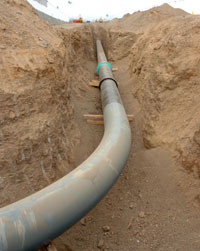 On June 23 in Rome, ENI Chief Executive Paolo Scaroni and Gazprom Vice-Chairman Alexander Medvedev signed a memorandum of understanding to build a gas pipeline from Russia to Italy — South Stream. Energy Ministers Pierluigi Bersani of Italy and Viktor Khristenko of Russia joined the two executives in providing some commercial and technical specifications of the project.
Quite apart from those specifications, the project at this stage seems politically motivated to intensify competition among European countries for limited amounts of Russian gas. South Stream significantly increases Russia's options to play consumer countries and various national energy champions in Europe against each other.
South Stream would start from Russia's Black Sea coast at Beregovaya, the same starting point as that of the Blue Stream pipeline to Turkey. South Stream would run some 900 kilometers on the seabed of the Black Sea, reaching a maximum water depth of more than 2,000 meters, to Bulgaria. Two options are under consideration for the Bulgaria-Italy route. The southwestern option would continue through Greece and the Adriatic seabed in the Otranto Strait to southern Italy. The northwestern would run from Bulgaria through Romania, Hungary, and Slovenia to northern Italy. If the second route is chosen, a lateral spur from Hungarian territory into Austria is a "possibility." Gazprom is holding out all options, including that of building both the southwestern and the northwestern routes.
The new pipeline is planned ostensibly to carry 30 billion cubic meters of gas annually. ENI's unit Saipem — which had previously built the Blue Stream pipeline for Gazprom — expects to deliver the feasibility study for South Stream within several months. Gazprom and ENI would jointly finance, own, and operate the project on a parity basis. Countries along the overland route(s) would be offered minority stakes in the South Stream project. Transit deals are explicitly ruled out. Moscow speaks of "tasking" those countries: "The governments of those countries have the task to build an efficient system of agreements supporting this initiative," Khristenko stated (Interfax, June 23).
Gazprom and ENI will share the investment costs equally and are working out the cost estimates. According to ENI, the costs would be in line with those of creating an LNG supply chain (gas liquefaction plants, tanker ships, re-gasification plants) along the South Stream route. This is an oblique admission that the costs would be very high. Construction work on the pipeline could start "within months" from Russian territory and is expected to be completed in less than three years. However, the start of construction must await approval from European Union competition and regulatory authorities.
The upstream sources for South Stream could be Siberian gas and Central Asian gas in proportions that are yet to be determined. Medvedev spoke interchangeably of Russian gas and Gazprom-owned Central Asian gas at the June 23 presentation of South Stream. For its part, ENI bought the Siberian gas-producing companies ArcticGaz and Urengoil in April 2007, when the Russian government auctioned off the last remaining assets of the destroyed Yukos company. Reciprocally, ENI has opened direct access for Gazprom to distribution systems and end consumers in Italy.
Attending an "energy summit" on June 24 in Zagreb, Russian President Vladimir Putin held a bilateral meeting with Bulgarian President Georgi Parvanov to draw Bulgaria into the South Stream project. According to Russia's account of the meeting, Parvanov eagerly accepted. Putin also claimed that the European Commission's reaction to Russia's announcement of South Stream was encouraging (Itar-Tass, June 24).
Launching South Stream at least as an intention reflects Russia's policy to reduce overland transit through neighboring countries, relying increasingly on maritime transportation for its energy exports to Europe.
Even more ambitiously, Russia seeks to maximize the range of its export routes under full or partial Russian control. Adding to the existing pipelines — Beltransgaz and Yamal through Belarus and Poland and the Ukrainian transit pipelines westward and southward — Russia is building the Baltic seabed pipeline to Germany; planning to extend its Blue Stream pipeline from Turkey farther afield; and now targeting southern and central Europe through the South Stream pipeline.
By putting a multiplicity of options on the table, Russia can pressure countries it regards as "recalcitrant" into transportation deals favorable to Moscow. For example, Ukraine seeks Russian consent to maintain (rather than reduce) annual gas transit volumes and to build the Uzhhorod-Bohorodchany extension of Ukraine's pipeline system. For its part, Turkey considers the possibility of participating in the proposed extension of the Blue Stream pipeline on Turkish territory. However, the Russia-Bulgaria pipeline on the seabed of the Black Sea is intended to circumvent both Ukraine and Turkey. This option considerably strengthens Russia's leverage in negotiations with those transit countries; and, in Ukraine's case, it may increase Moscow's leverage to demand partial control of Ukraine's transit pipelines in return for not reducing transit volumes through that country.
South Stream can partly change the original destination of Blue Stream's extension. According to Gazprom, the throughput volume for the extended Blue Stream may be either reduced or rerouted southward across Anatolia for shipment to Israel (the latter option seems far-fetched on many counts, however).
If carried out, South Stream would partly replace the planned extension of Blue Stream from Turkey through Bulgaria, Romania, Hungary, and Austria. Either project is rival to the EU- and U.S.-backed Nabucco transport project for Caspian gas along that same route. South Stream would also rival the proposed extension of the Baku-Tbilisi-Erzurum gas pipeline through Turkey, which is planned to either be integrated with Nabucco or run from Turkey to Greece and Italy. Apart from running ahead in the transit and downstream races, Russia is running way ahead in the upstream race for Central Asian gas to feed these projects.
Moreover, Moscow seems to be planning greater transport capacities than its own gas resources may be able to fill from stagnant Russian production in the years ahead, even taking Gazprom's purchases of Turkmen gas into account. Instead of duly investing in extraction in Russia itself, Gazprom is increasingly investing in the construction or capture of assets in Europe.
Apparently, Gazprom follows Transneft's example of planning to build surplus pipeline capacities as an element of export strategy. Euphemistically referred to as "flexibility," surplus pipeline capacities (if built as intended) will enable Russia to switch export directions for large hydrocarbon volumes — favoring one or another direction, country, or national champion — according to a system centrally managed from Moscow. The Kremlin seeks to become the political manager of an energy supply system for Europe under conditions of tight or even deficit supplies in the medium term.
(ENI presentation, June 23; Interfax, Bloomberg, June 23-25)