Spring 2023 Outlook for Russian Arms Manufacturing
Publication: Eurasia Daily Monitor Volume: 20 Issue: 57
By: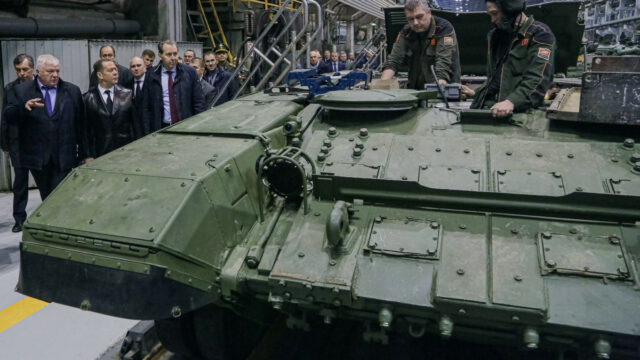 Moscow continues its struggle in trying to increase production rates for its arms manufacturers and in restoring the storage of arms lost after over 13 months of fighting against Ukraine. The manufacturing output index for sectors related to the Russian defense industry from January to February 2023 as compared to same period in 2022 was: for computers, electronics and optical devices, 112.6 percent; for other transportation vehicles and equipment (including aircraft and vessels), 117.7 percent; and for chemical production (without coal and crude oil refining), 94.2 percent. Meanwhile, the supply indexes during the same period differ somewhat from the manufacturing indexes: for computers, electronics and optical devices, 126.1 percent; for other transportation vehicles and equipment (including aircraft and vessels), 140.7 percent; for chemical production (without coal and crude oil refining), 74 percent (Rosstat.gov.ru, March 29).
This difference between the two indexes may be explained by the fact that Russian companies recently supplied arms that were manufactured in late 2022, considering the known delays in the delivery of ordered arms and other systems (Government.ru, January 18). However, these indexes are counted in rubles, not in units, and it is difficult to say whether this manufacturing dynamic is sustainable considering the inflation of the ruble and growth of other economic costs.
For example, the production category "Semi-Conductor Devices and Their Parts" as represented in other datasets is counted in units and has demonstrated a significant increase in production: 7.5 million units, or 145.2 percent from January to February 2023 as compared to the same period in 2022. However, the problem with this comparison is that this category's manufacturing output in February 2023 was only 89.7 percent as compared to January 2023. That means there were almost 4 million semi-conductor devices manufactured in January 2023, with 3.5 million of them having actually been manufactured in February 2023 (Rosstat.gov.ru, March 29).
Despite the relatively optimistic statistics of early 2023, the mounting problems in arms manufacturing remain urgent focuses for the Kremlin. The annual government subsidies for those industrial companies related to the defense sector exceed 700 billion rubles ($9.5 billion) for 2023 and 2024. That is much higher than in 2018–2022 and indicates a significant cost-plus inflation (Kremlin.ru, April 4).
Improving the ability to reverse-engineer technology together with the need to bolster and better support research and development (R&D) for defense purposes is another major trouble for Russian industry—and due to a lack of funding and severe personnel shortages, this trouble is far from being solved, especially in arms manufacturing (Kremlin.ru, April 4). The paradox here is that the task of extending the manufacture of existing models of arms coupled with the tasks of extending reverse-engineering activities and other types of research and development contradict one another when they are being pursued within the same company. As a result, none of these tasks are currently being completed in an effective manner.
The deficit of qualified candidates in the workforce is another serious problem for Russia's arms industry. For instance, recently, representatives from Uralvagonzavog and Kurganmashzavod—manufacturers of main battle tanks and armored vehicles, respectively—announced they are having serious issues finding more workers and engineers, despite increasing salaries and other bonuses (Newizv.ru, January 19).
In this way, even the repair of systems and vehicles that have been used or damaged on the Ukrainian battlefield has become a problem, which, from the Russian side, desperately needs attention as well as conclusive decisions made at the highest levels if Russia is to keep up the current intensity of fighting. Several months after the establishment of two tank repair plants near Moscow and Rostov-on-Don—the 71st Armor Repair Plant and 72th Armor Repair Plant, respectively—Russian Prime Minister Mikhail Mishustin announced the establishment of a new artillery repair plant (Kommersant, September 5, 2022; Government.ru, March 31). However, the growing personnel deficit within Russia's workforce for these types of facilities will hardly be solved anytime soon, even if the plants are operational and prepping to employ completely inexperienced workers (Ramenskoye.ru, January 26).
Thus, it is clear that the Russian defense industry is far from operational sustainability. This means that increasing arms manufacturing may, in fact, be much more difficult for Russia than the official statistics reveal. Even Putin himself has tried to moderate his optimism on this point. For example, his claim that Russia will produce and modernize 1,600 main battle tanks in 2023–2025 is de facto including T-72, T-80 and T-90 tanks, as the old Soviet tanks, such as the T-62, are being taken out of storage and modernized at various armor repair plants (Uawire.org, March 25). In this, the Russian president is most likely even counting the tanks that are being repaired and modernized after returning home from Ukraine.
Additionally, Putin announced that Russia will produce and modernize more than 3 million artillery rounds by 2025, which means that Russia has not yet been able to significantly increase its manufacturing and modernization rates, as estimates in 2022 claimed that about 1.7 million rounds would be produced annually (Smotrim.ru, March 26). Thus, with reports proliferating that Ukraine is preparing for its next counteroffensive, Moscow is scrambling to solve the plethora of problems in its defense industry in hopes of retaining the initiative on the battlefield and keeping Ukrainian forces at bay.