Sri Lanka: Beijing's Growing Foothold in the Indian Ocean
Publication: China Brief Volume: 9 Issue: 12
By: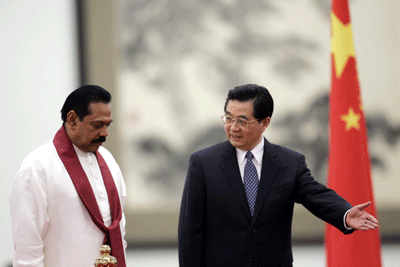 The Sri Lankan President Mahinda Rajapaksa and his government have received praise and accolades from several quarters after their triumph last month over the LTTE (Liberation Tigers of Tamil Eelam). The total annihilation of this separatist group brought an end to a civil war that has lasted over two decades. The long civil war resulted in the deaths of 80,000 to 100,000 people and over 300,000 displaced (Indian Express, May 30; Internal-displacement.org, June 4). The Sri Lankan victory over the LTTE was made possible by military support from a number of countries who supplied weapons and platforms, training, intelligence and guidance to the Sri Lankan armed forces. In addition to providing military support, contributing countries also urged Colombo to seek a political solution to the Tamil problem. Of particular interest is Chinese political and military support to Sri Lanka in its fight against the LTTE.
The Sri Lankan national government's military success was celebrated with a victory parade on June 3 "to show off the military's prowess" and also to instill confidence among the Sinhala, Tamil and Muslim community in the government's ability to safeguard the nation's sovereignty and protect its people. The victory parade was a spectacular event with columns of military troops belonging to the Sri Lankan army, navy and the air force, police forces, civil defense personnel and the National Cadet Corps marching along the Galle Face Green, a seaside promenade in central Colombo. Also on display were Chinese-made armored vehicles and artillery guns, Czech-made multiple rocket launchers, and Indian-made mobile radars and anti-aircraft guns. Naval vessels and gunboats were stationed close by on the waterfront (U.S., Indian, Chinese origin) and airpower was displayed in the form of fighters (Ukranian MiG 27s, Chinese F-7 and Israeli Kfir C7) and helicopters (Russian MI-24 and U.S. Bell) (Wsws.org, June 5; Slsecurityforces.blogspot.com, June 5).
In fact, both Colombo and Beijing have been discussing Sri Lanka's security problem since the early 1980s. As early as 1983, the Chinese government has conveyed to Colombo through Harry Jayawardene, the special envoy of President Junius Richard Jayewardene, that the ethnic problem was Sri Lanka's own internal affair and it was important to seek a political solution. In 1986, Colombo sought assistance to 'install defense manufacturing capacity for light arms and supply additional patrol boats,' but was declined. Apparently the Chinese refused because of the thaw in Sino-Indian relations. In 1987, Ranil Wikramasinghe of the United National Party, who later became the Prime Minister of Sri Lanka, visited China to marshal Chinese support but Beijing preferred a political solution to the ethnic problem.
President Jayawardene had sought extensive military support from China but Beijing only agreed to send a military team to assess the military requirements of the country in 1986 [1]. President Jayawardene summed up China's relationship with Sri Lanka by saying: "They were good friends and gave us military equipment, guns etc at reasonable terms. But what could they do? I could not ask them to start a war in the North to keep the Indian's busy. Even if I had, I doubt if they would have done it?" obviously referring to India's support to the Tamils in Sri Lanka [2].
China continued to provide political and more recently enormous military support to Sri Lanka in its war against the LTTE. Its initiatives to block attempts by certain countries to place the issue of ethnic war in Sri Lanka on the United Nations Security Council discussions, and its regular arms supply were critical for Sri Lanka particularly after its new offensive against the LTTE since 2007. This was a clear indicator of a newfound understanding between Colombo and Beijing.
The LTTE air raid over Colombo in 2007 that witnessed Zlin-143 bombers dropping bombs over the airport with impunity came as a big shock to the Sri Lankan government. The rise of LTTE airpower was indeed a turning point in the Sri Lankan military strategy. Also, the LTTE had been successful in thwarting Sri Lankan military attempts to capture territory in the North. These developments had prompted the Sri Lankan government to increase military spending by nearly 20 percent from $1.23 billion in 2007 to nearly $1.47 billion in 2008.
Meanwhile, China was quick to deny that it supplied heavy weapons to the Sri Lankan military. Reportedly, the Chinese ambassador Dabo Ye met the Tamil MP and rights activist Mano Ganeshan in March 2008 and conveyed to him that China's actions should not be interpreted as 'anti-Tamil' and according to Ganesan, "The ambassador made it clear that China did not want to take sides in the ethnic conflict, and that it did not favor any particular political party or community in its dealings in Sri Lanka" (ThaiIndia News, March 20, 2008).
Although Beijing may have conveyed to Colombo its oft-stated position that Sri Lanka must seek a political solution to the ethnic problem, it did not waste the opportunity to sell military hardware to Sri Lanka after the Indian government declined to provide military equipment, citing concerns over the use of force against the Tamils. The Sri Lankan Army chief Sarath Fonseka has noted that "India had told us they were not in a position to sell or send offensive weapons or even equipment like radars and basic communication equipment to meet our requirements" (Indian Express, May 25). The United States also suspended military aid to Sri Lanka over human rights issues.
During Sri Lankan President Mahinda Rajapaksa's visit to China in 2007 (February 26 to March 4), the joint communiqué had indirectly referred to the ethnic violence in Sri Lanka and noted that "The two sides resolved to fight tirelessly against the three evil forces of terrorism, separatism and extremism, and would step up consultation and coordination on regional and international counter-terrorism action." In April 2007, China and Sri Lanka reached a $37.6 million deal for supply of artillery guns, armored personnel carriers (APCs) and infantry weapons. China also agreed to supply other systems to counter LTTE ambushes. Beijing also agreed to sell six F-7 jet fighters, considered critical to destroying the LTTE's fledgling air force and also demolish other military infrastructure such as command posts, underground bunkers, ammunition storages, boatbuilding yards and above all the airstrips (Thaindian, May 2).
Interestingly, Beijing encouraged Islamabad to meet Colombo's military requirements and help fight the LTTE (Thaindian, May 2), it also encouraged Pakistan to train Sri Lankan pilots. Some Indian defence and military experts maintain that Chinese and Pakistani air force advisors were in Colombo for the last year helping the Sri Lankan military plan combat missions against the LTTE strongholds. China also supplied the Sri Lankan Army the HJ-8 anti-tank missiles that were used against the LTTE hardened structures and pill boxes (China-defense-mashup.com). The Sri Lankan army is also known to possess the Baktar Shikan, a variant of HJ-8 being manufactured under license in Pakistan. Following the LTTE air strikes, Sri Lanka had planned to upgrade its air defense capability. In 2007, it ordered JY-11 radar from China but the order was held in abeyance due to objections from India over air coverage that could overlap with Indian air space.
In Sri Lanka, Lanka Logistics & Technologies, a state-owned enterprise, is the primary agency responsible for the procurement of hardware for the military establishment. Interestingly, China established the Bonded Warehouse of China North Industries Corporation (NORINCO), a renowned international conglomerate, in the port city of Galle as far back as 1994. As part of an agreement that is renewed every two years, the warehouse stores military equipment and ordnance for the Sri Lankan military and the supplies are made on payments; whatever is not available is sourced back to China and supplied. In a very interesting move, in 2004, NORINCO donated 1 million Renminbi to Sri Lanka's Tsunami relief fund. Mr. Zhang Guoqing, President of NORINCO expressed his grief over the devastation caused by the Tsunami and hoped that they could actively participate in the rebuilding process (Norinco.com, December 31, 2004).
Reportedly, Sri Lanka owes nearly $200 million for the military purchases from NORINCO and has not renewed its contract, instead opting for Poly Technologies, a PLA military enterprise. Poly Technologies has supplied a variety of military equipment including ordnance to the Sri Lankan forces. The Sri Lankan Army has purchased 120 mm mortar shells valued at $10.4 million, 152 mm artillery shells for $20 million, and 81 mm high-explosive mortar bombs for $3.7 million. Similarly, the Sri Lankan Navy has acquired ammunition and guns at $2.7 million including naval guns, heavy machine guns, multipurpose machine guns, and submachine guns. Interestingly, Chinese origin weapons including automatic rifles, anti-tank weapons and grenade launchers have been found in the inventory of the LTTE too (Express Buzz, May 29). These are believed to be sourced from Myanmar.
Besides military assistance, China increased its aid to Sri Lanka from a few million dollars in 2005 to about $1 billion in 2008 while the United States approved only $7.4 million and the U.K. £1.25 million in humanitarian aid. In fact, China has displaced Japan as the major aid donor to Sri Lanka (Timesonline, May 16).
China has not only backed Sri Lanka with military assistance and enormous economic aid, it has invested in development of infrastructure. In May 2007 China and Sri Lanka signed the "establishment of friendship city relationship" relating to the Hambantota district for development of infrastructure. Designated as the Hambantota Development Zone (HDZ), the project envisages building a harbour facility, bunkering facilities and a tank farm. The HDZ is estimated to cost $1 billion and would be completed in fifteen years. The first phase of construction commenced in October 2007 and is estimated to cost $450 million (Timesonline, May 16).
The HDZ is being developed in the form of dual use infrastructure similar to Gwadar in Pakistan and serves China in a number of strategic ways. First, because it is a deep water natural harbor it provides facilities for Chinese flagged merchant ships, container vessels, oil and gas tankers, and military vessels including nuclear submarines operating in the Indian Ocean or transiting through the western approaches of the Straits of Malacca. Second, China would be able to establish electronic systems and networks for monitoring Indian Ocean military and civilian traffic, electronic transmissions from the U.S. base at Diego Garcia and the Indian nuclear facility that is likely to come up at Rambilli in the Bay of Bengal. Third, Hambantota offers a strategic location for China to set up its space monitoring systems, considered critical for its ballistic missiles, which can challenge U.S. forces particularly the aircraft carriers who may threaten Chinese shipping in the Indian Ocean. Fourth, the Chinese fleet of fishing vessels that are also deployed for intelligence gathering duties can be staged from Hambantota. In essence, Hambantota fits well into the Chinese 'strings of pearls' strategy and has the potential to provide Beijing the critical 'leverage to play the Great Game in the Indian Ocean.'
After the military decimation of the LTTE, Sri Lanka is full of confidence and has the potential to exercise some amount of 'strategic autonomy.' It acknowledges the Chinese diplomatic and military support in its fight against the LTTE and could resist pressures from its big neighbour India and the West. China's politico-economic initiatives and unrestrained supply of military equipment to Sri Lanka has made New Delhi nervous, finding itself robustly encircled by China. Sri Lanka will be under tremendous pressure from India and may find itself sandwiched between the two rising powers of Asia and cornered to 'choose' between the two powers.
Notes
1. Urmila Phadnis and Rajat Ganguly, Ethnicity and nation-building in South Asia (Sage publications, 2001),p.331.
2. S.D. Muni, Pangs of Proximity: India and Sri Lanka's Ethnic Crisis, (Sage Publications, 1993),p.100, cited in Swaran Singh "Sino-South Asian Ties: Problems & Prospects", Strategic Analysis Volume XXIV No 1, April 2000.