State Capture, Failing State: Moldova's Twin Processes (Part Two)
Publication: Eurasia Daily Monitor Volume: 12 Issue: 212
By: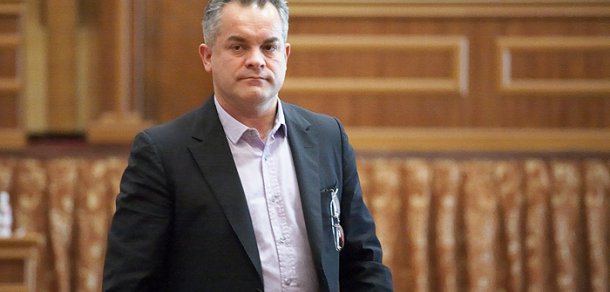 *To read Part One, please click here.
The latest public opinion survey, commissioned by the US International Republican Institute (IRI), confirms a deepening chasm between the "pro-Europe" coalition government and voters in Moldova (Infotag, Unimedia, IPN, November 10).
The coalition's three parties (the Liberal-Democrat Party under former prime ministers Vlad Filat and Valeriu Strelet, the Democratic Party informally led by the billionaire Vlad Plahotniuc, and the Liberal Party under Mihai Ghimpu) would, in this combination, receive only 13 percent of the votes cast, if parliamentary elections would be held "next Sunday." By comparison, the pro-Russia Party of Socialists and Our Party (led by Igor Dodon and Renato Usatii, respectively) would score a combined 35 percent, and the Communist Party another 7 percent. When the votes of undecided voters are factored in, Our Party and the Socialists would garner a combined 47 percent of the votes cast, which, under Moldova's proportional system, could result in slightly more than 50 percent of the seats in the parliament; additionally, the Communist Party would receive 7 percent of the votes in its own right. By comparison, parties of the incumbent "pro-Europe" coalition would receive a combined 14 seats, and two newborn pro-Europe parties—a combined 27 seats in the 101-seat Parliament. Thus, pre-term parliamentary elections would, if held soon, change the government and could amount to regime change in Moldova.
Further according to the IRI survey, 66 percent are in favor of pre-term parliamentary elections (25 percent are against), and 79 percent believe that Moldova is "headed in the wrong direction." Confidence ratings of the incumbent top political leaders have sunk to the bottom: State President Nicolae Timofti has 6 percent support, Filat enjoys 6 percent, and Plahotniuc—3 percent. By comparison, Usatii and Dodon stand at 41 percent and 37 percent, respectively, in the confidence ratings. The pro-Europe parties (whether genuine or merely declared as such) can no longer win elections with "European integration" slogans. The IRI survey shows the European Union trailing the Russia-led Eurasian Economic Union, 38 percent versus 45 percent, in terms of Moldovan voters' preferences. Conversely, in political terms, 52 percent consider relations with the EU to be good, compared with 35 percent believing that relations with Russia are good.
Overall, Moldova's economic and institutional crises have spawned a crisis of confidence in the incumbent "pro-Europe" parties and the political system as such. In parallel, the European Union itself is losing some of its credibility in Moldova, partly due to a negative image transfer from the government to the EU, and partly because Brussels and other European capitals are seen to have tolerated corruption and mismanagement by the nominally pro-Europe coalition since 2009.
Even as Plahotniuc's and his Democratic Party's ratings have hit bottom, Plahotniuc's state-capture bid is advancing through the institutional setup. Such a disconnect between state and country can generate dangerous social and political tensions. These are becoming manifest with the birth of regime-change movements—both pro-Western (Platform of Dignity and Truth) and pro-Russia (Socialist Party and Our Party, acting in the extra-parliamentary arena). Dodon's and Usatii's parties oppose Plahotniuc's clan in a strategic sense, but are making tactical deals with it for the common goal of breaking up the Liberal-Democrats, Moldova's main pro-Western party.
In the executive and judicial branches, Plahotniuc's team currently controls the Ministry of Economy, Ministry of Transport, Ministry of Justice (to name the most important ministries in its sphere), the Anti-Corruption Center, the Prosecutor General's Office, and the National Integrity Commission (these can and do produce "kompromats" against political opponents, while shielding their own political and business allies). Plahotniuc's team also controls several economic and market-regulatory agencies and influences some key courts (from primary-level courts in Chisinau and elsewhere to higher- and highest-level courts), and can count on the politicized Constitutional Court on a case-by-case basis in key matters (e.g., following Filat's detention in breach of several existing laws, the Constitutional Court declared those laws retroactively invalid) (Ziarul National, IPN, November 17). The National Bank and the Security and Intelligence Service, which had initially been allocated to Ghimpu's Liberals, in the coalition agreement, have meanwhile passed fully or partially into Plahotniuc's sphere. In parallel, Filat's Liberal Democrats lost effective control of the finance and interior ministries (initially allocated to them) and, with the recent ouster of Strelet, have also lost the prime minister's post.
Leading the negotiations to form a new coalition government, Plahotniuc's Democratic Party aims to designate the prime minister (whether from its own or allied ranks) and to nominate the internal affairs minister (according to local observers, wresting control of the Ministry of Interior was among the motivations for toppling the Strelet government). The Democratic Party (19 parliamentary seats) plans to form a bloc with Vladimir Voronin's Communist Party, or absorb this party outright (it has 21 parliamentary seats and a still large electorate, but it needs Plahotniuc for financial survival). The Communists currently behave like the Democratic Party's satellites in parliament. Ghimpu's Liberal Party has acted in tandem with Plahotniuc's Democrats most of the time, from 2010 to date. Plahotniuc also relies on four parliamentary deputies who defected from the Liberal-Democrat Party (the Iurie Leanca Group, led by the eponymous former prime minister). Thus, overall, the Democratic Party counts on support from 57 out of 101 members of parliament at this time.
That combination, however, is too diverse politically and even ideologically to form and sustain a new government. This is why the Democratic Party's nominal chairman, Marian Lupu, with his fellow party member Andrian Candu, the chairman of the parliament, find it so difficult to build a new government, even after the "double decapitation" of the Liberal-Democrat Party (arrest of party leader Filat on October 15, removal of Prime Minister Strelet on October 29, by ad hoc combinations of the Democratic Party and its allies). Chisinau's political debates, however, are no longer fixated (as they until recently were) on games of parliamentary arithmetic. Increasingly, the legitimacy of the existing political system itself is coming under question, and "freeing the state from captivity" has become the uppermost political issue in society. This has deeper and more far-reaching implications than the technical question of whether Plahotniuc would prefer to build a new coalition government around his party or, alternatively, call pre-term parliamentary elections, and if so when.