CCP Stealth War 133; Feature: China's Sister-City Relationships in Focus 
By: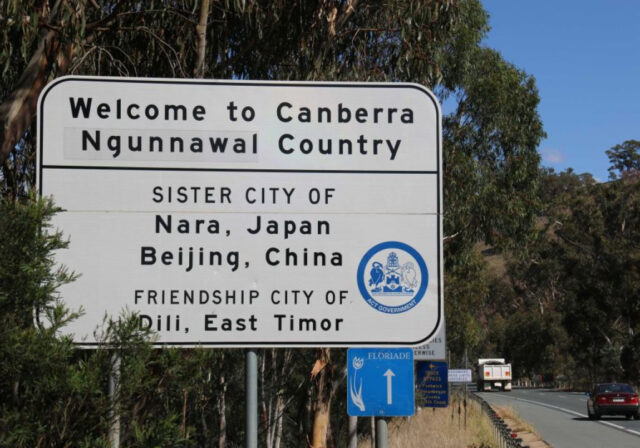 This Week: 
* Feature: China's Sister-City Relationships in Focus
* Xiong'an New Area: Xi Outlines Vision for "City of the Future" on the Outskirts of Beijing
* China Delivers Two More Frigates to Pakistan's Military, Further Deepening Ties
* Huawei Reports Near Flat Revenue Growth in Q1 as U.S. Sanctions Bite
* PLA Navy Vessels Circle Japan as Sino-Japanese Tensions over Taiwan Mount 
---
Feature: China's Sister-City Relationships in Focus 
By Flora Yan
The 2023 China International Big Data Industry Expo will be held in Guiyang, capital of southwestern Guizhou province In less than two weeks. According to Xinhua, Guiyang has been "the front runner of China's big-data industry since it was approved to build the country's first national big-data comprehensive pilot zone in 2016." (Xinhua, May 29, 2021)
The Expo, which was initiated in 2015 and co-sponsored by the National Development and Reform Commission as well as the Ministry of Industry and Information Technology, has been touted as the CCP's hallmark forum for showcasing and promoting developments in big data (China Daily, February 20; China Daily, February 22). This year, for the first time, an exhibition area will be dedicated to "international friendship cities" in order to "promote the exchange and cooperation of the big data industry at home and abroad," and "13 sister cities or localities of Guizhou city and Guiyang province will be presenting there." The list of participating entities includes American Airlines and XTO Energy, both based in Fort Worth, Texas (China Daily, May 8). This may be an indicator of the increasing geostrategic importance Beijing attaches to sister-city relationships, raising questions about what, if any role, they may play in China's big data research and development ecosystem.
In recent years, a growing number of city councils across multiple countries have ended their sister city ties with their Chinese counterparts. In the Netherlands, Arnhem ended a 21-year sister-city relationship with Wuhan, citing Beijing's deteriorating human rights record (RFA, July 23, 2021). At least seven other cities and two provinces have followed suit within two years, with nearly a quarter of all cities ending their relationships with Chinese counterparts (NRC, May 7).
In the UK, Newcastle ended its 37-year partnership with Chinese industrial city Taiyuan after a local scholar became the first British academic sanctioned by Beijing and out of concerns about escalating human rights abuses in Xinjiang (The Times, November 3, 2022; BBC, November 3, 2022). In Sweden, 21 out of 49 partnerships have been terminated, with another five being paused (National Knowledge Center on China, April 25, 2022).
In Australia, the Wagga Wagga city council moved to sever its 32-year sister city relationship with Kunming over concerns about Beijing's mishandling of COVID-19. The decision was later reversed after criticism from the Chinese Consulate, 'community leaders,' local politicians, as well as the Kunming Municipal Government (Australian Parliament House, October 12, 2020). A councilor who initially voted for the measure reversed his stance and apologized on Facebook: "Deep down in my gut I knew I had made the wrong decision." He added "I let the emotion of the current environment get in the way of my decision and didn't look at the larger picture. For this I apologize to our sister city of Kunming in China, my fellow councilors, as well as my local community for my actions." The mayor likewise said he will issue "an apology to the people of Kunming," adding, "I'm sure that will be a big step in repairing any damage that's been done and I'm sure the people of Kunming will understand." He stressed: "This is a people-to-people relationship, it's not a relationship with the Chinese Government, so politics shouldn't play a role in the sister city relationship." (The Guardian, April 14, 2020; ABC News, April 16, 2020; ABC News, April 22, 2020)
In Canada, a Winnipeg city councilor introduced a motion to end the 35-year sister city relationship with Chengdu due to concerns about Beijing's Taiwan policy, human rights abuses in Xinjiang and elsewhere, support for Russia's ongoing war in Ukraine, arbitrary detention of "the two Michaels" and alleged interference in the 2019 federal elections. Eventually, the move failed because the city's mayor said he had heard from members of the Chinese community expressing opposition to terminating the sister city relationship with Chengdu. He also stated that the partnership does not denote support for the Chinese government (Global News, January 12; Global News, January 26).
This week, the German port city of Kiel stalled a plan to establish a sister-city relationship with its Chinese counterpart, Qingdao, due to national security concerns, even though Kiel city council president Hans-Werner Tovar strongly supported the partnership (NYT, May 10).
"Those who say that this move is somehow massively significant and that the world will go under because of it — even if the exchanges have been going on all along, just not officially — knows nothing about municipal politics and even less about foreign policy in municipal politics," Tovar said, adding, "Municipal foreign policy is characterized by actually trying to break down barriers or not letting them form in your mind in the first place" (NYT, May 10).
These examples demonstrate the changing dynamics behind the traditionally apolitical sister-city ties as Beijing's global ambitions become increasingly recognized internationally (The Diplomat, February 20, 2020).
Building "Party-to-People Relationships"
China's sister-city relationships are managed by the Chinese People's Association for Friendship with Foreign Countries (CPAFFC), an important part of the CCP's United Front network. Moreover, all sister-city agreements must be approved by the Chinese Foreign Ministry. As a result, the process for establishing sister cities differs from that in countries like the US and Canada, where local officials can make such decisions without intervention from the federal government (Hoover Institution, November 29, 2018).
Fundamentally, CPAFFC seeks to boost people-to-people exchanges through sister-city relationships, which is theoretically what such ties aim to achieve. However, as scholars have noted, "in China there is no 'people' in the sense of an independent civil society; what is really being built are party-to-people relationships" (Twitter, April 21, 2020). It is also important to note that Beijing views such regional cooperation as integral to the Belt and Road Initiative. As former CPAFFC president Li Xiaolin said: "Friendship city relations have become one of the important channels to implement the BRI." (China Daily, April 26, 2019) They have also encouraged self-censorship on issues that Beijing perceives to be its core interests, such as Taiwan.
In 2006, the Irvine city council rescinded a Chinese sister city agreement after the local Taiwanese community protested against a clause that required city officials to conform to Beijing's "one China policy" (LA Times, June 28, 2006; LA Times, June 29, 2006). In 2018, the Chinese Consulate in Brisbane complained to the Mayor of Rockhampton about a small Taiwanese flag two local students painted on a large papier-mâché bull celebrating their school's ethnic diversity. The mayor then directed council staff to paint over the flag (Australian Parliament House, October 12, 2020). In 2020, Beijing and Shanghai severed their agreements with Prague after the mayor repeatedly inquired about removing the "one China policy" clause and signed an official sister city agreement with Taipei (The Diplomat, February 25, 2020).
As of May 2023, there are 234 pairs of sister cities and 50 pairs of sister states/provinces between the U.S. and China, including Tacoma, Washington and Fuzhou, Fujian – one that President Xi Jinping personally facilitated while a local official in 1993 (PRC Embassy, December 22, 2022; PRC Embassy, May 7; SCMP, September 24, 2015). As of now, no comprehensive study examining U.S.-China sister city or subnational relationships more broadly has been conducted. The Sister City Transparency Act, initially introduced in 2021 and reintroduced last month, seeks to commission such a report with recommendations for oversight and best practices to mitigate potential vulnerabilities from the Government Accountability Office (Congress.gov, undated).
Flora Yan is a Templeton Fellow in the Asia Program at the Foreign Policy Research Institute.
---
BRIEFS
---
Xiong'an New Area: Xi Outlines Vision for "City of the Future" on the Outskirts of Beijing 
During a recent inspection visit to Xiong'an New Area (雄安新区), a rapidly developing mega-city to the southwest of Beijing, President Xi Jinping, accompanied by other Politburo Standing Committee members including Li Qiang, Cai Qi and Ding Xuexiang, unveiled a "plan for a thousand years." This ambitious plan to construct "the city of the future" aims to partially relocate the PRC's administrative institutions, financial headquarters, and non-capital functions away from the bustling heart of Beijing. By redistributing political influence and administrative capabilities, Xi's strategy is to challenge and create fresh opportunities for local governments beyond the center. The ultimate goal is to establish a new economic special zone, akin to Pudong New Area in Shanghai or Shenzhen, that will further propel economic growth in the second-tier city cluster surrounding Beijing and alleviate the resource concentration on in areas ranging from healthcare to education.
Nonetheless, critics raise concerns about the potential hurdles posed by logistics, operations and the lack of appeal of Xiong'an for foreign investment. They emphasize that relocating institutions could disrupt their operations, result in temporary setbacks and potentially lead to a loss of expertise and resources that are currently concentrated in Beijing. Moreover, ensuring the relocated institutions are able to function as intended will necessitate substantial investments in infrastructure, personnel and administrative support.
---
China Delivers Two More Frigates to Pakistan's Military, Further Deepening Ties
Pakistan remains in turmoil following the recent arrest of former Prime Minister Imran Khan and the resultant mass protests by his supporters in the PTI party against both his arrest and military intervention in politics. Despite the unrest and mounting popular frustration with the military in Pakistan, China signaled business as usual, concluding the delivery of the final two frigates of a four-warship deal originally signed in 2018. The Chief of the Naval Staff of the Pakistani Navy, Admiral M Amjad Khan Niazi attended the handover ceremony for the vessels in Shanghai.
Frequent Chinese military expert and TV commentator Song Zhongping told the Global Times  that Pakistan's geographical location is very important, and the commissioning of the four Type 054A/Ps can help safeguard international maritime sea lanes." Song also stressed that the Pakistani Navy receiving these advanced, multirole warships, will give it an edge against its "main competitor, i.e., India. Despite the optimism surrounding the purchase, the Type 053H3 frigates that Pakistan received from China have reported numerous issues, including defective systems and engine defects resulting in greatly reduced speed.
---
Huawei Reports Near Flat Revenue Growth in Q1 as U.S. Sanctions Bite
During the first quarter of this year, Huawei reported a very modest 0.8 percent year-on-year increase in revenue growth. Although the overall Chinese economy has begun to recover from the deleterious impact of the pandemic and three years of zero-COVID policy, the PRC telecommunications behemoth has struggled to increase revenue as it deals with the impact of U.S. sanctions. Last year was a particularly challenging year for the company, which experienced a 70 percent reduction in profits. The company's leadership has promised to reverse its long-term fortunes by investing heavily in R&D to gain an edge in new areas. Huawei has also begun to focus more on the domestic market and cater to Chinese businesses operating at home and abroad.
---
PLA Navy Vessels Circle Japan as Sino-Japanese Tensions over Taiwan Mount 
The Joint Staff Office (JSO) of Japan's Ministry of Defense has reported that a flotilla of PLA Navy (PLAN) warships has been circumnavigating the Japanese home islands for the past week. The group includes several large surface warships: the cruiser CNS Lhasa and the guided-missile destroyers CNS Guiyang and CNS Qiqihar. The frigate Zaozhuang and the fuel ship Taihu fill out the five-ship flotilla. The PLAN patrol around Japan takes place as Beijing has evinced frustration with Tokyo for its expressions of concern over the situation in the Taiwan Straits. PRC state media have responded by labeling Japan's weighing in on the "Taiwan Question" as "provocative."
Notably, the PLAN circumnavigation of Japan precedes the G-7 meetings in the country next week. The PLAN has made patrols around Japan's home islands in the past, most notably in 2021, when a flotilla of ten Chinese and Russian naval vessels circled Japan. This type of intense military muscle-flexing by China seeks to deter Tokyo from intensifying security cooperation with the U.S. and its other allies in the Asia-Pacific and Europe.