Syrian Opposition Meets In Turkey: No Change In Turkish Policy
Publication: Eurasia Daily Monitor Volume: 8 Issue: 109
By: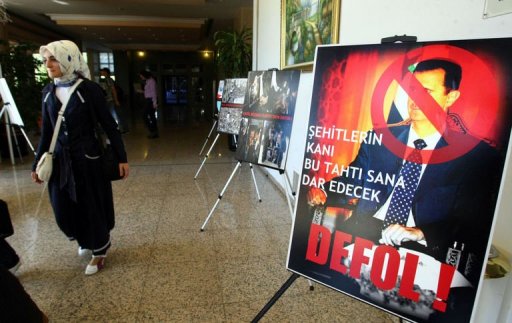 Amidst the ongoing violence in Syria, opposition groups gathered in the Turkish Mediterranean resort town Antalya to discuss the future of their struggle against the regime. Although the choice of Turkey as the venue prompted speculation that Ankara might change its position on Syria, Turkish leaders denied such claims, arguing that Turkey is committed to the same policy.
Since the beginning of the Syrian uprising over two months ago, Turkey has been seeking to use the collegial ties it had forged with Syrian President Basher Assad to convince him to cease the use of violence against civilian protesters, listen to the voice of people and launch comprehensive reforms to move to a democratic system. Despite Turkish Prime Minister Recep Tayyip Erdogan's several personal contacts with Assad, the Syrian regime continued its brutal crackdown on the opposition, prompting the United States and the European Union to declare unilateral sanctions (EDM, May 10).
Ankara has expressed disappointment with Assad's failure to deliver on his promises and the continuation of repression, but did not go as far as Western powers to initiate any proactive measures. Moreover, Turkey stated clearly that it was against a foreign intervention or any actions that might result in the breakdown of the country. Following the announcement of US and EU sanctions, Erdogan said that "it is too early to make a decision [whether Assad should stay or go], because the final decision will be made by the people of Syria" (Hurriyet, May 13).
Nonetheless, even Turkish leaders' reserved criticism was not welcomed in Damascus, as pro-government Syrian media printed editorials criticizing Ankara's policy (Radikal, May 14). One such reason that invited the anger of the Syrian regime was a conference held in Istanbul to which some representatives from the Syrian opposition, including members of Muslim Brotherhood, attended (Haberturk, April 27). The opposition figures expressed their frustration with the Baath regime's dictatorial rule and constant postponement of reforms, while praising Turkey's support. Mirroring Turkey's approach, the Syrian opposition also expressed reservations about international intervention.
As the Baath regime's crackdown continued, amidst reports that the death toll exceeded 1,000 civilians, representatives from the Syrian opposition, including political exiles, academics, tribal members and Kurds, held a three-day meeting, entitled "Change in Syria" in Antalya. Over three hundred representatives from the opposition tried to work out their differences. While not all major opposition groups were represented, the participants reflected the diversity of the Syrian opposition movement (www.orsam.org.tr, June 1).
On the same day as they gathered, the Baath regime issued an amnesty for political prisoners, including members of the Muslim Brotherhood. Turkish government sources maintained that this announcement came after Erdogan's telephone conversation with Assad the previous week. Reportedly, during the one-hour-long conversation, Assad explained to Erdogan the details of his reform package, which would entail the transition to a multi-party regime, but underlined that he would need at least five months to launch reforms. Erdogan urged him to move swiftly, and at least share the draft reform bill with the public to ease the tensions. Arguably, it was Erdogan who prompted Assad to declare the amnesty (Haberturk, May 31). Speaking on public TV, Erdogan also supported this narrative: "I told him that I asked him, as a brother, to take a courageous step… I told him that he should declare a general amnesty because it would bring such a great relief. I said that and, thank God, he declared the amnesty two days later" (Today's Zaman, June 2).
Foreign Minister Ahmet Davutoglu, also welcomed the amnesty and urged Damascus to use the window of opportunity opened by the amnesty and initiate comprehensive reforms immediately (Anadolu Ajansi, June 1). However the Syrian opposition figures meeting in Antalya rejected the amnesty, finding it too little and too late. Similarly, while the French Foreign Minister Alain Juppe did not find it satisfactory, US Secretary of State Hillary Clinton warned Assad to either initiate comprehensive reforms or leave power (Anadolu Ajansi, June 2).
At the conclusion of their meeting, the Syrian opposition remained determined to see regime change. They expressed their commitment to establish a democratic and civilian political system, though they failed to reach an agreement on secularism. They underlined that their struggle will be guided by the following principles: maintenance of territorial integrity, rejection of foreign military intervention, continuation of peaceful revolution and preservation of elements of national unity. Despite the rejection of foreign intervention, they invited international organizations to work towards ending the bloodshed in the country. They decided to form a 31-member advisory committee to represent the Syrian opposition in exile. However, they postponed to a later date the formation of a nine-member executive committee that will lay the roadmap for the opposition. Reportedly, the Kurdish representatives left the meeting satisfied, as they received guarantees to protect their rights (Anadolu Ajansi, Cihan, June 3).
While the meeting in Antalya led to claims that Turkey might revise its position in Syria and distance itself from the regime, Davutoglu rejected this speculation. He said, as a free and democratic country, Turkey would not interfere with any meeting. More importantly, he reiterated that Turkey would not leave Assad alone; rather Turkey will simultaneously maintain "ties of trust" with the Syrian administration and "ties of love" with the Syrian people (Today's Zaman, June 2).
The Turkish leadership evidently realizes that maintaining the territorial integrity of Syria and preventing its descent into civil war are the utmost priority, for the destabilizing of Syria might create enormous risks for its own security. Erdogan even views Syria as a "domestic issue" for Turkey. In that regard, Ankara seems reluctant to follow a course of action that will involve the removal of Assad from power through forceful measures. Turkey, thus, prefers an orderly transition to a democratic regime, ideally under Assad's watch. Assad's failure to keep his promises, however, leads to criticism that Turkey could exert only very limited influence over the Syrian regime despite its close ties forged over many years. Turkish leaders usually reject these claims, arguing that although Assad is sincere, elements within the Syrian state apparatus are the ones that resist reforms. However, Syrian opposition groups also levy little criticism against Turkey in that regard, perhaps reflecting their appreciation of Turkey's delicate position.