German Initiatives Favor Russia On Transnistria Talks
Publication: Eurasia Daily Monitor Volume: 8 Issue: 110
By: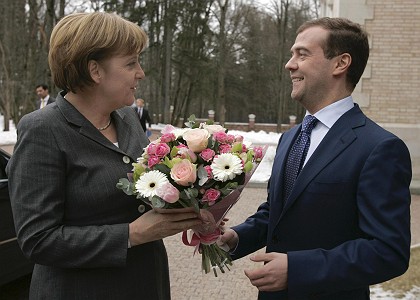 (Part Two)
In the context of Russo-German special relations, the German government proposes to restart international negotiations on the Transnistria conflict from a modified basis, one largely favorable to Russian interests. On this issue, Germany's Ministry of Foreign Affairs implements a policy that originates in the Chancellor's Office. The German non-paper, circulated confidentially to the interested governments, suggests certain tradeoffs at Moldova's expense, both through its proposals (German Ministry of Foreign Affairs, "Key Issues for a Solution to the Transnistria Conflict" EDM, June 6) and through its gaps. Some of the accompanying diplomatic conversations strengthen this impression, ahead of the June 21 restart of negotiations in the 5+2 format.
Given that the German non-paper proposes an agenda for negotiations, this document's gaps are at least as relevant as its proposals. Thus, Berlin's document eliminates the following critical issues, or goals, from the current agenda: 1. withdrawal of Russian troops and the transformation/internationalization of that "peacekeeping" operation; 2. support for democratic reforms and demilitarization in Transnistria, during and as part of the conflict-resolution process; 3. codifying a special status (autonomy) for Transnistria within the framework of Moldova's constitution; 4. holding out a European integration perspective for Moldova, which would stimulate Transnistria's population to support the country's reunification. While Chisinau proceeds from these objectives in the negotiating process, Berlin omits them, in apparent deference to Moscow.
Those four goals are fundamental to Chisinau's negotiating position, as reaffirmed in its non-paper on the upcoming negotiations (Moldovan Ministry of Foreign Affairs, "Basic approaches to the Transnistria conflict-settlement process," May 2011). Moldovan governments irrespective of party affiliations have pursued those objectives ever since the country adopted its European orientation (from 2004 onward). Indeed, Chisinau designed that negotiating position to support its European course, instead of going for a deal on Russia's terms.
If negotiations restart from premises jointly defined by Moscow and Berlin, these four critical gaps in Berlin's position could lead to: 1. a settlement negotiated in the presence of Russian troops, distorting any political outcome; 2. agreements that legitimize a Kremlin-installed leadership in Tiraspol; 3. a "joint," Chisinau-Tiraspol re-write of Moldova's constitution, as some German diplomats actually suggest; 4. diminished appeal and low credibility of the EU in Transnistria and ultimately even in Moldova.
In conversations accompanying Berlin's non-paper, German diplomats propose turning Moldova from a "unitary" state into a "federation." The non-paper hints at this by "exclud[ing] a confederation," thus allowing sufficient room for Moscow and Tiraspol to seek Moldova's "federalization." German diplomacy favors this on two counts: as an outright concession to Russia, and a pretense that federalism can work in Moldova/Transnistria more or less as it has in Germany.
One far-reaching document, leaked in full to the Chisinau press, seems to show the tip of an iceberg. Ambassador Patricia Flor, head of the German Foreign Ministry's Eastern Europe-South Caucasus-Central Asia division, is handling the Transnistria conflict negotiations for that ministry. She urges Chisinau to "get rid of its federalization-phobia," imputing this to Moldovan politicians' poor knowledge of successful federations in Europe. Ambassador Flor proposes creating a Chisinau-Tiraspol working group to draft a new, "federal" constitution for Moldova; and offers German assistance to that end, drawing on Germany's successful model of federalism (Flux [Chisinau], April 22, May 2, 15; Jurnal de Chisinau, May 17).
Inviting Transnistria's current administration, with its security apparatus and Russian troops in place, to re-negotiate Moldova's constitution in accordance with Tiraspol's wishes, would be a far cry from German federalism. It would derail Moldova from its European course, debilitate its politics, and potentially create a Russian-controlled statelet within a dysfunctional Moldovan state.
This proposal would turn the clock back by almost a decade. It rehashes Russia's attempts in 2002-2003 to "federalize" Moldova with Transnistria, starting from a "joint" Chisinau-Tiraspol rewrite of Moldova's constitution. Some US field-level diplomats had joined forces with Russia on this issue, treating Moldova as a currency of exchange at that time. Washington, however, reversed this move as Chisinau turned West. To shield the state from such pressures in the future, and protect its Western orientation, Moldova adopted the 2005 law on the principles for settling the Transnistria conflict (EDM, June 6).
Regardless of Berlin's motives or missteps, the Moldovan government has welcomed Germany's active role on the Transnistria issue in recent months. Chisinau believes that Germany's entry into this process can generate a positive dynamic, at least for re-starting the 5+2 negotiations. Moldovan Prime Minister, Vlad Filat, has held several productive meetings with Chancellor Angela Merkel in Germany and elsewhere. Filat, his government, and the parliament, however, can hardly accept Russian or German proposals that would turn the clock back on Moldova. The existing constitutional setup, and unitary character of the state, can accommodate a special status for Transnistria, according to Filat returning from his latest German visit (Moldpres, May 20).