Taiwan Trade Agreements with Singapore, Japan, Should Calm Fears of PRC Economic Domination
Publication: China Brief Volume: 13 Issue: 23
By: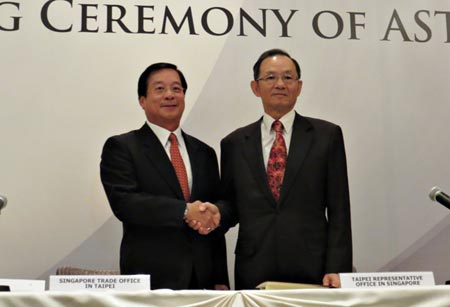 For Taiwan, November has been marked by a burst of activity on the regional trade front. On November 7, Taiwan signed a free trade agreement with Singapore, a day after signing five smaller economic deals with Japan on e-commerce, pharmaceutical regulation, railways, patent recognition and search and rescue (Taipei Times, November 8; Focus Taiwan, November 6). Taiwan President Ma Ying-Jeou described the deals as a step toward greater regional economic integration, promising to seek a full free trade agreement with Japan, membership in the U.S.-led Trans-Pacific Partnership (TPP) and further trade agreements with Southeast Asian countries.
These deals are a step toward Ma's promise to diversify Taiwan's export markets away from the PRC. The mainland and Hong Kong currently account for by far the largest portion of Taiwan's exports, representing 40 percent of Taiwanese foreign trade. This situation has led the Taiwanese opposition to warn that the 2010 Economic Cooperation Framework Agreement (ECFA) has made the island economically dependent on trade with the mainland, threatening its independence. The Singapore deal has been under negotiation for three years, starting shortly after the signing of ECFA. The set of deals with Japan also follow an April agreement about fishing near the disputed Diaoyu/Senkaku Islands, which removed the main irritant between the two parties. Their context also includes current efforts by both the United States and China to build new regional trade systems with the TPP and China's "maritime silk road," proposed by President Xi Jinping at the APEC summit in October (see China Brief, Volume XIII, Issue 21).
The Taiwanese foreign ministry described the agreement with Singapore, called ASTEP (Agreement between Singapore and the Separate Customs Territory of Taiwan, Penghu, Kinmen and Matsu on Economic Partnership), as a "high-quality, high-standard and comprehensive economic partnership," clearly seeking the attention of TPP participants (press release, November 7). The United States has used similar language in setting goals for the TPP, implying that joining will require substantial reforms to open the relatively protected economic structures common in Asian countries. By reaching such an agreement, Taiwan evidently hopes to demonstrate the ability and political will to make such changes.
The agreement may also pave the way for other Asian states to enter negotiations with Taiwan by demonstrating that they can do so without coming under fire from the mainland. PRC foreign ministry spokesman Hong Lei expressed Chinese approval of the mechanism used by Taiwan and Singapore to work around the One China policy, saying that "We do not have objections to foreign countries' non-governmental trade and cultural exchanges but do oppose any official ties" (Xinhua, November 7). Singapore is the second country to sign a free-trade agreement with Taiwan since ECFA, following an agreement with New Zealand in July.
While China has apparently given its blessing to Taiwan to strike trade deals independently­, it has also been applying pressure for talks about the island's political status, as well as pushing for further economic cooperation. In late October, representatives of the Chinese Communist Party and Taiwan's ruling Nationalist Party discussed Taiwanese participation in the recently-established Shanghai Free Trade Zone at the party-to-party Cross-Strait Economic, Trade and Culture Forum (Xinhua, October 27). The city of Xiamen, China's closest major port to Taiwan, has also announced plans to seek approval for a free trade zone on the Shanghai model, focusing on cross-strait trade (Shanghai Daily, November 20).
The PRC has made substantial efforts to integrate Taiwan into its economic sphere since the Nationalist Party returned to power in 2008. ECFA is widely seen as a concessionary agreement that favored Taiwan in order to achieve the political goal of integration. But the mainland appears to be unable or unwilling to interfere with Taiwan's seeking alternatives—likely calculating that to do so would cost it the political influence it has gained with trade agreements in recent years. Beijing accepted even Taiwan's fisheries agreement with Japan, despite its uncomfortable political implications for the mainland. The agreement deprived the PRC of regular opportunities to act as Taiwan's protector, and removed Taiwan as an active player on the mainland's side of a dispute that has become extremely tense in recent years.
China's recent burst of trade diplomacy, in concert with Xi's call for top-level design for regional diplomacy, has raised fears that it plans to use its position as the top trading partner of every country in the region for political leverage (see China Brief, Volume XII, Issue 22). But even as China seeks to expand its economic integration with Taiwan, it has not stopped the island from seeking alternative markets. While China is a vast and attractive trading partner, its previous efforts to deploy economic coercion have been unimpressive—witness the rare earths debacle, in which a threat to limit exports to Japan inspired the growth of competitors and undermined the commodity's price. In order for it to use trade as an effective political weapon, China will have to be not only important but indispensible.