Taiwan's Submarine Program: Pipe-Dream or Next Big Thing?
Publication: China Brief Volume: 9 Issue: 8
By: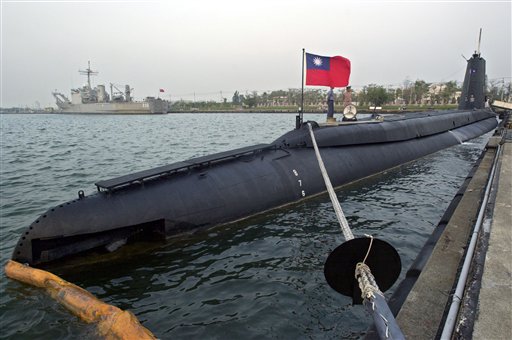 Several reports appeared in recent weeks in the Taiwanese media about the possibility that President Ma Ying-jeou's administration has restarted a program to build indigenously designed diesel submarines. According to various reports citing sources close to Taiwan's National Security Council (NSC), the "Project Diving Dragon," which is Taiwan's indigenous submarine program that was aborted five years ago under former President Chen Shui-bian's administration, may have been re-initiated three months ago under the directive of the NSC. According to a report in the Liberty Times, the NSC reportedly issued an order to the naval military command to conduct a feasibility study on Taiwan's capability to develop indigenously built submarines (China Post, April 7; Liberty Times [Taiwan], April 15).
The China Post also reported on April 7 that "[a]t least five top-level defense meetings have been held to evaluate the possibility that the eight underwater warships can be locally assembled." According to the report, the result of the meetings recommended local construction of the submarines, and a final report is being prepared for President Ma's approval, and "Ma is likely to give the green light for the local construction to stimulate the economy and help reduce unemployment" (China Post, April 7). The U.S.-based Defense News on April 13 cited sources in Taipei as saying that the decision was based on "U.S. reluctance to build diesel submarines and the need to create jobs in Taiwan's economically depressed shipbuilding industry." The report added that "[a]n announcement is expected in August" (Defense News, April 13). Presidential Office Spokesperson Wang Yu-chi and aids to top officials in the National Security Council (NSC), however, denied any knowledge of that order (Apple Daily [Taiwan], April 15).
Eight diesel submarines were originally included in a 2001 U.S. arms package offer to Taiwan during former President Bush's first term in office, and had been stalled in Taiwan's Legislative Yuan for the past eight years, which was dominated by a KMT-led coalition (China Brief, November 24, 2008).
The NSC is currently headed by Secretary General Su Chi, who is the former chairman of the Executive Yuan's Mainland Affairs Council. The decree from the NSC reportedly surprised some even in the Taiwanese military (Liberty Times, April 15). In an opinion-piece published in 2006, at the height of a heated debate in Taiwan's Legislative Yuan (parliament) over the stalled allocation of funds toward Taiwan's purchase of eight diesel submarines from the Untied States, then-KMT Legislator Su Chi penned an article titled "New Thinking on Taiwan's Arms Procurement." In his article, Su argued that Taiwan should devote itself to developing a "defensive" military, rather than an "offensive" military. The previous pro-independence leaning Democratic Progressive Party (DPP) administration has been accused by the now ruling-KMT (Nationalist Party) of building offensive capabilities that risks provoking China. "Taiwan should boost its defensive capabilities and aim to survive a `first strike' during a Chinese military attack. It is not necessary to spend huge amounts of money on offensive submarines," Su concluded (Taipei Times, January 9, 2006). If the information about the Ma administration's decision turns out to be true, this may signal a major turning point in the long saga of Taiwan's quest for additional submarines.
Wang Keh-hsuan, vice general manager of the CSBC Corporation, the state-owned company formerly known as China Shipbuilding Corporation, confirmed that "[a] research plan is under way to build submarine hulls up to the international standard." Wang said that the CSBC Corporation is fully equipped to build submarines with 2,000 to 3,000 deadweight tons (China Post, April 7). The CSBC Corporation established the "Hidden Dragon Program" in July 2001 to demonstrate its technical expertise in building a pressure hull, and the "Indigenous Defense Submarine" program that focused on design options (Jane's Defense Weekly, June 30, 2004). "Of course, all weapons and communications systems will have to be purchased from abroad," Wang added. "We are all set to undertake the construction, if it is offered" (China Post, April 7).