Tajikistan-Afghanistan Tensions a Hurdle for Russia-Taliban Relations
Publication: Eurasia Daily Monitor Volume: 18 Issue: 162
By: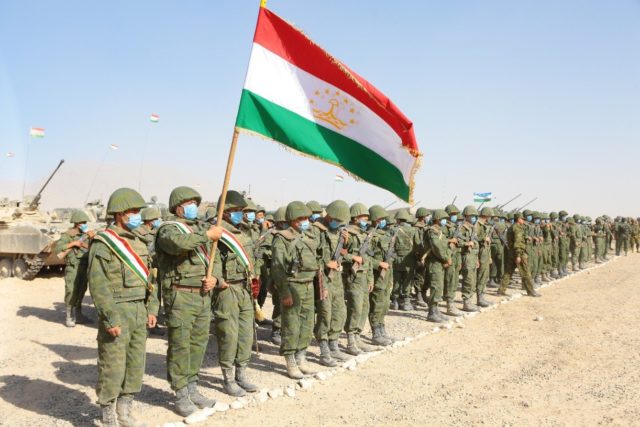 The governments of Russia and Pakistan are uneasy over the continued tensions between Tajikistan and the Taliban-led Afghanistan, and they are urging both neighbors to exercise restraint.
The exchange of fiery statements between Dushanbe and Kabul, combined with recent friction along the Tajikistani-Afghan border, have particularly stoked Moscow's apprehensions. Russia has officially implored both sides to resolve any dispute in a mutually acceptable manner. After the Taliban deployed thousands of their fighters to Takhar, the northeastern province of Afghanistan, adjacent to Tajikistan, Russian foreign ministry spokesperson Alexei Zaitsev declared, "We observe with concern the growing tensions in Tajik-Afghan relations amid mutually strong statements by the leadership of the two countries" (Dawn, October 1).
In addition to Russia, Pakistan is also playing an active role in responding to the tense situation between Tajikistan and Taliban-led Afghanistan. On October 2, Pakistani Prime Minister Imran Khan stepped in to defuse this ire by holding a telephone conversation with President Em­o­m­ali Rahmon of Tajikistan."The two leaders agreed to remain in close contact with a view to further coordinating their efforts in support of peace and stability in Afghanistan," said a statement issued from the prime minister's office in Islamabad (Dawn, October 3).
The Kremlin is well cognizant of Pakistan's key role in sustaining the Afghan Taliban. That is why Moscow set its diplomatic route to Kabul via Islamabad. During Russian Foreign Minister Sergei Lavrov's two-day visit to Pakistan in April—his first since 2012—Moscow began working to strengthen a Moscow-Islamabad-Taliban nexus, months before the United States' withdrawal from Afghanistan (Dawn, April 7). Russian President Vladimir Putin conveyed a message to the Pakistani leadership, through the visiting Lavrov, that the Kremlin was open to all forms of collaboration, from the construction of natural gas pipelines and transit corridors to defense cooperation. In other words, Moscow offered Islamabad a blank cheque (Express Tribune, April 11).
The Russian-Taliban relationship was thrust into the spotlight immediately after the fall of Kabul. Unlike many Western countries that closed their embassies, Moscow kept its embassy open when the Taliban took over Afghanistan's capital on August 15. The Taliban, in turn, assured the Kremlin it would offer full security to the Russian embassy and its diplomatic staff in Kabul. Russia's ambassador to Afghanistan, Dmitry Zhirnov, disclosed on August 15, "Taliban members are already guarding our embassy as Afghan security forces that used to protect us left earlier today. The Taliban confirmed once again that no one will harm a hair on the heads of Russian diplomats, saying that 'you can work undisturbed' " (TASS, August 16).
However, the most significant current hurdle in the Moscow-Taliban relationship is Russia's Collective Security Treaty Organization (CSTO) ally Tajikistan, which has fiercely opposed the Taliban government in Kabul. Namely, Dushanbe has taken a tough stance against the (predominantly Pashtun) Taliban's attacks on other ethnicities, particularly Tajiks (see EDM, September 10). As the second-largest ethnic group in Afghanistan, Tajiks make up approximately 27 percent of the country's population.
To Tajikistan's dismay, Pakistani Prime Minister Khan has so far failed to persuade the Taliban to form a truly inclusive government representing Tajiks, Hazaras, Uzbeks and other minorities. Moreover, Dushanbe has lambasted the Taliban over its human rights violations during the siege of Panjshir, a province with a majority ethnic-Tajik population. The Taliban, in turn, sees Tajikistan's opposition to its government as meddling in Afghanistan's domestic affairs. Indeed, the former Soviet Central Asian republic hosts large numbers of anti-Taliban groups. "We will not allow any neighboring nation to interfere in the internal matters of Afghanistan," said Afghan Deputy Prime Minister Abdul Salaam Hanafi (Dawn, October 3).
Russia has years ago inserted itself into the Afghan peace process, hosting Taliban representatives several times in Moscow (see EDM, February 1, 2017, November 13, 2018, January 16, 2019, May 29, 2020, July 28, 2021). More recently, the March 18, 2021, Moscow conference on Afghanistan was part of Russia's efforts to play the role of key power broker in Kabul after the then-looming withdrawal of US troops (The News, March 12). A month and a half after the fall of Kabul, the Kremlin invited the Taliban to international talks on Afghanistan, held on October 20, in the Russian capital (Dawn, October 7). At the conference, the senior Taliban representatives called on the other participating countries (including India, Pakistan, China and Iran) to recognize their new government and provide post-war aid (Voice of America, October 20).
And yet, despite maintaining contacts with the Taliban since long before the US withdrawal from Afghanistan as well as urging Tajikistan to resolve its dispute with the Taliban peacefully, the Kremlin has itself not yet recognized the Taliban government in Kabul. Russia remains in "wait and see" mode, apparently to keep its options open depending on how the situation in Afghanistan continues to develop. Officially, the Taliban movement remains legally banned as a terrorist group in Russia. And Moscow has carried out multiple demonstrative military exercises at its base in Tajikistan following the fall of the Afghan capital (The Moscow Times, October 1).
Sooner or later, Russia will surely recognize the Taliban government in Afghanistan, barring some unforeseen events. But the Tajikistan-Taliban friction has already spotlighted potential regional hurdles to the steady growth of Russia's relationship with this radical Islamist entity. The big challenge for Moscow is how astutely it can protect its strategic interests in Central Asia and Afghanistan, while preventing a possible confrontation between Dushanbe and Kabul with the help of Islamabad. With enough strategic foresight, Russia and Pakistan may ultimately cajole Tajikistan into recognizing the Taliban government. But the road ahead will not be entirely within Moscow's ability to control.