Tajikistan and Russia Sign Extension of Basing Agreements
Publication: Eurasia Daily Monitor Volume: 9 Issue: 184
By: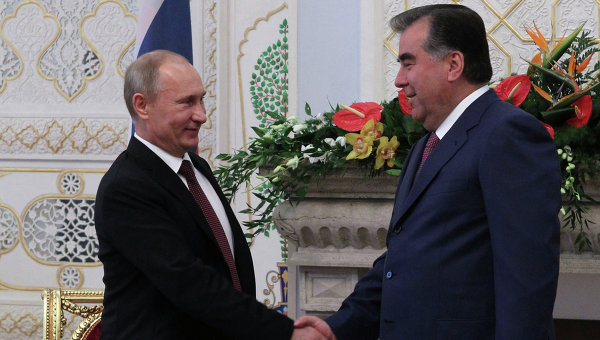 Last week, Russia and Tajikistan signed a deal to extend the lease on Russia's military bases in Tajikistan for another 30 years until 2042 (Ozodi, September 6). The final deal was struck during an October 5 visit by Vladimir Putin to Dushanbe on the occasion of Emomalii Rahmon's birthday. The deal, which ends a lengthy and at times heated negotiation, guarantees Russia the extension of basing rights for the three major facilities in Tajikistan that house its 201st motorized rifle brigade (see EDM, September 19, July 9). After high-level negotiations on September 11, Anatoly Antonov, Russia's deputy minister of defense, announced that a deal had nearly been reached and would be finalized during Putin's visit in early October. However, a few weeks later in an interview, Russian ground forces commander General Vladimir Chirkin told Ekho Moskvy Radio that the deal would not be reached until next year, sparking speculation that the protracted negotiations would drag on (Ekho Moskvy, September 29).
Tajikistan, which had originally hoped to secure payment in return for the basing rights, will instead receive "assistance in the modernization of their armed forces" and increased economic cooperation, including support for membership in the Eurasian Customs Union. While the details of Russia's military assistance have not been fully hashed out, they do reportedly include $5 million for counter-narcotics efforts (Ozodi, October 5). As expected, the two immediate economic benefits to Tajikistan are the removal of customs duties on gasoline and enhanced privileges for the approximately 1.3 million migrant Tajikistani laborers in Russia (Khovar, October 5).
Work permits for Tajikistani migrant laborers will be increased from one to three years and the deadline for in-country registration extended from 15 to 30 days. It is estimated that approximately 80 percent of Tajikistan's families receive money from relatives working in Russia, and in 2011, such remittances were estimated to account for 45.4 percent of Tajikistan's GDP (Ozodagon, October 6). Russia has traditionally enjoyed the lion's share of gasoline exports to Tajikistan and has the power to significantly manipulate prices at the pump as it did in 2010 when Moscow suspended Tajikistan's exemption from paying customs duties (Asia Plus, October 2). Additionally, in order to strengthen its negotiating stance, Russia passed legislation to increase customs duties effective October 1. However, with the new deal, it is expected that Tajikistan's exemption will be reinstated by November 1 (Ozodi, October 8).
Though primarily economically driven, there were also important political motivations for Dushanbe to capitulate to Russia's request. On the foreign policy front, Tajikistan benefits from Russia's support of (or at least acquiescence to) the Rogun hydroelectric project that has exacerbated the rivalry between Uzbekistan and Tajikistan. Given the troubled relationship between Moscow and Tashkent punctuated by Uzbekistan's decision this summer to suspend its membership in the CSTO, Tajikistan cannot afford to alienate Russia on the issue, even if Russian investment in the project has been more conditional and slower than Dushanbe would prefer (Ozodi, October 9). On the domestic front, with elections coming up in 2013, Rahmon's government benefits from delivering both lower fuel prices and privileges for migrant laborers, both of which are hot button domestic issues. A healthy relationship between Dushanbe and Moscow also helps relieve fears that if provoked Russia could serve as a sanctuary (if not staging ground) for an exiled opposition. Political dissidents have been known to take refuge in Russia, including Umarali Quvatov and other members of the so called "Group 24" organization (BBC Tajik, August 22).
Local pundits have hypothesized that the negotiations could have had a hand in this summer's violence in the semi-autonomous region of Gorno-Badakhshan Autonomous Province (GBAO) in eastern Tajikistan. Speculations reached their peak in September when Imomnazar Imomnazarov, one of the local power brokers in GBAO, revealed in an interview that he and had been offered money to fight against the government in the past. He explained, "Sometimes they [the Tajikistani government] accuse us of cooperating with the Taliban, sometimes with the Uzbeks, and sometimes with the Russians. I will not deny that lots of different forces have made us offers…The last time was a few months ago. They offered us $7 million, but we rejected it" (Millat, August 9). He refused to reveal who the alleged offer came from, although the context of the violence has led some Tajik analysts to speculate that he was pointing the finger at Russia on the theory that a well-timed spike in violence would highlight Tajikistan's instability and thereby legitimize Russia's continued military presence (Faraj, September, 26). These allegations, which would have probably otherwise been chalked up to paranoia, were given new life when Imamnazarov was assassinated in his home by unknown assailants. The assassination occurred several days after both the peace deal between the central government and fighters in GBAO and Imamnazarov's above-mentioned interview (Millat, September 30).
While the basing deal arguably strengthens Tajikistan's hand against Uzbekistan as well as shores up the Rahmon administration's current grip on power, it has not been appreciated by everyone. Tajik language media reports that the continued presence of Russian troops in Tajikistan breeds local resentment, particularly amongst the youth and intellectual class (Ozodi, October 6, 7). Local commentators also question the premise that a continued Russian presence will in fact preserve stability. Saidmuddin Dustov, a political analyst, observed, "The Russian allegation that the presence of their military base guarantees regional security is hilarious. If this were the case then why has Russia's state-of-the¬-art naval base in Syria not been able to prevent civil war in that country?" (BBC Tajik, October 5).
Additionally, detractors like to point out the more favorable terms of the deal that Russia struck with Kyrgyzstan over the renewal of the Kant airbase last month. In exchange for a 15-year extension, Russia wrote off $489 million of Kyrgyzstan's debt as well as pledged military assistance and investment in hydroelectric projects such as the Kambarata-1 project (BBC Tajik, October 6). Additionally Kyrgyzstani laborers are currently allowed to reside in Russia for six months without registration (compared to 30 days for Tajiks) (BBC Tajik, October 5).
While the economic benefits of the deal will likely to be enough to pacify most of the grumbling in the short term, their impact will diminish as the marginal improvements they bring become the new status quo. At the same time, key demographic groups such as the youth and intellectual class consider the base an affront to their national sovereignty and dignity. In light of the upcoming elections in 2013, Emomalii Rahmon will most likely act to counter Russia's influence through a series of deals with other regional and foreign powers in order to preserve Dushanbe's multi-vector balancing act—or at least its appearance of it.