The Akinci Strike Drone and Ukrainian-Turkish Defense Cooperation
Publication: Eurasia Daily Monitor Volume: 17 Issue: 19
By: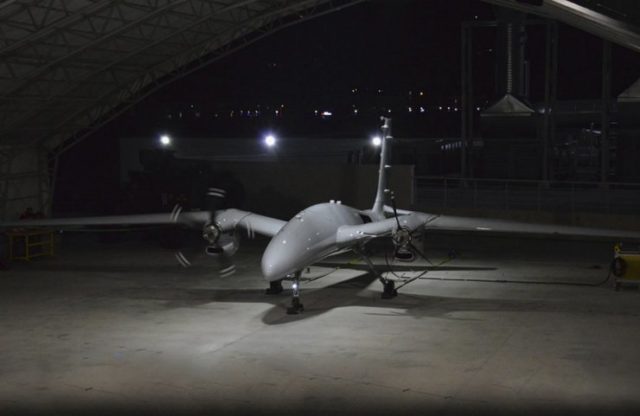 Bilateral Ukrainian-Turkish cooperation in the defense sector continues unabated even after the consequential 2019 elections in both countries. On January 23, the Joint Ukrainian-Turkish Commission on Defense-Industrial Cooperation met again, in Kyiv (Ukrainian Government, January 23). This time, the Turkish delegation was headed by the vice president of the Undersecretariat for Defense Industries of the Republic of Turkey, Serdar Demirel. Whereas, the Ukrainian side was represented by Deputy Minister of Defense for European Integration Anatolii Petrenko. The goal of this inter-governmental body's latest assembly was to discuss further steps toward realizing a series of joint armament and military equipment projects. The last top-level meeting on same topic was held in October, between the secretary of the National Security and Defense Council of Ukraine, Oleksiy Danilov, and Ambassador Extraordinary and Plenipotentiary of the Republic of Turkey to Ukraine Yağmur Ahmet Güldere (Nsdc.gov.ua, October 28, 2019).
Among the two Black Sea littoral countries' top priorities is the jointly developed Akinci project, a modern heavy strike unmanned aerial vehicle (UAV) produced by the Turkish company Baykar Defence. This drone is the largest ever manufactured by Turkey and is equipped with turboprop 750-horsepower AI-450C engines built by the Ukrainian company Ivchenko-Progress. To make this collaboration possible, Baykar Defence created a joint venture with Ukrainian company Ukrspetsexport (a member of the Ukroboronprom concern) called "Black Sea Shield." This Turko-Ukrainian corporate entity is tasked with jointly creating precision weapons and aerospace technologies (Rnbo.gov.ua, August 9, 2019). Both sides were encouraged to move forward with this joint venture following Ukraine's procurement of another Turkish-made strike drone model, the Bayraktar TB2 (see EDM, February 6, 2019), and its successful testing and deployment with the Ukrainian Armed Forces (UNN, November 9, 2019).
According to Baykar Defence's corporate website, the Akinci's length is 12.7 meters; its maximum takeoff weight is 5.5 tons; and it has an operational altitude of 12 kilometers, a wingspan of 20 meters, an endurance time of 24 hours, and a payload capacity of 1,350 kilograms (Baykardefence.com, accessed February 10). The drone will have dual satellite communication systems, air-to-air radar, collision avoidance radar, synthetic aperture radar, and an independent guidance system with GPS. The payload will include multiple types of munitions for different tactical missions, including various missiles, mini smart munitions, and guided bombs. The Akinci is capable of carrying Turkish SOM long-range missiles, which can hit targets up to 250 kilometers away and uses stealth technology. The UAVs will be able to take off, fly, and land in full- and semi-automatic flight modes. The ground control station (which comes in three types: trailer, shelter and indoor) for Akinci units will include multiple consoles for various operators (radar, payload, pilot, maintenance, etc.).
The Ukrainian side announced the project for the first time last August, by the CEO of Ukroboronprom, Pavlo Bukin (Ukroboronprom, August 20, 2019). According to Bukin, the UAV will be produced mostly for Turkish and Ukrainian armed forces but could also be prepared for export. The Ukroboronoprom head also stressed that the Akinci would use the same types of heavy munitions as conventional combat planes, which was made possible by equipping the drone with the Ukrainian AI-450C engines. This could be seen as a potential benefit for UAV operators, because it will allow those forces to stockpile fewer variations of munitions, thus simplifying logistics.
The Akinci UAV's first public appearance occurred during last year's Turkish Aerospace and Technology Festival (TEKNOFEST), held in Istanbul on September 17 (Daily Sabah, September 17, 2019). And ground testing of the new drone began two months later (Tyzhden, November 15, 2019). Finally, on December 6, the Akinci performed its first test flight (Defence Express, December 6, 2019). The successful flight lasted 16 minutes, after which the UAV landed in full-automatic mode.
Despite the recent track record of successful technical development of the project and optimistic statements from Ukrainian authorities, at least one aspect remains unclear: a timeframe for the future combat use of the Akinci by the Ukrainian Armed Forces. This weapons system could be quite effective in detecting and destroying individual land targets, such as enemy howitzers or mortars, or special equipment like electronic warfare (EW) stations. And importantly, using strike drones is not limited by the Minsk ceasefire agreements. But even after the first Turkish Bayraktar TB2 strike drones successfully completed all their tests (almost three months ago) and were deployed to Ukrainian military units, none ever made it to the combat zone in Donbas. Even the former head of the National Defense and Security Committee in the parliament, Serhiy Pashinskiy, stated last year that Turkish UAVs are "effective weapons, but on the other hand we need to carry out a proper analysis of where to use them." He argued that without sufficient anti-aircraft capabilities and a robust air force, drones alone could not solve all of the Ukrainian military's problems along the line of contact in Donbas (Zik, March 1, 2019).
Another critic of these developments, Yuri Kasyanov, who heads the Ukrainian UAV manufacturer A.Drones, argues that the government's decision to buy Turkish UAVs was not tactical but political. In a March 2019 interview, he mused, "The Ukrainian authorities might have wanted to thank Turkey in some ways for [its] support" on the international stage (Defence Express, March, 4, 2019). Ankara has notably never recognized Russia's annexation of the Ukraine's Crimean Peninsula, and it has politically supported Kyiv's continued free access to the Kerch Strait. At the same time, Turkey has extended some important symbolic support for the Crimean Tatars, who suffer from various repressions under Russian rule; and in late 2017, President Recep Tayyip Erdoğan was instrumental in helping to free two Crimean Tatar activists from Russian custody (see EDM, November 2, 2017, April 26, 2018, January 23, 2019).
Hence, the future of Ukrainian participation in the Akinci project as well as the prospects of these UAVs seeing combat over Donbas could depend on the political situation and bilateral relations between Turkey and Ukraine, rather than strictly military developments. One way or another, however, the successful completion of this UAV project could have a much-needed positive affect on the Ukrainian defense industry's image, making it crucial for Kyiv to continue this cooperation with Ankara.