The EU-Russia Antagonism Stretches From Ukraine to the Arctic
Publication: Eurasia Daily Monitor Volume: 18 Issue: 157
By: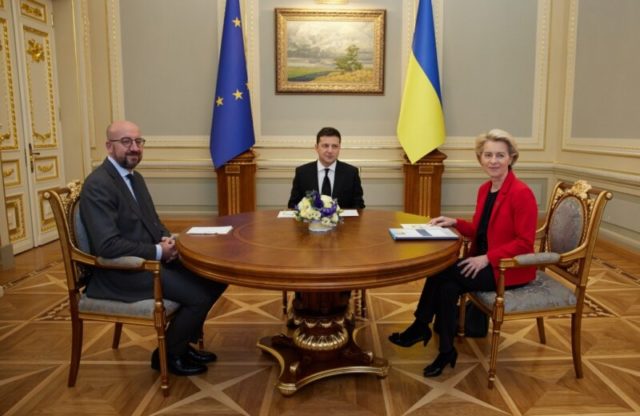 In its multi-domain confrontation with the West, Russia presumes that the main driver is the rivalry with the United States, while typically portraying the North Atlantic Treaty Organization (NATO) as a sworn but disorganized enemy. However, it is in fact the European Union that is engaged in the most direct antagonism with Russia and regularly takes aim at the most rotten pillars of the corrupt autocratic regime upheld by President Vladimir Putin. Russian-US relations have remained on an even keel since Presidents Putin and Joseph Biden's Geneva summit in mid-June; but the visit to Moscow last week (October 11–13) by Victoria Nuland, the Under Secretary of State for Political Affairs, reconfirmed—tense as her meetings in the Kremlin were—that (uneasy) stability (Rossiyskaya Gazeta, October 12; Kommersant, October 14; see EDM, October 14). And while NATO was the designated adversary in the recent Russian Zapad 2021 massive military exercises, tensions between Moscow and the transatlantic alliance have subsided since (see EDM, October 12). The EU, on the other hand, has meanwhile continued to tighten its sanctions against Belarus, Russia's closest ally, and expand the bloc's relations with Ukraine.
In recent weeks, the unfolding crisis in the European natural gas market has added acrimony to EU-Russia relations because Gazprom refuses to supply any additional volumes above its long-term contractual obligations (Forbes.ru, October 13; see EDM, October 7, 14). Putin used the occasion of the Russian energy forum to berate the EU for alleged mistakes in its energy policy aimed at reducing dependency on Russia and increasing the share of renewable sources (Ezhednevny Zhurnal, October 14). Presumably enjoying having regained the long-craved position of energy superpower for Russia, Putin promised the worried Europeans that Russian suppliers would boost their deliveries; but instead, Gazprom has started to pump out reserves from its underground gas storages in Germany (Izvestiya, October 15). The intention behind this deliberate aggravation of the ongoing energy crisis goes beyond ensuring the certification and launch of the controversial Nord Stream Two gas pipeline across the Baltic Sea (Nezavisimaya Gazeta, October 11). Putin's even more ambitious aim is to compel the EU to reconsider its "green" priorities, to stop investigating Gazprom's manipulations, and to forget about diversifying European energy imports away from Russia (Rosbalt, October 12; Carnegie.ru, October 15).
Furthermore, Moscow is trying to prolong the spasm in the European gas market as long as possible in order to convince the EU to accept Russia's strategic plan for discontinuing its gas transit through Ukraine; already, its current flow is nearly half of the minimum level Gazprom had committed itself to maintain (RIA Novosti, October 16). Last week, the Kremlin was irked by visits to Kyiv from Ursula von der Leyen, the European Commission President, and Charles Michel, the European Council President, who both confirmed the EU's plans to expand ties with Ukraine and condemned Russian aggression (Nezavisimaya gazeta, October 12). While Ukraine has reduced its gas imports from Russia to a minimum, its role as a gas transit corridor constitutes a major connection with the EU, and Moscow is confident that despite various European pledges to invest in Ukrainian energy infrastructure, this connection can be undercut (Kommersant, October 12). Ukraine then would become more vulnerable to forceful pressure from Russia, as spelled out last week in the strikingly undiplomatic article signed by former president Dmitry Medvedev, who now holds an ostensibly insignificant position of deputy head of the Russian Security Council (Svoboda.org, October 12; see EDM, October 13).
Ukraine is set to persist as the main obsession in Russia's policymaking. However, another area of disagreements with the European Union remains the Arctic, governed by the Arctic Council, in which Russia has assumed the rotating chairmanship (Russiancouncil.ru, September 24). Moscow has blocked the EU's efforts to obtain an observer status in this institution, but this has not prevented the European Commission from issuing a Joint Communication on stronger engagement with this region, which runs against Russian ambitions (Kommersant, October 15). Indeed, the main emphasis of European policy is on protecting the fragile Arctic ecosystem, and in particular, on reducing and discontinuing the exploration and production of hydrocarbons in the global High North. Russia, aiming at a successful result from presiding over the Arctic Council, has adjusted the official rhetoric on climate change and prepares to announce an entirely abstract goal on achieving carbon neutrality by 2060 (Interfax, October 6). As for oil and gas production, Moscow perceives the European position as unfair competition and a hostile encroachments on its sovereignty.
Russia's preferred way to deal with such challenges is to build up its military capabilities. Recently, it unofficially floated a new strategic idea to create an Arctic Fleet, which would allow the currently existing Northern Fleet to concentrate on the task of protecting its strategic submarines in the Barents Sea "bastion" (Novaya Gazeta, October 11). The Russian navy currently has only a few ice-class ships and just one icebreaker, and the shipbuilding program is not progressing that well, despite ambitious promises (Nezavisimoe Voennoe Obozrenie, October 14; see EDM, October 5, 12). Deploying more assets to the High North is hardly consequence-free for Russia given the escalation of tensions in the Black Sea and Far Eastern theaters. Moscow, for that matter, made much political fuss last week about an incident in the Sea of Japan, where USS Chafee, an Arleigh Burke–class destroyer, was intercepted by Russian destroyer Admiral Tributs (Udaloy-class) near the area of joint Russian-Chinese naval exercises (Rossyiskaya Gazeta, October 16).
Demonstrations of military might give Russia no edge in confronting the EU, which relies on its core sources of strength in economy, technology and human development. Russia is at a big disadvantage here as its economy, despite some additional inflows of petroleum revenues, is stagnating and plans for juicing its recovery are undercut by the unrelenting COVID-19 pandemic, which reached a new domestic peak in mid-October. For Putin's security services, the natural way to compensate for this weakness is to increase pressure on independent media by designating more outlets—like Rosbalt and The Republic (Rosbalt, October 16; The Republic, October 15)—as "foreign agents" and to target high-profile individuals, including Sergei Zuyev, the rector of the Moscow School of Economic and Social Sciences, with false investigations (Moscow Echo, October 14). Every spike in these repressions resonates negatively with European public opinion and compromises the politicians who advocate for continuing a dialogue with Moscow. The EU positions itself not only as an economic powerhouse but also an upholder of liberal values and human rights; the maturing of Putin's corrupt autocratic regime in Russia inevitably deepens such antagonism, in which nothing resembling a détente can be talked into existence.