The Generals' Growing Clout in Diplomacy
Publication: China Brief Volume: 15 Issue: 7
By: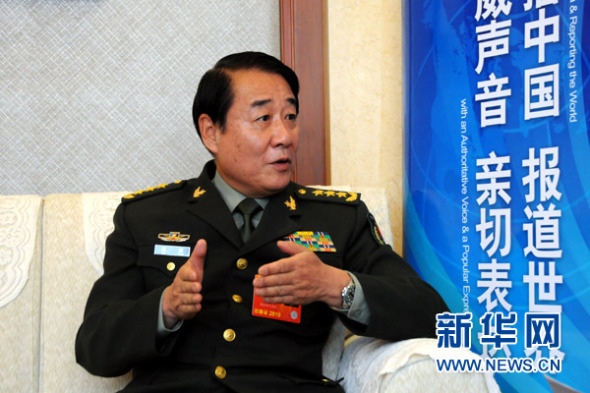 A recent foreign policy debate in the Chinese media has thrown into sharp relief the extent of the People's Liberation Army (PLA) generals' influence on the country's diplomacy. Wang Zhanyang, a liberal academic at the Central Institute of Socialism, caused a stir when he argued in a late 2014 article in Global Times that "it is impossible for Japan to go down the old road of militarism." Professor Wang argued that "both the 'Japan threat' theory and the 'China threat' theory do not tally with reality." He added that believers in Japan's re-militarization, including the country's hawkish military officers, had "strayed into the realm of methodological fallacy" (Global Times, October 9, 2014). Lieutenant-General Wang Hongguang harshly disputed Professor Wang's point in a Global Times article last November. General Wang, a retired deputy-commander of the strategic Nanjing Military Region, cited efforts by the Shinzo Abe administration to reinterpret the Japanese Constitution and to develop state-of-the-art weapons as demonstrating that "Japan's 1,000-year-old ambition of conquering China remains unchanged." General Wang hinted that a new war with Japan was a distinct possibility (Global Times, November 14, 2014).
Supporters of the professor and the general have clashed vociferously in China's social media. Senior Colonel Xu Sen seemed to back the PLA's heightened involvement in foreign policy when he argued that "soldiers have every right to make public statements about issues of national defense and national security." Xu, a veteran researcher at the National Defense University, denied accusations that the generals were "stoking the flames of nationalistic feelings." "If soldiers don't talk about war, what else should they talk about?" he asked rhetorically in a commentary in the Global Times (Global Times, August 28, 2014; Chinaiiss.com [Beijing], August 28, 2014). Xu's remarks provoked the bigger question of whether, apart from raising eyebrows, the generals' increasingly frequent comments on diplomatic and national-security issues mean that President and Commander-in-Chief Xi Jinping, China's No. 1 foreign-policy formulator, is giving them a bigger say in this key arena.
Avenues for PLA Influence Over Foreign Policy
Military personnel largely exert influence on foreign and national security policies in two ways. The first is through junshi waijiao ("military diplomacy"), meaning officers in China's labyrinthine defense establishment actively engage in activities ranging from boosting military-to-military contacts with foreign governments and defense forces to PLA staff joining international conferences or taking part in global peace-keeping missions. The second way for the top brass to weigh in on diplomacy is through offering advice to the top leadership—President Xi and members of the Politburo who have a diplomatic portfolio—in official and unofficial capacities. Generals sit on the Chinese Communist Party's (CCP) two highest-level diplomatic decision-making bodies: the Foreign Affairs Leading Small Group (FALSG) and the Central National Security Commission (CNSC). Senior PLA staff who are good friends of President Xi, who served as a junior secretary in the policy-setting Central Military Commission (CMC) from 1979 to 1982, also contribute to the nation's national-security policies in informal conversations with the putative head of the Gang of Princelings (a reference to the offspring of Party elders). [1]
President Xi's assessment of the way in which junshi waijiao should be waged has thrown light on the bigger issue of the generals' foreign policy clout. In late January, the CMC and the Ministry of National Defense held a rare national conference on PLA-related diplomacy. Xi saluted the role played by the defense establishment in "pushing forward the country's comprehensive diplomatic goals [and] upholding national security." But he also told the generals, as well as dozens of military attachés based in Chinese embassies around the world, that they should improve the tone and quality of their diplomatic endeavors. Xi indicated that military personnel must "unswervingly uphold the Party's absolute leadership over junshi waijiao." He added that PLA officers active in diplomacy must "resolutely implement the policy directives of the Party leadership and the CMC, and that they must resolutely uphold a correct political orientation when they undertake observations, considerations and operations regarding [diplomatic] issues" (Liberation Army Daily, January 30; Xinhua, January 29).
Last year, the Chinese military was active in international humanitarian activities, including searching for the missing Malaysian Airlines Flight 370, dispatching a large medical team to fight the Ebola epidemic in West Africa and taking part in multiple peace-keeping missions mandated by the United Nations. PLA authorities also held two major international conferences: the Western Pacific Naval Symposium and the Xiangshan Forum, which covered issues including confidence-building measures with other defense forces in the Asia-Pacific Region. Moreover, members of the senior brass participated in regional security conferences, such as the Shangri-La Dialogue held in Singapore every year. A PLA naval taskforce last summer visited eight African countries, which testified to the global power-projection capacities of the fast-rising quasi-superpower (Xinhua, December 26, 2014; People's Daily, December 26, 2014).
Various outspoken generals, however, seem to have muddied the waters regarding China's efforts to defuse diplomatic crises and play down the "China threat" theory. Both serving and retired generals often resort to incendiary rhetoric when they hold forth on China's sovereignty disputes with countries such as Japan, Vietnam and the Philippines. Retired Major General Luo Yuan and "Long Tao," reportedly a penname for Dai Xu, have talked about "teaching a lesson"—code word for limited warfare—to Vietnam and the Philippines (Junshi.xilu.com [Beijing], March 2, 2012; Chinaiiss.com, October 28, 2011). And while engaging in military-to-military diplomacy with the United States during the Beijing visit of Secretary of Defense Chuck Hagel last year, Defense Minister General Chang Wanquan appeared to rattle the saber when he told Hagel that "the Chinese military can assemble as soon as summoned, fight any battle and win." General Chang had this to say about sovereignty disputes in the South China Sea and the East China Sea: "[China would] make no compromise, no concession, no treaty" (Xinhua, April 8, 2014; China Daily, April 8, 2014).
Given the opaqueness of Chinese politics, it is difficult to ascertain in which areas Commander-in-Chief Xi wants junshi waijiao to be improved. It is also not easy to make out whether the fiery expressions of PLA commentators represent the real intentions of the CCP leadership—or whether their rhetoric serves the time-honored practice of psychological warfare. It is perhaps through directly exerting influence within high-level policy-making organs that the generals' impact is most clearly felt. While PLA personnel—and the quasi-military People's Armed Police (PAP), whose major role is maintaining domestic stability—number no more than 3.5 million, senior staff from the two units are always guaranteed 20 percent of the 200-odd seats in the CCP Central Committee. Two among the top brass—usually the two CMC Vice-Chairmen—are invariably assigned seats on the powerful Politburo. By comparison, no diplomats from the foreign policy establishment have made it to the Politburo since 2002. State Councilor and Defense Minister Chang Wanquan sits on the FALSG; several military intelligence experts from the PLA General Staff Department (GSD) are represented in sub-groups under the FALSG. More members of the top brass have been inducted into the two-year-old CNSC. Both CMC Vice-chairman General Fang Changlong and General Chang are Standing Committee members of the Commission, while PAP Commander General Wang Ning and GSD intelligence specialist Major-General Meng Xuezheng are ordinary members (Sina.com.cn, June 23, 2014; Ta Kung Pao [Hong Kong], April 15, 2014). Military officers' confidence in their contribution to foreign policy is fully reflected in this oft-cited saying in PLA media: "It is unrealistic to expect that diplomats can acquire while exercising their eloquence at negotiation tables what soldiers fail to get with their guns in warfare" (Liberation Army Daily, July 28, 2014).
PLA Princelings Serve as Xi's Private Think Tank
Packing a bigger punch are perhaps a dozen or so princeling generals who are deemed members of President Xi's informal and personal think tank. General Liu Yuan, the son of China's first state president Liu Shaoqi, is a key advisor to Xi regarding internal PLA affairs. It was General Liu, currently Political Commissar of the General Logistics Department (GLD), who kicked off the anti-corruption campaign within the PLA in 2011 when he exposed the economic crimes of then deputy commander of the GLD, Lieutenant-General Gu Junshan (Phoenix TV, November 3, 2014). General Liu Yazhou, a much-published author who is Political Commissar of the PLA Academy of Military Science, is among several military princelings who periodically brief Xi on national security strategy. General Liu, who is the son-in-law of the late president Li Xiannian, published Victories Based on Control of the Skies in mid-2014. "Space will definitely be the last frontier for warfare," Liu wrote. "Control of space is the premise of control of the air, control of the seas and control of information technology" (Nanning Evening News [Nanning], June 9, 2014). Coincidentally, Xi began to advocate "the synthesis of air and space" in the same period. During a visit to the headquarters of the PLA Air Force (PLAAF) in April 2014, Xi urged PLAAF personnel to "speed up the construction of a powerful people's air force based on the premise of the synthesis of [the control of] the air and of space… so as to provide a forceful underpinning to the Chinese Dream and the Dream about a Strong Army" (Xinhua, April 14, 2014).
Generals Support Xi's "Strong Army" Dream
Compared to predecessors Deng Xiaoping, Jiang Zemin and Hu Jintao, Xi seems more ready to use military force to back up China's global power projection. One of Xi's first dictums on national security is that the Party-state-military apparatus "must ensure that the troops are ready when called upon and that they can fight effectively and win wars" (People's Daily, August 7, 2014). He has repeatedly called upon the generals to "devote utmost effort to expanding and deepening preparations for military struggle," repeating a common call since the early 1990s (China News Service, March 12, 2013; Xinhua, February 6, 2013). In an unprecedented show of loyalty to Xi's military thinking last April, 18 senior generals published biaotai ("airing support") articles in the Liberation Army Daily. The top brass summarized the commander-in-chief's views on national security as "daring to brandish the sword and to deploy the sharpest sword" (Liberation Army Daily, April 2, 2014). Given growing expectations of military forces becoming a preeminent actor in realizing the country's goals in diplomacy and national security, it seems logical that Xi should allow the generals a bigger voice in foreign affairs.
Indeed, the generals' influence is felt in not only national security issues but also the overall reshaping of Chinese politics and civilization in accordance with the "Spirit of Xi Jinping" (see China Brief, March 6). While ruminating about the "Chinese Dream," Xi often posits a "strong army" as a prerequisite for "the renaissance of the Chinese people" (Beijing Youth Daily, April 16, 2014). Or as princeling General Liu Yuan put it, "without a strong national defense, rich countries will become a fat sheep that is liable to be slaughtered" (Xinhua, March 16, 2013). Perhaps in light of the heavily nationalistic—and militaristic—component of the "Chinese Dream" mantra, princeling General Liu has been advocating a kind of "war culture" to be inculcated particularly among young Chinese. Liu argued in a controversial 2010 article entitled "Why We Need to Retool Our Views on Culture and History" that "war culture" had "crystallized the most time-honored and most critical intelligence of mankind." "We should harbor a devout heart and a worshipper's fealty toward war and the actors in warfare," he said. "They are just too splendid, too great!" (Seeking Truth, September 1, 2010; People's Daily, August 3, 2010). If actors of warfare are seen as saviors of China and custodians of the quintessence of Chinese civilization, the status of generals as decision-makers in foreign and national security policies will inevitably be enhanced.
Notes
For a discussion of the generals' role in China's foreign policy formulation, see, for example, You Ji, "The PLA and Diplomacy: Unraveling Myths About The Military Role in Foreign Policy Making," Journal of Contemporary China, Volume 23, Issue 86, 2014, pp. 236–254. Also see Michael Swaine, "China's Assertive Behavior Part Three: The Role of the Military in Foreign Policy," China Leadership Monitor, No. 36, 2012; Willy Lam, China Politics in the Era of Xi Jinping (New York: Routledge, 2015), pp. 227–233.