PLA Navy Used for First Time in Naval Evacuation from Yemen Conflict
Publication: China Brief Volume: 15 Issue: 7
By: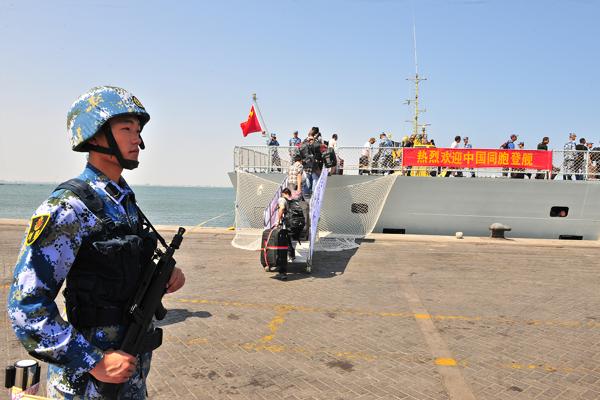 On March 29, the Linyi, a People's Liberation Army Navy (PLAN) missile frigate, evacuated the first 122 Chinese citizens and two foreign experts from Aden, Yemen to Djibouti as the situation in Yemen deteriorated—marking the first time PLAN ships were used to rescue citizens abroad (People's Daily Online, March 30; Xinhua, March 30). The next day, the Linyi's sister ship, the Weifang, also rescued another 449 Chinese citizens from Al-Hodayda (Xinhua, March 30). Speaking at the Boao Forum in Hainan on March 29, Chinese Foreign Minister Wang Yi said "there are 590 Chinese nationals in Yemen and the Chinese government launched the evacuation plan Thursday evening [March 26], when Saudi Arabia and its allies launched airstrikes in Yemen. The evacuation will help ensure Chinese nationals come back to China safely" (China Daily, March 29).
The crisis in Yemen escalated this January when Houthi rebels took control of the capital, Sana'a, forcing the president to leave the capital in February, and by early March they had taken large parts of the country. In response to the president fleeing to Saudi Arabia via Oman on March 26, Saudi Arabia was able to build a 10 country coalition, with a reported 150,000 troops, seemingly overnight to begin an air campaign against the rebels. Describing the scene in the capital, Xinhua said residents had fled and businesses were closed (Xinhua, March 29). The instability in Yemen represents a challenge to what was a deepening relationship between Beijing and Sana'a, after Defense Minister Muhammad Nasir Ahmad and President Abdu Rabbu Mansur Hadi visited Beijing in September and November 2013, respectively, to "[seek] cooperative relations" (Xinhua, September 23, 2013; CTTV, November 13, 2013; China Brief, July 7, 2006). However, the Chinese government had already begun pulling back on some projects in the country in January (Yemen Post, January 1).
This evacuation is small compared to the 35,000 citizens China evacuated from Libya during its civil war in 2011, and another 1,000 people again last year (see China Brief, March 10, 2011; South China Morning Post, March 30). According to Zhang Junshe, a researcher at the PLA's Naval Military Academic Research Institute, during the 2011 evacuation, the Xuzhou, a PLAN frigate, only provided "support and protection," meaning that Yemen is "the first time that PLAN vessels have berthed in a foreign port to directly evacuate Chinese citizens" (Xinhua, March 30). Although China has also evacuated its citizens from Mexico, Japan, Egypt, Iraq, Kyrgyzstan and Vietnam in recent years, Chinese media referred to Yemen as the second evacuation, likely since the others were only partial and apparently no military assets were used (China Daily, March 30; Xinhua, March 30). The Linyi and Weifang do have a contingent of special forces, but they apparently have not been deployed on the ground in Yemen (South China Morning Post, March 30). On April 2, China evacuated 225 foreign citizens from 10 countries on the Linyi, including 176 from Pakistan, and several from Singapore, Italy, Germany and England, among others (Xinhua, April 1; China Daily, April 3).
The Chinese press initially revealed very limited details about the operation. After a March 27 announcement by the PLAN North Sea Fleet that it was suspending anti-piracy operations in the Gulf of Aden—for the first time since starting in 2008—without explanation, state-run Global Times followed up with its headquarters in Dalian and did not receive a response (Global Times, March 28). Citing unnamed "military experts," Global Times assumed it was to evacuate people from Yemen and that it would be a "temporary decision" to stop the Gulf of Aden patrols. Explaining Yemen's importance to China, the paper quoted another anonymous source as saying that Yemen's "strategic location is very important," as it "guards" the junction of the Arabian Sea and Red Sea, connects the Mediterranean Sea to the Indian Ocean and is a passageway for Middle Eastern oil to Europe.
The Chinese media has touted this evacuation as a point of national pride. A Global Times editorial said "evacuating overseas citizens is a test for a country's comprehensive national power," and that China's recent successes over the last several years show "the country's ability to protect overseas citizens' collective security." It continued that "providing a more reliable normalized security guarantee for Chinese citizens abroad, including protecting their property," is more difficult, and "requires China to have strong political influence, comprehensive deterrence and more tools for overseas security." This must be coordinated with overseas citizens "improving their own self-defense capabilities." The Global Times concluded that "the meaning of Chinese national security is expanding from a fixed goal of territorial waters to individuals who move overseas, so it is a never-ending mission." The article also proudly noted that China evacuated its citizens much faster than India, adding that it "was not a coincidence" and shows how far China has advanced past India. Xinhua added that the evacuation "[demonstrated] responsibility and humanistic care toward its citizens" (Xinhua, March 30). Another article noted that the evacuation represented "three firsts"—the first evacuation using PLAN vessels at a foreign port, the first evacuation of foreigners and the first pause in China's patrols in the Gulf of Aden (Global Times, April 3). Zhang Junshe said the evacuation of non-Chinese citizens "showed the spirit of China playing a responsible great power (Global Times, April 3).
Li Shaoxian, an expert on the Middle East at Ningxia University, told China National Radio that Saudi Arabia's intervention may cause Yemen to break out in civil war and become a "proxy war," since "on one side is Iran in the background, and on the other side is Saudi Arabia—it's becoming a new tinderbox in the Middle East" (China National Radio, March 28). China Youth Daily echoed Li by describing the conflict as a proxy war between the Saudi-led Sunnis and Iranian-led Shiites (China Youth Daily, March 28). Xinhua said it was hard for Saudi Arabia to "tolerate the Yemen regime becoming closer to Iran," as "analysts have pointed out that in order to preserve its important position in the Middle East, Saudi Arabia is taking actions to support the Yemen government" after "Iran has been accused of supporting the Houthi's attempt to overthrow the Yemen government" (Xinhua, March 29).
The Chinese press has so far refrained from directly criticizing Saudi Arabia's intervention but has quoted several foreign experts and foreign media reports that discuss the risk of further destabilization. China News cited one Russian expert who said that the Saudi-led coalition "cannot accomplish its goal" and that they will only expand the conflict and kill more people, possibly launching a "large-scale Sunni and Shiite civil war" (China News, March 27). People's Daily has taken the Yemen conflict as another opportunity to criticize the United States' involvement in the Middle East, publishing an op-ed by three academics entitled "How Can America Be Helpful Without Causing Trouble in the Middle East," and a 2013 article in Seeking Truth cited Yemen as an example of how the "Arab Spring" has turned to the "Arab Winter" in an article against "universal values" (People's Daily, March 19; Seeking Truth, October 16, 2013).
Austin Strange, a Harvard Ph.D. student and co-author with Dr. Andrew Erickson of Jamestown's upcoming book on China's anti-piracy efforts in the Gulf of Aden, explained: "The Yemen evacuation is the latest of several examples, including Syrian chemical weapons destruction and MH370 search efforts, of how China's protracted anti-piracy operations afford it valuable reach in international maritime security. These modest but important cases make it intriguing to ponder how China's ability to do participate in a wide range of Far Seas security activities could change after its Gulf of Aden mission ends" (Author's interview, March 30).
The situation in Yemen likely reinforces Beijing's worldview that U.S. action in the Middle East over the last 15 years, coupled with the Arab Spring, has not benefited region's stability or China's overall development. However, China's evacuation of its citizens also brings into focus the tensions it will increasingly face as it plays a greater role on the world stage—balancing its international responsibilities in patrolling the Gulf of Aden versus pausing those patrols to protect its citizens by evacuating them out of Yemen. This may be seen by some in Beijing as yet another example of why China, and especially the PLAN, needs a larger and more permanent presence in the region.