The "Great Game:" Lukashenka Slowly Drawn Into Russian Orbit
Publication: Eurasia Daily Monitor Volume: 7 Issue: 62
By: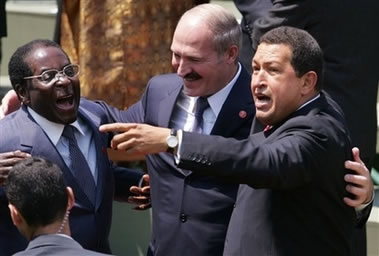 The mid-March visit by Russian Prime Minister, Vladimir Putin, to Belarus stimulated further speculation over the tense and fluctuating relationship between the two Slavic neighbors. Putin arrived in the city of Brest for a regular meeting with the Council of Ministers of the Russia-Belarus Union State. On the same day, however (March 15), Belarusian President, Alyaksandr Lukashenka, arrived in Caracas, Venezuela. Was he deliberately avoiding a meeting with Putin? Analysts are divided on the answer to this question.
The Union State is more or less defunct. Few seriously believe that the agreement, originally signed by Lukashenka and the then Russian President, Boris Yeltsin, on April 2, 1996 (then called the Commonwealth, it was formalized three years later) will ever result in an entity that satisfies both sides. However, Putin has larger ambitions for the new customs union, that includes Kazakhstan, and may (Moscow hopes) ultimately include Ukraine under its new President, Viktor Yanukovych. Putin has called for the adoption of a common currency –ostensibly the Russian ruble– by 2012. Lukashenka, it is postulated, will need Russian support to secure a fourth term as president, which will necessitate a more compliant attitude toward Moscow (Interfax, March 16).
Thus, when Putin arrived in Brest, his main goal was to combine a carrot and stick approach to persuade the Belarusians that it was in their interest to adopt a more conciliatory stance. The Russian prime minister's schedule reflected his goal to reunite the former Soviet territories. He visited the customs point Kazlovichy-2 in Brest and then traveled to the Brest Fortress where he talked of the forthcoming common commemoration of the 65th anniversary of victory in the Great Patriotic War on May 9 (Belorusy i Rynok, March 22). Lukashenka is a frequent visitor to the fortress, which is the most important symbol of the war in Belarus.
Putin maintained that he had no plans for a meeting with Lukashenka and that the goals of his talks with fellow Prime Minister, Syarhey Sidorski ,were to discuss the economic recession, expand the scope of the customs union, and consider energy questions (RIA Novosti, March 16). The meeting also encompassed the plan to develop a unified transport system of the Union State, which ends this year, and a bilateral treaty on social security (Belarusian Telegraph Agency, March 16). Russia has frequently expressed its regret that Belarus has not yet recognized the independence of the breakaway Georgian territories of Abkhazia and South Ossetia, although Putin acknowledged his disappointment openly in Brest, this question was not discussed, because it requires a meeting of the respective presidents (ITAR-TASS, March 16).
Meanwhile, Lukashenka was securing an agreement with Chavez –also a firm Russian ally– to deliver up to 80,000 barrels of oil daily from May from Venezuela to Belarus. This agreement, interpreted by many as a rebuff to Russia, comes after Russian-Belarusian talks earlier this year to remove a discount on oil export duties for Russian supplies to Belarus. The talks from the Belarusian perspective failed miserably as Moscow imposed a full duty excepting supplies used for domestic needs by Minsk. The Venezuelan agreement could potentially force Russia to reroute around 4 million tons of oil each year. However, oil analyst, Aleksey Krokin, noted that the expenses entailed in sending Venezuelan oil to Belarus (involving transit from tankers to railcars) would prove prohibitive (Interfax, March 17). The oil could be refined locally, but it is more likely that Lukashenka was calling the Russians' bluff.
If so, it seems to have partly worked. On the second day of his visit, Putin offered to remove import duties on Russian oil beginning in 2012, on the condition that Minsk agrees to enter a single economic zone. Clearly, Belarus would also be required to recognize Abkhazia and South Ossetia as part of the deal (Interfax, March 16). Will Lukashenka once again be able to avoid such decisions and keep his options open, including commitments to the EU's Eastern Partnership?
Despite his skilful maneuvers, the position of the Belarusian president is weakening. State borrowing continues from any source prepared to offer loans to Belarus –the most recent was China, which offered a $1 billion loan for bilateral projects, and $8.8 million in "gratuitous aid" as a sign of friendship (www.naviny.by, March 25). The currency has continued its decline during the recession, and on March 26 it crossed the psychological threshold of 3,000 Belarusian rubles to the dollar (it stood at 2,842 in January) (Belorusskaya Delovaya Gazeta, March 26). Its fall increases the costs of purchasing resources abroad.
The election of the pro-Russian candidate, Yanukovych, in the Ukraine also weakens the position of Lukashenka, who in the past could serve as an intermediary between Moscow and Kyiv under Viktor Yushchenko (The Moscow Times, March 23). The recent crackdown on journalists in Belarus, as well as attacks on the Union of Poles (www.charter97.org, March 26), has outraged both Washington and Brussels. The president is obliged to find new friends in Latin America and China, but in the long term it is the bilateral relationship with Russia that remains pivotal.
Perhaps, nonplussed by Lukashenka's latest exploits, Putin can afford to be patient. His erstwhile ally is slowly running out of options to avoid being dragged into the Russian economic fold.