Ukrainian Prime Minister Mykola Azarov Returns Empty-Handed from Moscow
Publication: Eurasia Daily Monitor Volume: 7 Issue: 62
By: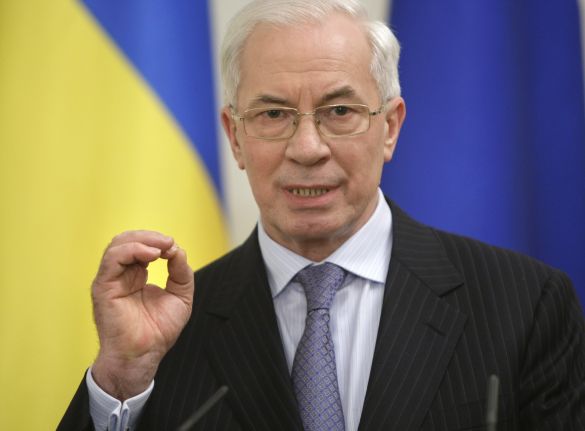 Ukrainian Prime Minister, Mykola Azarov, failed to persuade Moscow to lower the price of gas for Ukraine. Although Kyiv's offer of participation in a consortium to manage Ukraine's gas pipelines was not openly rejected, it was hinted that this might not be enough. More economic and political concessions are expected in exchange for cheap gas. Azarov returned to Kyiv only with a promise that the talks will continue. This was a test for the new Ukrainian government, which many have dubbed as pro-Russian. If President, Viktor Yanukovych, and his team do not agree to Russian conditions, Kyiv will have to turn for financial assistance to the West, which will insist on serious reform.
Russian Prime Minister, Vladimir Putin, during his talks with Azarov on March 25 flatly rejected Yanukovych's complaint that the January 2009 gas contracts were unfair as the price is too high compared to European prices. Putin said that the contracts, which were concluded by Azarov's predecessor Yulia Tymoshenko, must be honored. Azarov grudgingly confirmed that Ukraine would continue to pay according to the contracts. The only concession that Putin made was the promise that Russia would not punish Ukraine for buying less gas than agreed. In the first quarter of 2010, Ukraine imported 6 billion cubic meters (bcm) of Russian gas, rather than 8.4 bcm as it stipulated in the contracts (Interfax, March 25). Putin made the same concession to Tymoshenko in 2009.
Putin and Azarov agreed that the gas talks will continue during April in Moscow. Gazprom said it could discuss a decrease in prices if Ukraine agreed to buy more than 33.75 bcm of gas in 2010 as set out in the contracts (Kommersant-Ukraine, March 26). Gazprom wants Ukraine to pump more gas into its underground storage facilities. Cash-strapped Ukraine, whose GDP fell by 15 percent in 2009, cannot afford such terms. Azarov said that Ukraine would buy only as much gas as needed for domestic consumption, since "we do not need redundant gas" (UNIAN, March 26).
Azarov had arrived in Moscow at Putin's invitation as talks between Ukrainian Fuel and Energy Minister, Yury Boyko, and Gazprom CEO Aleksey Miller on March 23-24 produced no result. Miller was shown on TV telling Boyko that contracts should be respected (Channel 5, March 24). Ukrainian officials were determined to persuade Moscow to lower the price of gas. Ukraine pays $305 per 1,000 cubic meters of gas in the first quarter of 2010, and the average price for the year is expected to reach $334 (RBK-Ukraine, March 24), compared to $228 in 2009. Kyiv cannot afford this, especially as it is reluctant to increase domestic gas prices which would be a very unpopular measure. The state-controlled oil and gas behemoth Naftohaz Ukrainy continues to sell gas to end consumers with heavy discounts, while buying from Russia at market prices. Consequently, Naftohaz's deficit equaled 2.5 percent of GDP in 2009, according to the International Monetary Fund (IMF).
Speaking ahead of Boyko's trip, First Deputy Prime Minister, Andry Klyuyev, said that Ukraine could not afford current Russian prices. He said that in exchange for lower prices, Russia would be offered participation in a consortium to manage Ukraine's gas transit network. He opined that Ukraine would lose Russian gas transit without a consortium as Moscow is set to use its new Nord Stream and South Stream pipelines to bypass Ukraine. Klyuyev said that the gas transport network would remain state-owned, while given as a concession to the consortium which should include not only Russia and Ukraine, but also the EU (ICTV, March 21).
Putin made it clear that a consortium would not prove sufficient to lower the price of gas. He used the example of Belarus, which pays less than $200 for Russian gas. "Why does Belarus buy gas for a price one third lower? This is because we are building a union state and a customs union with Belarus," said Putin (Interfax, March 26). Former Ukrainian President, Viktor Yushchenko said, commenting on the talks, that Russia would offer a union state or a customs union in exchange for cheap gas (Ukrainska Pravda, March 26). Yanukovych is not enthusiastic about a customs union with Russia, as it would contradict Ukraine's membership of the World Trade Organization (WTO). However, some members of his team are ready to make concessions. Deputy Prime Minister, Volodymyr Semynozhenko, suggested that a union state with Russia and Belarus should not be rejected as an option along with EU membership (Ukraina TV, March 26).
If Yanukovych and Azarov accept any kind of union as a condition for cheap gas, Ukraine would be firmly back within Russia's orbit. Otherwise, it will be difficult for Ukraine to survive without Western assistance. The Ukrainian cabinet will eventually have to increase domestic gas prices, but not double them as the World Bank suggested. Such a move would badly damage the ruling party ahead of the local elections, which are scheduled to be held within several months. In March 2009 the EU pledged loans to rescue Naftohaz, on the condition that it would be reformed. The offer resulted in no action, as it vexed Putin.