The Israel-Hamas Conflict Reverberates in the South Caucasus
Publication: Eurasia Daily Monitor Volume: 20 Issue: 166
By: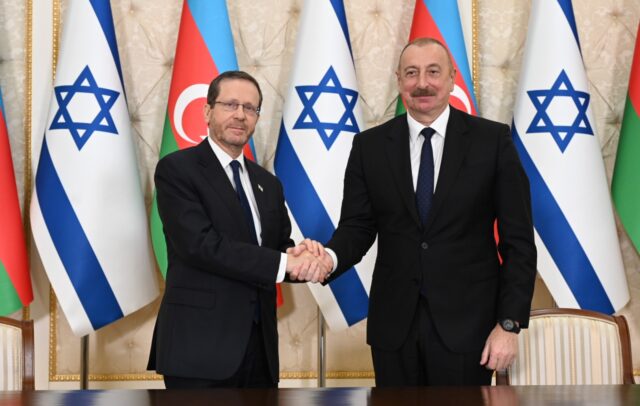 The South Caucasus has received increased international attention of late with heated discussions on Georgia's possible EU membership (see EDM, October 19) and growing prospects of peace between Armenia and Azerbaijan after the restoration of Baku's sovereignty over Karabakh on September 20 (see EDM, September 20, 28, October 4, 25). The Hamas attack on Israel on October 7 diverted much of the world's eyes from the region, though not entirely. On the one hand, the outbreak of fighting in Gaza is expected to decrease the pressure on the region emanating from the competition between Russia and the West for influence. On the other hand, the growing significance of some Middle Eastern countries, notably Iran and Israel, in working with Armenia and Azerbaijan puts Yerevan and Baku in a difficult spot. This has compelled both governments to consider calculated neutrality as the most prudent course of action.
Georgia has been most adamant in its support for the Israeli cause. On October 7, the Georgian Foreign Ministry issued a statement condemning the "horrific terrorist attack on the State of Israel" and expressed "solidarity with the Israeli government and people" (Civil.ge, October 7). The country's embattled president, Salome Zourabichvili, took to X (formerly Twitter) to express Georgia's "full solidarity with Israel in these difficult moments" (Agenda.ge, October 8). Georgia's pro-Israeli position was further highlighted on October 12 when the Israeli ambassador to Georgia, Hadas Meitzad, was invited to address the Georgian Parliament's Foreign Relations Committee (Parliament.ge, October 12). Meitzad accused Iran of ultimately being behind the terrorist attack, as Hamas would not be able to conduct such a large-scale attack without significant financial and logistical support (YouTube, October 12). Mahmoud Adib, the Iranian ambassador to Georgia, denounced these allegations as "unfounded" and called Tbilisi, "a long-standing opponent of occupation, to stand with the Palestinian people in their quest for freedom and justice, ending the occupation of their land" (Tabula.ge, October 14).
Georgia's pro-Israel approach to the conflict is rooted in the growing presence of the Israeli diaspora in the country and the admiration for the Israeli model of state-building in a volatile neighborhood. Georgia has a relatively large Jewish diaspora, with about 1,500 Jews residing there as of 2023. Additionally, many Georgian Jews have emigrated to Israel in recent years (World Jewish Congress, accessed October 25). According to the Georgian Embassy in Israel, around 17,000 Georgian Christians live in Israel who are either married to Jewish partners or are there as migrant workers (The Times of Israel, June 14, 2021). Many Georgians view Israel's governance and economic model as an example for their country to follow as a nominal member of the West located in a faraway region. Support for Israel allows the Georgian government to speak in similar terms with its Western partners.
In Armenia, the Israel-Palestine conflict is largely seen in the context of Israel's growing economic and military partnership with Azerbaijan. Yerevan has heavily criticized Tel Aviv on this matter, as Israel has long been Azerbaijan's main arms supplier (see EDM, November 10, 2020). That support contributed to Baku's efforts in wresting back its internationally recognized territories from Armenian occupation. On October 3, the World Jewish Center in Yerevan was vandalized in an act that some believe was directly related to Israel's support for Azerbaijan (The Times of Israel, October 4). The Armenian Foreign Ministry condemned the attack, saying, "there is no place for hate and intolerance in Armenia" (X.com/MFAofArmenia, October 4).
Against this backdrop, Yerevan's reaction to the Israel-Hamas war has been quite measured. On October 7, the Armenian Foreign Ministry expressed shock at "the violence between the Palestinians and Israel and targeting of the civilian population." It declared Yerevan's support for "international calls to stop the violence" (News.am, October 7).
Anti-Israeli sentiments in Armenia, nevertheless, may hurt the country's regional positioning. In recent weeks, Yerevan has pivoted toward the West at the expense of its long-time relationship with Russia (Radio Free Europe/Radio Liberty, September 13). Such public attitudes prevent Yerevan from declaring full support for Israel and may damage its image as a reliable partner to some Western countries. Yerevan is also taking note of Tehran's response to the fighting in Gaza. Iran has emerged as an ardent supporter of Armenia, declaring any breach of Armenia's territorial integrity "unacceptable" (Azatutyun.am, July 7, 2022). The Armenian government would likely go to great lengths to avoid any moves that might undermine its relationship with Tehran.
The Israel-Hamas conflict has put Azerbaijan in an exceedingly difficult position. Historically, Baku has enjoyed close relations with Israel and the Islamic world, including Palestine (JAM-news, October 9). The Azerbaijani Foreign Ministry took a neutral position from the first day of the war, "condemning violence against civilians in the Israeli-Palestine conflict zone" and calling for "an urgent de-escalation of the situation" (X.com/AzerbaijanMFA, October 7). Azerbaijani media and social media platforms have been awash with pro-Israeli comments, but so far, the government has stuck to a calculated neutral stance.
A prolonged or expanded conflict poses serious challenges for Azerbaijani foreign policy. In its cooperation with Israel, Baku has walked a fine line so as not to damage its position in the Islamic world. On October 18, in his address to the extraordinary expanded meeting of the Organization of Islamic Cooperation, Azerbaijani Foreign Minister Jeyhun Bayramov stated that Baku "supports the Palestinian people in their struggle for statehood [and] the solution of the Israeli-Palestinian conflict on the basis of the two-state principle" (Trend.az, October 18). This position also does not alienate Azerbaijan's main ally, Türkiye, which has supported Palestinians in the face of Israeli strikes in Gaza. A potential expansion of the fighting, moreover, would have serious repercussions for recent notions of a possible normalization in Azerbaijani-Iranian relations (Tehran Times, October 11).
The Israel-Hamas war represents another blow to the rules-based international order. This conflict and Russia's war against Ukraine have ushered in an era fraught with defense and security challenges for smaller powers like Armenia, Azerbaijan, and Georgia. As such, there have been more calls in the South Caucasus for regional solutions to regional problems (see EDM, October 25). As the three countries' varied reactions to the fighting in Gaza demonstrate, coming to a regional consensus on security issues will be difficult. Such efforts, nonetheless, will be crucial to protecting national interests and providing for more stability in the region.