Bulgaria Strikes Back After Gazprom Suspended Gas Supplies Last Year
Publication: Eurasia Daily Monitor Volume: 20 Issue: 166
By: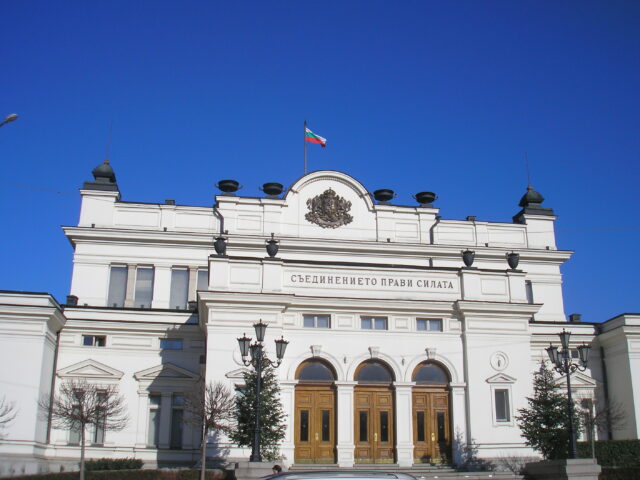 Bulgaria has finally taken decisive measures to cease its dependence on Russian energy and undercut Moscow's positions in the Balkan and Central European energy markets. On September 28, the Bulgarian National Assembly voted to introduce a new excise tax on the import and transit of Russian natural gas, amounting to 20 percent of current spot prices in Europe. The law also mandated gradually transitioning Russia's Lukoil refinery in Bulgaria to importing non-Russian oil by October 2024 and increasing the corporate tax (also known as the "tax on excessive profits") from 33 to 50 percent, which will seriously impact the highly profitable refinery (Parliament.bg, October 13).
These measures are intended to curtail cash flows to Putin's war coffers. They will also disrupt Russia's largest remaining gas transit route to Europe and squeeze its most important refinery in southeast Europe. In addition, the increased tax burden on Lukoil may turn the Russian company's Bulgarian refinery into a distressed asset, ready for acquisition by a new owner. Pitfalls in the implementation of the law, however, remain. Sofia will need the support of its Western allies to successfully counter Russia's potential retaliatory actions and the opposition of Russia's remaining European customers, most notably Hungary and Serbia.
Several major impediments may inhibit Bulgaria's full implementation of the new law. These include the opposition of Gazprom's remaining customers in Europe, the potential full suspension of Russian gas supplies in the winter, and increases in gas and electricity prices if Gazprom decides to pass the excise tax to its consumers. In addition, Sofia will have to ensure that all gas volumes originating from Russia—including those supplies coming through the Turkish gas hub, which was jointly agreed upon by Ankara and Moscow this year—will not be exempt from the tax (see EDM, January 5; Altanalyses.org, October 18; Voanews.com, October 20). There are also challenges related to the Lukoil refinery, as local oligarchs are already preparing to appropriate the Russian asset if it becomes distressed.
On September 28, the Bulgarian parliament adopted amendments to the law on restrictive measures given Russia's actions in Ukraine. The amended law introduced a new excise tax of 20 Bulgarian levs ($10.78) per megawatt-hour on imports of Russian natural gas and its transit through Bulgaria. The amount is about 20 percent of the current Title Transfer Facility (TTF) benchmark gas price, which hovered around 50 euros ($52.80) on October 26 (Barchart.com, October 26). The new tax will reduce Moscow's profits by an estimated 1.2 billion euros ($1.27 billion) annually, which will be added to Bulgaria's central budget. The new tax may eventually drive Hungary and Serbia to seek alternative energy supplies (EurActiv, October 16).
Bulgaria no longer imports Russian natural gas for its own needs after Gazprom suspended supplies in the spring of 2022. The refusal of the pro-Western government of Kiril Petkov ("Change Continues" party leader) to pay for natural gas in rubles in April 2022 resulted in Sofia switching to non-Russian gas supplies (EurActiv, April 27, 2022). Bulgaria, however, has not banned the usage of its gas network for the transport of Russian gas to Europe. This is primarily how Russian gas reaches Serbia, Hungary, and Austria.
Those companies transporting Russian natural gas through the TurkStream pipeline and its Balkan Stream extension will be required to pay the new tax. This line runs from Russia under the Black Sea to western Türkiye and continues through Bulgaria to the Balkans and Central Europe. The pipeline has a capacity of 15.75 billion cubic meters a year (see EDM, January 16, 2020) and is currently used mostly for Russian gas deliveries to Serbia and Hungary. It also supplies smaller volumes to Romania and Moldova through the former Trans-Balkan pipeline, now retrofitted for reverse use.
Belgrade and Budapest are not happy with Sofia's decision. A joint statement from Serbian Finance Minister Sinisa Mali and Hungarian Foreign Minister Péter Szijjártó on October 18 accused the Bulgarian government of undermining the safety of both countries' energy supply (N1info.rs, October 18). North Macedonia is also worried about potential price increases for Russian natural gas, though Bulgarian Prime Minister Nikolay Denkov assured EU ambassadors in Sofia that the gas transit fee only affects Gazprom (BNR.bg, October 25). The European Commission has approved Sofia's introduction of the excise tax for Russian natural gas transited through the TurkStream pipeline (BNR.bg, October 20).
The new tax on Russian natural gas has caused sharp political exchanges domestically, just days before the upcoming local elections on October 29. Bulgarian President Rumen Radev, whom opponents have accused of taking a pro-Russia stance on Moscow's invasion of Ukraine, was quick to challenge the law before the Constitutional Court on October 26. Finance Minister Assen Vassilev reacted strongly by telling journalists that, with this action, the president declared himself a defender of Gazprom, not Bulgaria's national interests (Novinite.com; BTA.bg, October 26).
The debate around Lukoil Neftohim Burgas is even more complex. It involves local oligarchs who hope to use the government to appropriate the largest refinery in the Balkans on the cheap. Although Lukoil's largest shareholder, Litasco, claims that, currently, no talks are underway regarding the sale of the Burgas refinery, it may eventually follow the fate of Lukoil's Sicilian refinery, currently for sale, and Rosneft's German assets, which were taken under the administration of the German government (BNR.org, October 19).
The Bulgarian parliament not only increased the corporate taxes Lukoil will have to pay but also stipulated that the refinery must gradually switch to non-Russian oil by October 2024. This date comes three months before the expiration of Bulgaria's exemption on import of Russian oil by sea granted by the European Commission in June 2022 (Parliament.bg, October 13). Lukoil had earlier claimed that Bulgarian plans to stop Russian oil imports posed risks to the refinery. The Russian energy company, nevertheless, subsequently agreed to the proposed gradual schedule in introducing non-Russian oil and promised Denkov that it would pay all taxes by the end of the year (Dnevnik.bg, October 25).
If Lukoil fails to comply with these requirements, the Bulgarian government has the right to put the refinery under its control to ensure national security and secure the energy supply, or in the case of a monopoly. Sofia has given the Russian refinery enough time to secure alternative oil supplies to avoid market distress and price hikes. The current government, nevertheless, must act swiftly to end dependence on Russian energy while still having majority support in parliament.