The Kerch 'Curse': Russian Occupation Makes Crimea an Island
Publication: Eurasia Daily Monitor Volume: 12 Issue: 131
By: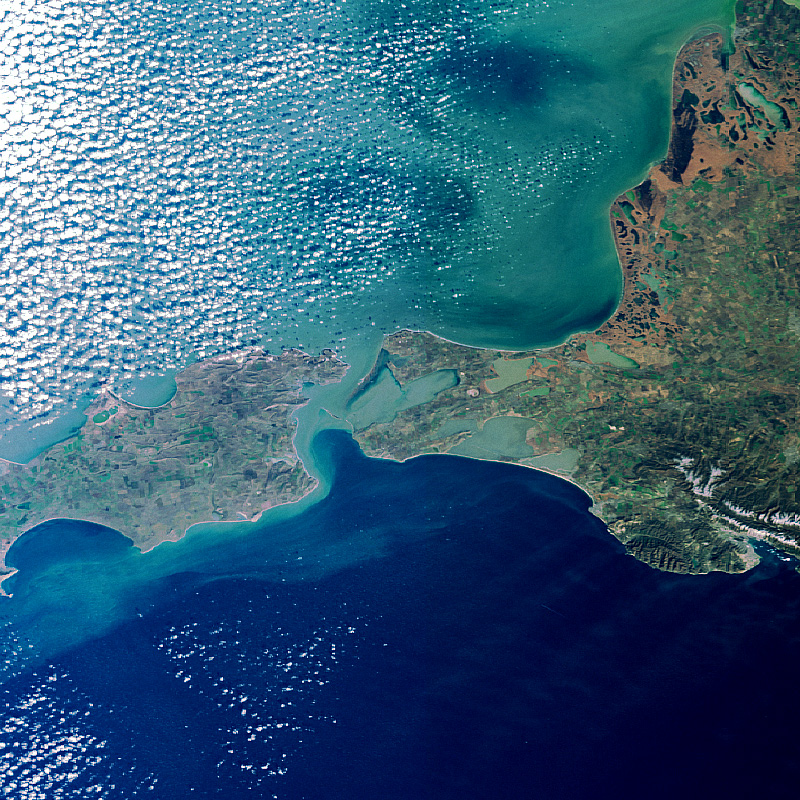 By its illegal occupation of Crimea, Moscow has transformed that Ukrainian peninsula into an island, the second non-contiguous part of the Russian Federation and one that is already giving the Russian government and the Russian economy serious problems—as Kaliningrad long has (Ekho Moskvy, July 10). Like Kaliningrad, Crimea can be reached by land only by crossing the territory of a country with which Moscow does not have good relations. But unlike the westernmost oblast of the Russian Federation, the Crimean peninsula could, in principle, be reached by a bridge over the Kerch Straits from Russian territory.
That is the strategy Moscow has announced, even though all earlier efforts to build a bridge across those waters have failed. Furthermore, the problems involved—foreign political, economic, environmental, technical and domestic-political—are now greater than at any time in the past. Together, these obstacles make the realization of such a project more difficult than ever. As a result, Ukrainian defense analyst Igor Fedyk says, it is entirely appropriate to speak of the Kerch "curse." And Fedyk doubts that even the Russian government will be able to overcome it (Krymr.com, July 3).
Faced with long lines of cars and trucks waiting to use the limited ferry service between Russia proper and occupied Crimea, Moscow has found itself caught between two foreign policy imperatives: On the one hand, it has to demonstrate that it can supply the annexed peninsula to a sufficient degree to give some substance to its longstanding claims that Crimea is in important ways part of Russia. But on the other hand, Moscow's earlier agreements with Ukraine mean that it cannot build a bridge to service the peninsula/island without Kyiv's permission, something unlikely to be forthcoming. Indeed, in recognition of that, the Duma (Russia's lower house of parliament) has taken up legislation that would allow Moscow to simply ignore yet another international obligation.
The second big problem or "curse" on such a project is its cost. Russian officials have estimated that building a bridge across the Kerch Straits will have a price tag of 228.3 billion rubles ($4.5 billion). That is the amount Moscow expects Russian oligarch Arkady Rotenberg's SGM group construction company to invest in it with government aid. But Western experts say that the ultimate price tag could be two or three times higher, and even Russian officials concede that the price could go up. At a time of budgetary stringency in Russia, that makes such a project almost undoable. Indeed, Russia could start building such a bridge but be unable to complete it, giving itself a black eye in Crimea, Ukraine, domestically and around the world.
The third "curse" is environmental: any such bridge would have a powerful impact on the waterways involved, destroying flora and fauna and hurting some of the very people it supposedly was being built to help. Crimean officials have called for an environmental impact statement before anything is done, but again Duma deputies are discussing new legislation that would permit Moscow to ignore these ecological issues. Doing so in this case—as in the case of the lands around the Sochi Olympiad (see EDM, June 23)—would undoubtedly promote more environmental activism in Russia and spark ecological protests around the world.
Fourth, there are technical problems both on the straits themselves and on the adjoining territories in Russia and Crimea. No one has yet been able to build a bridge there for a very good reason: the ground underneath the straits is anything but stable, and the land on both sides is not ready for large roads without massive investment there. Such investment almost certainly would add to the costs of the project and might, by itself, make it prohibitive, even if engineers can solve the tricky construction problems involved in the footing of the towers of such a bridge.
And fifth, the bridge project involves some tricky "domestic" political issues as well. On the one hand, Moscow would like to put much of the burden of construction on Crimea, something neither officials nor businesses there are happy about. Indeed, as plans for construction go forward, a project intended to integrate Crimea into Russia could have the unintended effect of doing exactly the opposite. And on the other hand, Russian regions and Russian companies do not see how they can make a profit on the project. If the Kremlin forces them to become involved, they will have grievances—and such grievances in the current environment will only add to Moscow's woes.
These are some of the reasons that the Kerch bridge project is unlikely ever to be carried out. But there are two others that may ultimately be more important than any of these: Many in Moscow still hope that they can create a land bridge to Crimea by occupying more of Ukraine or force Kyiv to agree to the overland transit of goods between Russia and Crimea. And at the same time, at least some in the Russian capital are concerned that Moscow may ultimately have to withdraw from Crimea altogether in order to overcome the current breach with the West.
In either case, a Kerch bridge would be a white elephant at best, the latest victim of the Kerch "curse."