The Limits of Geopolitical Thinking on Belarus
Publication: Eurasia Daily Monitor Volume: 13 Issue: 2
By: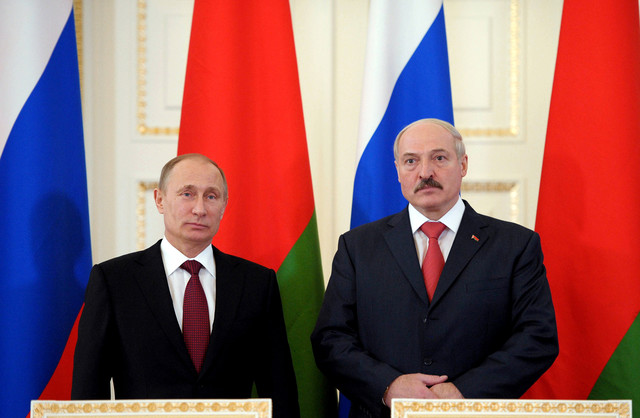 President Alyaksandr Lukashenka's visit to Moscow, which had been scheduled for November 25–26 and then postponed, eventually occurred on December 15. By most accounts, the contentious issues facing Lukashenka and his counterpart, President Vladimir Putin of Russia, were not resolved: the two sides neither agreed on the proposed Russian airbase in Belarus nor on any major new Russian loans to Belarus. Yet at the same time, a scandalous exchange between the two leaders, which was also anticipated by some observers, did not occur either. Such expectations were based on Lukashenka's evenhanded treatment of the two sides of the Russian-Turkish conflict (see EDM, December 2, 2015) and on his intransigence on the airbase issue. Rather, Lukashenka and Putin ended up signing a joint statement that the doyen of Belarusian opposition-minded journalists, Alexander Klaskovsky, referred to as "about nothing" (Naviny.by, December 15, 2015). Moreover, Putin awkwardly ascertained the "closeness of the two countries' standpoints on such topical themes as the resolution of the Ukrainian crisis and the fight against international terrorism in Syria" (Tut.by, December 16, 2015). In Moscow, "closeness" of positions is routinely underscored whenever Brazil or India is concerned; but when it comes to Russia's closest allies, the usual template for press releases is "unanimity" not closeness.
A second awkward moment occurred when Putin exclaimed, at the beginning of his televised meeting with Lukashenka, that "you are coming on your first post-election meeting to Russia, just as we have long agreed." In fact, however, after Lukashenka's original scheduled visit to Moscow was canceled, the Belarusian leader had traveled to Vietnam and Turkmenistan. Lukashenka's trip to Russia, then, was his third foreign visit after last October's elections (Tut.by, December 16, 2015).
According to Klaskovsky, Lukashenka's concession on the airbase issue would damage his image as the country's single master, spoil Belarus's improving relations with the West, as well as diminish Minsk's chances of receiving a much-needed loan from the International Monetary Fund (IMF) (Naviny.by, December 15, 2015). The implication here is that Belarus remains within Russia's sphere of influence, but not nearly as listlessly as before. A recent article by the Belarusian political scientist Yury Tsarik in the major daily Belarus Segodnya drives this point home to an unprecedented level.
In his article titled, "The Union of Belarus and Russia under a condition of 'a new containment'—how is this possible?" Tsarik argues that the use of containment has returned to international politics. Unlike during the Cold War, however, now the containment strategy is being implemented by multiple actors against a number of different targets. Thus, the West wants to contain Russia, which "for the first time in many years committed an act of annexation of territory from another sovereign state and […] continues to call into question that state's territorial integrity." At the same time, the United States and the countries of Southeast Asia try their best to contain China in the Asian-Pacific region. Furthermore, the Sunni states of the Middle East are trying to contain Iran, and Russia has been attempting to contain China in Central Asia. The second major point of Tsarik's article is that the role of Belarus in containing Russia is twofold. On the one hand, he says, Minsk should reject Moscow's intention to deploy military infrastructure in Belarus that would boost Russia's pressure on Ukraine. That way, Belarus would deny the legitimacy of this element of Russia's foreign policy. On the other hand, however, Belarus should remain Russia's ally and support the latter's actions in all cases except those that jeopardize international security. Obviously, such a Belarusian position would not be to everybody's liking within Russia, where claims are often made that sooner or later Belarus will have to "pick a side" (Belarus Segodnya, December 23, 2015).
Indeed choosing sides appears to be a true obsession of Belarus watchers in both the East and the West. Yet another confirmation of this can be found in an interview by Arkady Moshes, who directs programs devoted to Russia and the European Union at the Finnish Institute of International Relations. According to Moshes, nothing is likely to prevent the complete removal of the presently suspended sanctions on Belarus by the European Union in February, when the term of those sanctions expires. At the same time, however, it is now too late for Lukashenka to entirely sever Belarus's bonds with Russia, especially since nobody is willing to step in to replace Moscow as Minsk's major aid donor. Interestingly enough, Moshes appears to seriously believe that such a separation was still possible prior to the Belarusian presidential elections of 2010, which were widely criticized by the West (Svaboda.org, December 24, 2015).
In the meantime, Belarus's relations with the United States reached a new high on December 16, when a Belarusian delegation took part in the meetings of the second Working Group for Democracy and Human Rights in Washington, with two deputy assistant secretaries of state and the USAID deputy assistant administrator participating. A more cool and composed report about the meeting can be read in the Belarusian government sources (e.g.: Belta, December 21, 2015), and a less dispassionate one in the US government's description (State.gov, December 18, 2015).
In conclusion, it seems that while the geopolitical thinking about Belarus still relentlessly concludes with expectations of the country ultimately "picking a side," this is something that Minsk itself is opposed to equally persistently. As Klaskovsky put it, Belarus continues to maintain its inconceivable fence-sitting position. Evidently, a self-imposed task for Minsk is to make this position not only conceivable but a matter of course for this highly atypical East European country.