The New Wave of Russia's Surreptitious Offensive in Eastern Europe
Publication: Eurasia Daily Monitor Volume: 16 Issue: 132
By: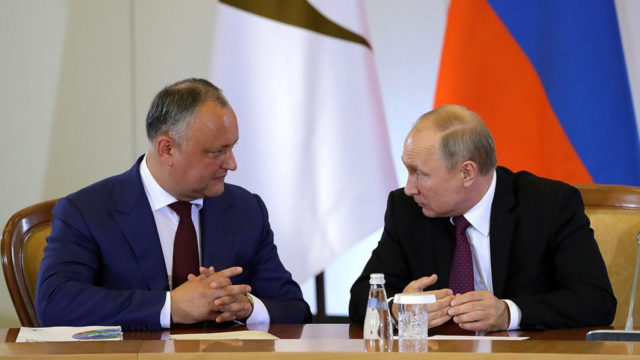 The Kremlin has reason to celebrate as Russian foreign policy recently registered several significant successes across Europe's East. First, following almost three decades of resistance, Belarus ostensibly agreed to a number of important joint institutions with Russia, pushing bilateral integration forward, with Minsk as the junior partner (Deutsche Welle—Russian edition, September 16; see EDM, September 23).
On the Ukraine front, Russian President Vladimir Putin apparently succeeded in setting the agenda by convincing his French counterpart, President Emmanuel Macron, to back the so-called Steinmeier Formula during the next Normandy Four (Ukraine, Russia, France, Germany) summit that he is expected to host (RT, September 9; see EDM, September 24). Not even the initial and unexpected resistance by Ukrainian President Volodymyr Zelenskyy (EADaily, September 19) managed to discourage Macron: the latter recently announced that "Ukraine needs courage to build peace" and that the Normandy Four summit will take place in the coming weeks (Ukrinform.net, September 25). Ukraine is under pressure to accept the Steinmeier Formula, which would result in Russia achieving the exact political goals that triggered the annexation of Crimea and Russia's proxy invasion of Donbas.
Finally, there has been a prominent resurgence of Russian activity in Moldova. Specifically, Moscow is exploring a favorable political arrangement, in which the pro-Russian president of Moldova, Igor Dodon, is skillfully acquiring unrestricted informal executive power under the guise of European-backed "de-oligarchization" (see EDM, June 10, 24). This is all possible due to an emerging power void in Europe's East resulting from the United States' de facto withdrawal from the region and the inability of the European Union to step in.
The Moldovan case is particularly illustrative and instructive when it comes to explaining this new wave of stealthy Russian offensives in the region. In particular, it is representative of the Russian Federation's emerging techniques of foreign aggression, characterized by misleading Western countries into pursuing the Kremlin's agenda under benign pretexts, such as "building peace." It is also based on promoting and installing local political proxies, whose role is to accept Moscow's agenda on behalf of the target countries and enforce the sovereign will myth that Russia promotes.
On September 23, the influential Russian magazine Kommersant published an interview with Dodon, which triggered both perceptions and headlines that "Moldova has abandoned [its] anti-Russian stance" (Balkan Insight, September 23). Specifically, Dodon stated that the Socialist Party (PSRM), which he technically controls, had reached an agreement with its governing coalition partner—the largely pro-European electoral bloc ACUM—to stop restricting Russian businesses and journalists from entering Moldova (Kommersant.ru, September 23). This restriction had been in force in Moldova during the last few years of the Democratic Party's rule, which was forced out of power by the incumbent coalition (see EDM, June 10).
In fact, following a series of visits to Moscow, President Dodon opened the gates to Russian politicians and businessmen. Circumventing Prime Minister Maia Sandu's government, he invited and then hosted Russian Defense Minister Sergei Shoigu for the celebration of the "75th anniversary of the liberation of Moldova from fascist occupation" (Radiochisinau.md, August 27). Reportedly, while in Chisinau, Shoigu proposed signing a three-year military cooperation agreement between the two countries' defense ministries and offered a confusing Russian plan to partially withdraw or destroy old ammunition stocks stored at the Cobasna weapons depot, in breakaway Transnistria. Dodon also created the conditions for conducting a meeting of the Moldovan-Russian Intergovernmental Committee for Economic and Trade Cooperation, on September 18–19, in Moldova. The meeting notably brought experts of the Russia-backed secessionist leadership of Transnistria to the table as "observers" (Mei.gov.md, September 19).
It is important to point out that on the Moldovan side, the committee was chaired not by the economics minister, who is a member of Prime Minister Sandu's team and the ACUM bloc, but by the deputy prime minister for Transnistrian negotiations, Vasile Sova, a member of President Dodon's team. The Russian side was led by Agriculture Minister Dmitry Patrushev, the son of Nikolai Patrushev, who is a former head of the Russian Federal Security Service (FSB) and the incumbent chairperson of the Russian Security Council.
The September 18–19 intergovernmental meeting was succeeded by a large-scale Moldovan-Russian Economic Forum, which reportedly brought together some 1,500 participants, including Russian Deputy Prime Minister Dmitry Kozak, officials from various Russian regions and politicians from EU countries that seek closer ties with Russia (Sputnik.md, September 20). Specifically following these events, Kommersant asked Dodon if Moldova would be willing to sell various strategic assets to Russian companies. The question referred to two facilities in particular: the Port of Giurgiulesti, on the Danube River, which links the otherwise landlocked Moldova to the Black Sea, as well as Chisinau International Airport.
These interview questions were likely not accidental; and the high-profile forums that President Dodon facilitated were designed to prepare the ground for a takeover of Moldova's strategic economic assets by Russian companies. Since the largest businesses in Russia are all controlled by the Russian government (whether formally or through more discrete patronage links to the Kremlin), they have been an effective tool of Russian foreign policy (Palgrave Communications, February 8, 2019; Osw.waw.pl, June 6, 2016). The key danger is reflected in the realization that these firms are not guided by a rationale of economic gain. Instead, they are driven by the Kremlin's goal of gaining political control in the target country, despite the potential for economic losses. Given the structure of Moldova's economy and the country's small size, a few foreign corporations could easily push this East European state into social turmoil or disrupt national elections, for instance by artificially crashing local markets. Control over the maritime and aerial ports would allow Russia to stealthily move military troops and hardware into Moldova, which is otherwise difficult due to the small country's insulation from Russia by Ukraine.
As President Dodon intensified his efforts to open the door to Russia, his governing partner, ACUM, has started to realize it is being used. A fissure has begun to emerge between ACUM and the PSRM. In an obvious attempt to put pressure on his coalition partners, Dodon recently stated—inaccurately—that he can quickly secure a parliamentary majority without ACUM's participation (Deschide.md, September 21). Undoubtedly, such internal divisions in the government, facilitating further growth of the pro-Russian Dodon's power, were the main goals behind Russia's initial support for "de-oligarchisation" in Moldova. Dodon is not there yet. But he has already managed to accrue so much indirect executive power that ACUM is unable to stop him alone—it will need US support.