The Nuclear Angle in Belarus
Publication: Eurasia Daily Monitor Volume: 20 Issue: 83
By: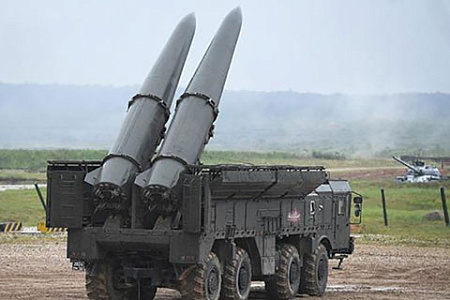 On April 26, the so-called "Chernobyl Way," an annual march of Belarusians to mark the anniversary of the Chernobyl Nuclear Power Plant disaster, took place around the world. This year, however, the march was held under a special format, as it represented not only an opposition demonstration but also a protest against the deployment of Russian nukes on Belarusian territory under the slogan: "No to nuclear weapons in Belarus" (Belsat, April 26).
Back in December 2021, President Alyaksandr Lukashenka announced that the non-nuclear status of Belarus would be removed from the constitution, specifically referring to Article 18 of the Belarusian Constitution (Kyiv Independent, April 7). The following phrase was proposed to be removed: "The Republic of Belarus aims to make its territory a nuclear-free zone and the state neutral." Instead, Minsk proposed replacing that with the statement: "The Republic of Belarus excludes military aggression from its territory against other states." By February 2022, these changes had already been introduced, causing quite a stir both on the part of Belarus's neighbors and the international community (Eeas.europa.eu, February 28, 2022).
Throughout 2022, the prospect of deploying Russian nuclear weapons on the territory of Belarus was repeatedly raised, the decisive moment being the meeting held during the Russian-Belarusian summit in December where the deployment of tactical nuclear weapons was high on the agenda (Nezavisimaya gazeta, December 20, 2022). Lukashenka and Russian President Vladimir Putin officially announced that Russia was helping Belarus train crews of aircraft capable of using "airborne munitions with special warheads" for operations. For his part, the Belarusian president has repeatedly stated that the deployment of tactical nukes on Belarusian territory would be possible if the West relocated such weapons to Poland, Lithuania or other nearby countries.
Lukashenka presented this position during a phone conversation with French President Emmanuel Macron just three days after the start of Russia's full-scale invasion of Ukraine on February 24, 2022. And as early as June 25, 2022, the Belarusian leader had asked his Russian counterpart in St. Petersburg about his desire to deploy nuclear weapons on Belarusian territory. In response, Putin assured Lukashenka that, within the next few months, Russia would hand over to Belarus "Iskander-M missile and tactical complexes, which are known to be capable of using both ballistic and cruise missiles, as well as both conventional and nuclear versions" (Nezavisimaya gazeta, December 20, 2022).
By August 26, 2022, Lukashenka announced that the conversion of Belarus's Su-24 military aircraft to become capable of carrying nuclear weapons had been completed (TASS, August 26, 2022). And at a summit in Minsk on December 19, 2022, he thanked Putin "for supporting the republic's defense capacity, including putting on combat duty the S-400 and Iskander surface-to-air missile systems transferred from Moscow" (Kremlin.ru, December 19, 2022).
At the beginning of April 2023, it was officially announced that, in addition to the nuclear-capable Su-24s, ten Belarusian Su-25 fighters had been re-equipped for the use of nuclear weapons. On April 14, the Belarusian military reported that the flight and engineering staffs of the Belarusian Air Force and Air Defense Forces had completed additional training under the Russian-supported program for improving the operational capacity and combat use of the Belarusian military's Su-25s. The report separately pointed out that the pilots were trained in the use of special aviation munitions—that is, nuclear weapons (T.me/modmilby, April 14).
In this process, nuclear munitions will use upgraded versions of the PH-40 tactical nuclear bomb or the "special aircraft munitions for direct and general support to ground forces," which entered service in 1991 (T.me/vanguard1802, April 9). To this end, four separate "special aircraft munitions" will be housed in one standard container, with the containers likely being transported in the NG225 or NE1095 super containers. In addition, the facility housing these munitions will likely accommodate at least one NGP3 complex, or its equivalent, for transportation purposes (T.me/vanguard1802, September 15, 2022). If this complex houses between 10 and 12 transport vehicles, that would mean anywhere between 40 and 48 special aircraft munitions could be carried. And this would be enough for several combat sorties or additional carriers, such as those arriving from Russia.
According to the technical specifications for the manufacture, testing, acceptance and supply of modernized Su-25SM, two special aerial munitions—in other words, aerial bombs equipped with a nuclear or thermonuclear charge—can be used as bombing armaments on the aircraft. As of now, it remains uncertain whether Minsk has received nuclear warheads for its tactical missile systems. But what is known is that Belarusian personnel have received the appropriate training for their potential use. For example, crews of the Iskander-M missile systems from the Belarusian Armed Forces underwent instruction in Russia at a training range of the Southern Military District in late April 2023 (T.me/mod_russia, April 26).
Meanwhile, on April 14, Belarusian Defense Minister Viktor Khrenin made several statements related to the use of nuclear weapons and relations with the West. According to the general, when it comes to the question of who will be able to use tactical nuclear weapons, one should be guided by what Lukashenka said during his address to the Belarusian people and the National Assembly on March 31 (Belsat, March 31). According to Khrenin, Lukashenko "very clearly" answered the question regarding whether only Russia would be able to use nuclear weapons even if they are deployed on Belarusian territory. In truth, some had referred to the idea of a "double-button" mechanism in which both Minsk and Moscow would need to approve any use (see EDM, April 14). And based on Lukashenka's remarks, Khrenin asserted, it can be concluded that Minsk will be authorized by the Kremlin to use Russian tactical nukes if they are deployed in Belarus (Belsat, April 14).
It should be separately noted that the PH-40 nuclear bombs are almost identical in dimensions to the FAB-500 aerial bombs, hence there is a risk of these munitions being installed as part of the unified set of planning and correction modules that have been widely used by Russia in recent months. This would increase the range of Russia's nuclear weapons and contribute to the survivability of their carriers. Furthermore, according to Putin, construction of a special storage facility for tactical nuclear weapons in Belarus will be completed by July 1 (Motolko.help, March 25).
Yet, it remains to be seen whether Moscow will indeed station tactical nukes on Belarusian territory. Nevertheless, the Kremlin continues to use this and other threats of the nuclear variety to stymie Western aid to Kyiv and widen the window for Russian forces to reinforce and regroup in the face of Ukraine's much-anticipated counteroffensive.