The OSCE in Agony (Part Two)
Publication: Eurasia Daily Monitor Volume: 19 Issue: 183
By: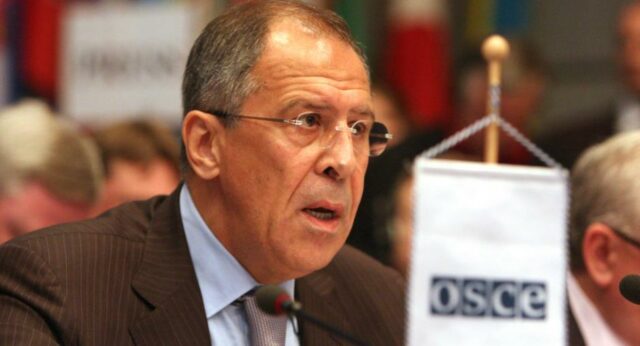 This year's Polish chairmanship barred Russian Foreign Minister Sergey Lavrov from entering Poland for the Organization for Security and Cooperation in Europe's (OSCE) year-end ministerial meeting. Warsaw cited international sanctions on Lavrov over his role in the 2022 re-invasion of Ukraine as a basis for barring Russia's foreign minister from the conference and the country, an unprecedented move in the OSCE's history.
In lieu of personal attendance, Lavrov held a press conference in Moscow extolling the OSCE's "own principles" from the organization's Paris Charter for a New Europe (1990), Istanbul Charter for European Security (1999) and Astana Commemorative Declaration: Towards a Security Community (2010). These documents speak, inter alia, of "common" and "indivisible" security for all participating states, and they qualify the right of any state to choose its security arrangements with the countervailing principle that such a choice must not jeopardize other states' security. Lavrov went on (as the Kremlin habitually does) to accuse the North Atlantic Treaty Organization (NATO) of provoking the current security crisis in Europe by violating those political commitments. He reaffirmed Russia's demand for legally binding security guarantees based on the December 17, 2021, ultimatum-like notes sent to the United States and NATO (Russische-botschaft.ru, December 1).
Overall, Moscow instrumentalizes the OSCE's legacy of "fundamental" documents. On the normative side, these are couched in generalities and abstractions allowing for abusive Russian interpretations. The Kremlin professes to derive from these OSCE documents a normative basis for recasting Europe's security order in Russia's favor. Undoubtedly, it would hope to use the OSCE as a forum for codifying a European security architecture that would diminish NATO.
On the other hand, Russia has turned those pacts and other OSCE documents—beginning with the Helsinki Final Act itself—into dead letters in Europe's East through the protracted conflicts there. The OSCE has proven unable to bring Russian into compliance with the organization's pacts. Participating states can and do speak up in their national capacities or as groups of states, but the OSCE as an institution bears a statutory muzzle (see Part One).
Ukrainian Foreign Minister Dmytro Kuleba, in his speech at the Ministerial Council, recapitulated Russia's track record of misusing the ground rules of a compliant OSCE. He warned: "The OSCE's real choices are death with Russia or survival without Russia" (Ukrinform, December 1).
Russia's second invasion of Ukraine on February 24 forced the OSCE's Special Monitoring Mission (SMM, operating since 2014) to evacuate immediately. Over the years, however, Russian and proxy forces had made it impossible for the mission to monitor the ceasefire effectively or even safely. The SMM's personnel and vehicles were systematically harassed and threatened, their movements restricted or blocked outright, and their surveillance drones jammed, to obstruct the SMM's reporting on Russian and proxy breaches of the ceasefire. The mission's mandate was highly restrictive from the outset, which was Moscow's price for not using its right to veto the mandate and kill the mission. The US and European countries spoke up forcefully about this in their own name, not the OSCE's. The OSCE hierarchy avoided speaking up for fear of Russian retaliation.
Physically evacuated in February 2022, the SMM closed officially on October 31, as did the unrelated office of the OSCE's Project Coordinator in Ukraine (Osce.org, October 31). The latter continues, however, as a "non-consensus" project worth $29 million in extra-budgetary funding volunteered by a number of states for the development of civil society. Russia takes the position that this is not an OSCE project because it lacks unanimous consent. Moscow views this move apprehensively as a possible model for circumventing Russia's veto power in the future (Osce.org, October 31; TASS, November 5).
In September 2021, Russia terminated the OSCE's Observer Mission (OSCE OM, fully distinct from the SMM) on the Russian-Ukrainian border after seven years of operation. Russia used its veto power in 2014 to impose restrictions on the OM's mandate, which turned it into a pure farce; it also used its veto right again to kill the mandate altogether (see EDM, September 30, 2021). The termination's timing, September 2021, indicates in retrospect that Russia needed to remove any and all international presence from that border as it prepared for its next invasion of Ukraine.
Moscow had previously blocked former German Chancellor Angela Merkel's proposal to extend the OSCE SMM's mandate to cover the Azov Sea and the Kerch Strait from 2019 onward (see EDM, December 13, 2018; January 21, 22, 24, 2019). There is no indication in the public domain that the OSCE's hierarchy seriously tried to improve the farcical OM on the border or that it rallied to Germany's SMM extension proposal. Russia's veto was apparently deemed impregnable.
Russia also evicted two OSCE missions from Georgia. At the OSCE's December 2004 ministerial meeting, Moscow announced its decision to veto the OSCE Border Monitoring Operation's (BMO) mandate and funding. The BMO was a multinational mission that was monitoring the Chechen, Ingush and Dagestani sectors of the Georgian-Russian border from Georgian territory. Axing that operation, Russia rejected several proposals for follow-up or substitute missions under the OSCE's auspices (see EDM, December 14, 2004; January 4, 21; April 15, 2005). And in December 2008, Moscow "withheld consent" from prolonging the OSCE's Mission in Georgia, which had operated in South Ossetia until Russia occupied that territory in August that same year. That mission had been pathetically undermanned and under-resourced all along due to Russian-imposed restrictions on its funding and mandate. Georgia and supportive countries had to accept this under the logic of "better this than nothing." But Moscow decided to eliminate any and all international presence from South Ossetia after occupying it (see EDM, December 11, 19, 2008; January 7, July 1, 2009).
Ever since then, Georgia finds itself reduced to futile complaints at the OSCE's annual Ministerial Councils. Georgian Foreign Minister Ilia Darchiashvili reminded this year's meeting that Georgia had experienced "Russian aggression, hybrid warfare and occupation of Georgia's territories from the early 1990s … followed by Russia's full-scale military aggression in 2008." Abkhazia and South Ossetia have been turned into Russian military strongholds while 300,000 expelled Georgians have been deprived of the right to return (YouTube, December 1). A long statement by 18 countries from the Group of Friends of Georgia chastised Russia's 2008 aggression and noncompliance with the 2008 ceasefire agreement, termination of the OSCE's mission, occupation of South Ossetia and Abkhazia and the ongoing moves toward incorporating them into Russia (Osce.usmission.gov, December 2).
Losing both of its missions in Georgia, the OSCE also lost its role as a unique international mediator in the "Georgian–South Ossetian" conflict. This term has been a misnomer at least since 1991 when Russia turned the inter-communal conflicts into Russian-Georgian inter-state conflicts. Russia imposed a negotiating format comprised of Russia itself, Russia's North Ossetia, Georgia, the South Ossetian authorities and the OSCE as mediator. This format gave Russia four voices (its own, those of the two Ossetias and Russia's voice-veto in the OSCE) while isolating Georgia. The OSCE lent itself to this charade but still did not earn a Russian reprieve from eviction from Georgia. From 2008 to date, the OSCE has played a largely ceremonial but ancillary role in the Geneva International Discussions amid more influential players.