The Politics and Disinformation Behind Armenian Exodus From Karabakh
Publication: Eurasia Daily Monitor Volume: 20 Issue: 154
By: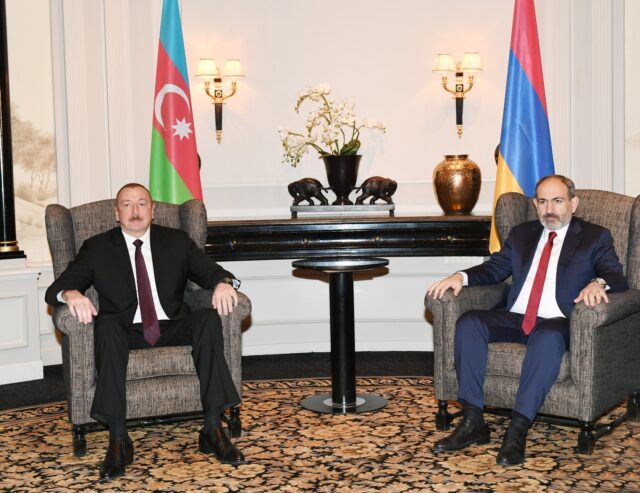 The talks between Azerbaijani President Ilham Aliyev and Armenian Prime Minister Nikol Pashinyan, scheduled for October 5 in Granada, Spain, were abruptly canceled when Aliyev refused to take part. According to Baku, the main reason for this was the European Union changing the previous tripartite mediation format—EU, Armenia, and Azerbaijan—to include France and Germany (Aze.media, October 4). At the same time, Azerbaijan's request to allow Turkish participation in the negotiations was declined.
France, home to a sizeable Armenian diaspora, has long been seen in Azerbaijan as a staunch supporter of Armenia. Recent official statements from French Foreign Minister Catherine Colonna and Paris' pledge to deliver military equipment to Armenia put a potential peace agreement between Armenia and Azerbaijan at risk (Euronews, October 4). This agreement is critical for opening the way for economic development in the region and creating an environment to encourage the return of Karabakh's Armenians.
To accelerate the peace process between Armenia and Azerbaijan, US and EU officials need to take into account the widespread disinformation regarding the events in Karabakh. Failure to do so may serve to harm their objective mediation of peace negotiations, which are critical for stabilizing the region. A peace treaty would create conditions for the return of both Armenian and Azerbaijani refugees to Karabakh and go a long way to ensuring long-term security in the South Caucasus.
On September 19, Baku conducted a brief military operation in Karabakh that defeated the armed formations of the separatist regime there and led to its dissolution (see EDM, September 20, 28). The "anti-terrorist" operation was reportedly triggered by two separate incidents of mine explosions on Azerbaijan-controlled territory in Karabakh that killed two civilians and four police officers (Mod.gov.az, September 19). Since the separatist authorities surrendered, over 100,000 ethnic Armenians are believed to have left the region for Armenia, leading to a local humanitarian emergency and international concerns about alleged ethnic cleansing (see EDM, October 4).
The European Union and the United States now have a historic opportunity to close the page on one of the longest regional conflicts in post-Soviet space. Both, nevertheless, need to recognize three changing realities in the South Caucasus. First, Azerbaijan has effectively won the 35-year war with Armenia over Karabakh, a war that was launched by Karabakh Armenians and backed by Yerevan in 1988 (Crisisgroup.org, September 16).
Second, Turkey has emerged as the most powerful regional state due to Russia's war of aggression against Ukraine and Iran's complicity in the war through supplying weapons to Moscow. While Turkey is a strategic ally of Azerbaijan, it is also a driving force for regional economic growth and the development of transit routes that connect the South Caucasus to Central Asia and Europe (see EDM, September 5; October 2).
Third, the mass exodus of Karabakh Armenians, while driven by fear of retribution and heated political rhetoric, far from qualifies as "ethnic cleansing." A refugee crisis is always a humanitarian tragedy for thousands of people, but it can often be remedied if there is no systematic expulsion of ethnic populations through violence and intimidation. Thus far, Baku has given repeated assurances that the Armenians in Karabakh will be protected and that they can become citizens of Azerbaijan. The government has opened an online portal for those Armenians who want to register to obtain Azerbaijani citizenship (Press.un.org, September 21; News.az, September 28).
Pashinyan has continually claimed that "ethnic cleansing is underway" in the region (TASS, September 28). He took these assertions a step further in telling Colonna that Azerbaijan had carried out "a pre-announced ethnic cleansing" (Arka.am, October 4). The findings of a recent United Nations mission to Karabakh, however, stand in stark contrast to Pashinyan's and Yerevan's claims (see EDM, September 20; Panarmenian.net, September 28). Although the mission found that very few Armenians still remain in Karabakh, presumably no more than 1,000, it did not discover any reports of incidents of violence against civilians after the latest ceasefire (Azerbaijan.un.org, October 2).
The UN representatives said they were "struck by the sudden manner in which the local population left their homes and the suffering the experience must have caused." The mass exodus has created a humanitarian crisis, but many Armenian refugees are reporting that they have not been forced to leave their homes by Azerbaijani representatives (YouTube, October 2). The majority followed the call from the separatist leaders in Karabakh to flee to Armenia for safety. This underscores the fact that local politics and disinformation have more to do with the sudden departure of thousands of Armenians than alleged forcible deportations conducted by Azerbaijani officials (BBC, September 26).
The UN delegation also observed no damage to civilian infrastructure, including hospitals, schools, and housing. The report also noted that no cultural and religious structures in the regional capital of Khankendi had been destroyed, though the city now looks like a ghost town without its population. International media reports contributed to these findings, displaying an abandoned city but no visible signs of infrastructure damage or destruction (Al Jazeera, October 1).
Some public figures in Armenia took exception with the UN report. Edmon Marukyan, an Armenian ambassador-at-large, subsequently criticized the UN mission in Karabakh for legitimizing "the ethnic cleansing, arbitrary detentions, destructions of civilian infrastructure, and other crimes committed by Azerbaijan." He called on the United Nations to investigate the activities of "these representatives" (Armepress.am, October 3).
Such public statements serve to further disrupt potential talks between Baku and Yerevan. In this case, Marykyan's words sparked another round of arguments on social media between Armenians and Azerbaijanis. These sentiments, in turn, hurt the chances for establishing a lasting peace in the South Caucasus. The mediation efforts of the United States and European Union could be an effective way to tamp down these tensions.