The Question of Political Power in Ukraine's East (Part One)
Publication: Eurasia Daily Monitor Volume: 11 Issue: 90
By: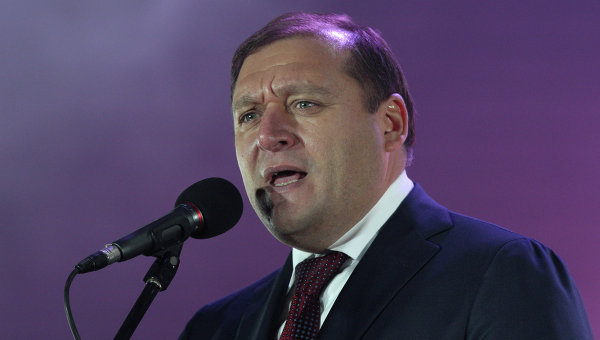 President Vladimir Putin and Russian diplomacy have recently invented the concept of "South-Eastern Ukraine" as a would-be political entity. Moscow promotes this idea as part of its project to dismantle the Ukrainian state through "federalization."
Following the overthrow of then-president Viktor Yanukovych by the Kyiv Maidan protest movement on February 22, Russia annexed Crimea from Ukraine outright, then started its push to "federalize" continental Ukraine. The Kremlin hopes to extort Ukrainian compliance and international acquiescence with this project under the threat of tearing the Donbas away from Ukraine by force.
"South-Eastern Ukraine" covers the Donbas (Donetsk and Luhansk provinces) and what Putin recently described as Novorossiya (a Tsarist-era designation, roughly coinciding with six southeastern provinces of today's Ukraine). In his April 17 phone-in dialogue with citizens of Russia, Putin staked out a potential irredentist claim to "Novorossiya," describing it as a part of the "Russian World." Sharply questioning the legitimacy of Ukraine's sovereignty there, Putin nevertheless offered to broker a political settlement between South-Eastern Ukraine and the rest of Ukraine, clearly alluding to "federalization" (Interfax, April 17, 18).
Moscow builds its case on three fraudulent premises. First, that South-Eastern Ukraine is a single entity, whose interests supposedly conflict with those of the government in Kyiv (or the rest of Ukraine). Second, that Russia should act as protector of South-Eastern Ukraine's interests through the "federalization" of Ukraine. And third, that it is up to Moscow to designate South-Eastern Ukraine's representatives and have them seated opposite the Ukrainian government to negotiate a "federal" constitution for Ukraine, with Russia in a supervisory role.
Thus far, however, Moscow has failed to designate any credible representatives of a putative "South-Eastern Ukraine." Moscow's known choices are: former Kharkiv governor Mykhailo Dobkin, official candidate of the Party of Regions in the upcoming presidential election; Verkhovna Rada (national parliament) deputy Oleg Tsaryov, leader of the "South-East Movement," launched on April 16 with Moscow's support; and Pavel Gubarev, self-proclaimed "people's governor" in the Donetsk province, temporarily detained in Kyiv, currently based with the rebel command in Slovyansk. These were the choices that Russia's Foreign Affairs Minister Sergei Lavrov named during the negotiation of the ill-fated Geneva Statement and afterward (see EDM, April 30, May 1).
Dobkin, a proponent of "federalization," is merely a "technical" candidate in the presidential election. Power brokers in the Party of Regions who oppose federalization, such as Renat Akhmetov, picked Dobkin because of his low rating, ensuring a presidential runoff without an "eastern" candidate, thus paving the way for a candidate from central Ukraine such as Petro Poroshenko to win the presidency. Tsaryov, whose stance leans toward Russian nationalism, has all along been a marginal element in the Party of Regions, and is currently a fugitive from Kyiv. And Gubarev is an upstart activist straight off the street, representing a new brand of political militant that Moscow currently promotes against the traditional elite of the Party of Regions in Donbas.
What Moscow bills as "South-Eastern Ukraine" is far from constituting a single political entity, however. Pro-Russia and pro-"federalization" groups seem weak and lacking popular support in most provinces of the south and east. Local pro-Ukraine forces have successfully contained or rolled back the influence of pro-Russia groups in most southern and eastern provinces thus far. Donetsk and Luhansk form a special case by dint of Russia's cross-border intrusion as well as local circumstances.
"Oligarchs" and traditional power brokers in the Dnipropetrovsk, Kharkiv, and Mikolayiv provinces have crucially helped the ineffective central government and local pro-Ukraine forces to stabilize the situation. In Kharkiv, for example, that city mayor Henadi Kernes's switch to the pro-government side has made a significant difference for stability. Ex-governor Dobkin's pro-"federalization" stance (see above) has split the traditional Dobkin-Kernes tandem in Kharkiv. Wounded in a retaliatory attempt on his life, and hospitalized temporarily in Israel, Kernes describes his current stance as that of a "patriot of Ukraine" (UNIAN, May 10).
On May 2 in Odessa, almost 50 lives were lost in clashes between pro-Russia and pro-Ukraine groups. The latter seem clearly to outnumber the former in Odessa, amid general passivity of most of the populace and a complete default of police. The deadly May 2 clashes showed that semi-anarchic vigilantism, rather than pro-Russia sentiment, has become a factor of instability in this Ukrainian coastal city.
Dnipropetrovsk's billionaire governor Ihor Kolomoyski is undoubtedly the most effective factor of stability in Ukraine's south-east. Kolomoyski acts as a staunch as well as confident opponent of the Kremlin's policies toward Ukraine. His administration has essentially taken over many of the responsibilities of the dysfunctional Ukrainian central authorities. Kolomoyski's political influence is now spreading beyond Dnipropetrovsk. His nominee Ihor Palytsya (former CEO of an oil refinery within Kolomoyski's holding) has been appointed governor of Odessa in the wake of the May 2 clashes there (Ukrayinska Pravda, May 12).
Thus far, the Kremlin has failed to assemble a political team in support of the "federalization" agenda in "South-Eastern Ukraine." While Moscow claims to speak for that putative entity, Moscow's political allies there lack the credentials or authority to speak for that part of Ukraine, and they control nothing there. At this stage, after almost three months of pro-"federalization" efforts, Moscow's only effective political allies are the chieftains of local armed groups in Donetsk and Luhansk.