The Rise of Drones in Eurasia (Part One: Ukraine)
Publication: Eurasia Daily Monitor Volume: 11 Issue: 113
By: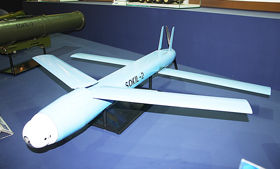 Drones (unmanned aerial vehicles—UAV) have made their way into the Ukrainian-Russian conflict. In several instances, the press reported on UAVs having been shot down by various sides in Kyiv's war with Russian-backed separatist insurgents operating in Ukraine's far eastern Donbas region. On June 7, anti-government militants reportedly downed a Ukrainian reconnaissance drone (RIA Novosti, June 7) While on June 16, the separatists reportedly shot down another drone. Furthermore, a spokesperson for the insurgents reported spotting "numerous drones" deployed by the Ukrainian forces (Interfax, June 16). In another instance, on March 25, the "Transnistrian KGB" claimed a Ukrainian UAV was shot down over the separatist Moldovan region. The report alleged that the drone was involved in imaging and could have been used by the Security Service of Ukraine (SBU) or by "Right Sector"—the far right Ukrainian political group (Korrespondent.net, March 25).
Yet another account even claimed that an MQ 5B Hunter UAV (a US-Israeli drone model) was shot down by "Crimean Self-Defense" forces on March 13, at the border with mainland Ukraine. The Russian story alleged the drone belonged to the United States 66th Military Intelligence Brigade, re-deployed to Ukraine from Germany; the Pentagon denied any involvement. According to one Ukrainian source, some available reconnaissance drone models were indeed being tested by the military during the Anti-Terrorist Operation (ATO) in Donbas, but none is actually being used by the military at the moment (Vzgliad, March 14).
Most of these reports are not real and merely cite drones because of their newsworthy quality and usefulness in information warfare strategies. Yet, Ukraine does have UAVs in its inventory, though it substantially lags behind Russia in drone warfare. This is remarkable as, over the past decade, the country's companies designed, developed and built quite a large number of drone models.
In the October 2013 issue of Ukrainian Defense Express magazine, industry insider Analoliy Smoliakov from Kharkiv Zhukovskiy Aerospace University complained that the development of new drones in Ukraine was "if not in a deadlock, then very difficult." He wrote that even the Israeli surveillance unmanned system Bird Eye 400, bought by the Ukrainian Ministry of Defense in 2009, was not actually in use by the armed forces. While military standards for drone use were approved by the Ministry of Defense in 2008, no government financing was allocated to the drone programs. Zhukovskiy Aerospace University in Kharkiv developed several UAV models for reconnaissance, surveillance, artillery correction and radio-electronic jamming, such as the Aist, Chizh L, Vorobei or Sapsan; but so far these models are still far from serial production (NIIPFM, June 23). In the design itself, a "weak link" of all Ukrainian UAV systems is in opto-electronics. Yet, according to Smoliakov, the Aist drone was tested in counter-terrorism surveillance drills in 2005–2006; and the Chizh L UAV system, which the company considers its base model for video and photo imaging, was also being tested in counter-terrorism operations since 2007. Most likely, these drones were singularly produced units. The described models fly at mostly low to medium altitude and possess relatively small payloads and short flight times.
Other known Ukrainian drone models include the Sokil, Fenix, Strepet and Uragan. In particular, the Uragan A 12 model was designed by Design Bureau Vzlet for use in urban warfare conditions as early as 2005 (Airwar.ru, June 23). Whereas, the Chuhuiv Aiviation Repair Plant (ChARZ) developed the promising Strepet C drone (YouTube, October 19, 2009) and sought to produce it jointly with Polish partners.
Indeed, Ukraine considered several opportunities to produce reconnaissance drones jointly with international partners: in 2010, ChARZ eyed joint production of various UAV systems with French Sagem (Defense Express, Issue 3, October 10, 2013), while in November 2013, state defense company Ukrspetsexport announced plans to jointly produce small UAVs with Thailand (Lb.ua, November 11, 2013). It remains to be seen whether the defense authorities will use the present momentum to revitalize these projects.
In contrast with Russia, Ukraine still uses Soviet-made, jet-powered Reys and Tu-143 drones, which were designed in the mid-1960s. These outdated models are on combat duty in a separate air force regiment based in the western-central Ukrainian city of Vinnytsia (Bagnet November 15, 2010). The Ukrainian media reported that the regiment was in a state of battle readiness as the Crimean crisis was escalating (Channel 5, April 4). However, the feasibility that these drones could be used was, in fact, questionable. For one thing, these aging UAVs suffer from particularly high fuel consumption costs—and the lack of aviation fuel is one of the Ukrainian military's persistent needs, which it hopes will be addressed by Western aid.
Remarkably, the pressing military need to deploy life-saving unmanned systems during the Anti-Terrorist Operation in Donbas (ongoing since April 2014) led to a "crowdfunded" project to build a "People's UAV" for the Ukrainian army: a quadrocopter surveillance and artillery correction drone, developed by the National Aviation University's Zhytomyr Military Institute. The drone reportedly would increase the survivability of the Ukrainian forces—particularly the airborne forces, which are continually threatened by the insurgents' man-portable, surface-to-air guided missiles. The UAV designers claim the model features 35 minutes of flying time with a 1.5–6-kilogram payload. Its unit cost is reportedly $33,000-$35,000, and this amount was quickly raised to construct the first drone. The crowdfunding campaign is ongoing: the Ukrainian General Staff says the military needs up to 100 such UAVs (Narodniy Bezpilotnyk, June 23).
Ukraine is currently undertaking wide-reaching military reforms, and this effort may include the development of new strategic approaches to drone warfare within the Ukrainian military. As noted above, the two main areas under discussion right now are the use of UAVs for surveillance and artillery correction—but the military may also look into the eventual possibility of acquiring and fielding strike drones. Drones are also needed to patrol the lengthy Ukrainian border with Russia (Ukrinform, May 12). Nevertheless, funding limitations, exacerbated by serious problems in the Ukrainian economy (see EDM, June 19), make it rather unlikely that Ukraine will be able to develop or procure strike drones in the near future.