The Russian Baltic Sea Fleet—A Nest of Crime?
Publication: Eurasia Daily Monitor Volume: 13 Issue: 121
By: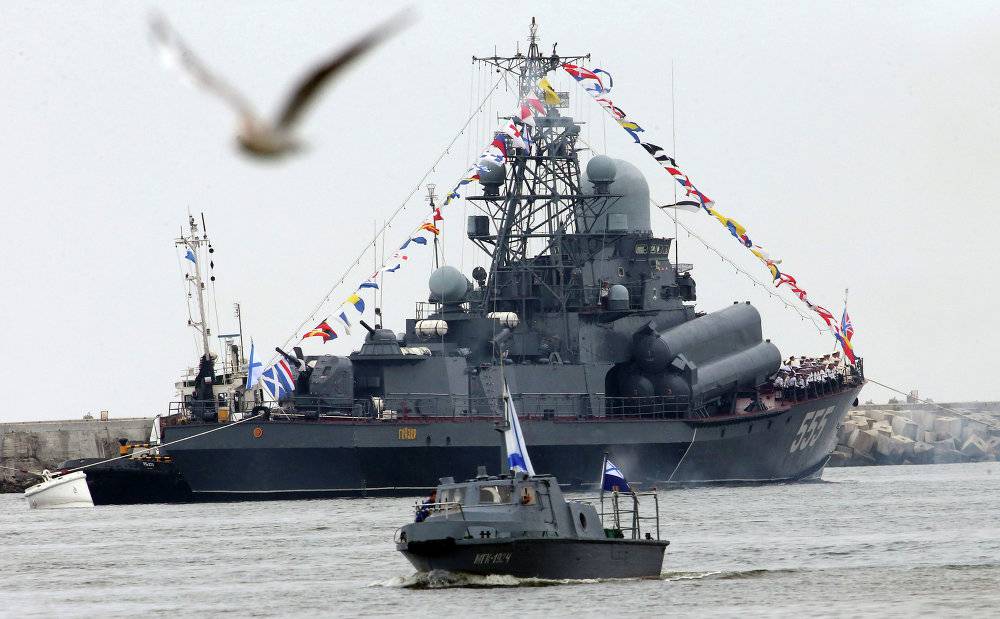 Russian Minister of Defense Sergei Shoigu sacked the commander of the Baltic Sea Fleet (based out of Baltiysk, Kaliningrad oblast), Vice Admiral Viktor Kravchuk, and his chief of staff, Vice Admiral Sergey Popov, on June 29 (Vesti.ru, June 29). Days later, news emerged that a number of other Baltic Fleet officers—about 50 according to Russian media—have also been dismissed and forced to leave the Armed Forces or were transferred to other fleets and demoted (Flot.com, July 1). The reasons for these harsh measures—"surgery without anesthesia" as Russian media sources characterized it—were "serious deficiencies in the organization of training and the day-to-day activities of the units, not taking all necessary measures to improve the living conditions of the personnel, a lack of concern for subordinates, as well as distortions in the reports of the actual state of affairs" (RIA Novosti, June 29). These public sackings were unprecedented: in the past, instances of high-ranking officers forced out of their positions were generally explained away by age or bad health.
Following the dismissals, Vice Admiral Aleksander Nosatov has temporarily been appointed commander of the Baltic Fleet and tasked with putting things in order, while Vice Admiral Igor Mukhametshin will, for now, act as the Fleet's chief of staff (Mil.ru, July 1). Within six months, a new inspection will take place; but it remains an open question as to whether, by then, the Baltic Fleet will have risen from the ashes like a Phoenix.
Vice Admiral Kravchuk served as second in command within the Baltic Fleet since 2009 and, from 2012, as its commander. Apparently, during his tenure, the circumstances surrounding the Fleet went from bad to worse (Lenta.ru, June 30; Fontanka.ru, June 29). Kravchuk is reportedly close to the former commander of the Russian Navy, Admiral Viktor Chirkov. His other notable friends and close associates include the so-called "amber baron," Viktor Bogdan, who has allegedly sold fuel stolen from the Baltic Sea Fleet and controls the smuggling of amber from Kaliningrad oblast to Poland (Fontanka.ru June 29; Radiopolsha.pl July 1).
Mikhail Nenashev, the chairman of the All-Russian Movement for Support of the Navy, believes the mass dismissal of Baltic Fleet officers is an absurd coincidence or a mistake (Fontanka.ru June 29). He trusts that the new head of the Russian Navy, Admiral Vladimir Korolev, will look into the matter and present an objective assessment of how things stand in the Baltic Fleet. Nenashev likely does not have access to all the facts or is simply trying to protect his own. What he sees as a "mistake" was apparently anything but; indeed, the dismissal of Kravchuk and the other naval officers resulted directly from a May 11–June 10 inspection of the Baltic Sea Fleet by the Russian General Staff. What initiated this inspection is unclear. But military prosecutors in the Baltic Fleet had, time and again, called Admiral Kravchuk's attention to a number of irregularities. And yet, no actions were ever taken by the Fleet's high command, so such requests for an investigation may have, instead, been redirected at higher authorities (Interfax, July 1). Other possibilities that cannot be excluded are that a whistleblower was involved, or perhaps the Russian minister of defense himself sensed that something was wrong during his visit to Kaliningrad oblast last March. One source claims that a purported collision between a Russian military submarine and a Polish naval vessel in March—an incident the Baltic Fleet command has tried to hide or downplay—triggered the recent month-long inspection (Fontanka.ru June 29).
To judge from the outstanding problems reportedly plaguing the Baltic Fleet, there is reason to assume that the officially declared motives for the shakeups in the Fleet's high command correspond with reality. Specifically (Fontanka.ru, June 29; Lenta.ru, June 30; Ruwest.ru, June 27):
Seventy-three families of officers in the Baltic Fleet are living in buildings in danger of collapsing. And these structures additionally lack warm water and toilet facilities.
After the July 2015 tragedy in Omsk, where a four-story army barracks collapsed, killing 23 servicemen, all Russian military buildings were inspected. No buildings suffering from similar structural problems were reportedly found in the Baltic Fleet, but in fact the personnel were told to keep quiet about the real situation.
Accidents, including fires, have periodically occurred aboard Baltic Fleet ships.
In August 2015, a mine-clearing exercise in the Baltic Sea ended with abominable results for the participating vessels. Yet, official reports stated that all tasks were completed satisfactorily.
The illegal extraction of amber was found in connection with the rebuilding of the Chkalovsk naval air base in Kaliningrad oblast.
The local economy has been seriously mismanaged.
The dismissal of more than two dozen high-ranking officers in response to the Baltic Sea Fleet's shortcomings should be seen in light of how Moscow perceives increased activity in the Baltic region by the North Atlantic Treaty Organization (NATO). Russia is focusing on its western strategic direction; and as Defense Minister Shoigu has stated, strengthening the country's military capabilities in that direction is an appropriate answer to NATO (Tvzvezda.ru, June 30). In this context, the Baltic Fleet and Kaliningrad oblast as a whole play a crucial role. As such, from a military point of view, the area is being given high priority; but in comparison with the Arctic and Crimea, not much had been tangibly achieved in Kaliningrad so far. It remains to be seen whether the recent drastic shakeup in the Baltic Fleet's command will have a negative impact in the short term. But almost certainly, the military units stationed in the Baltic Sea region will now be receiving much greater interest from Moscow for a long time to come.