The Russian Far East Is Becoming a Raw Material Colony for Beijing
Publication: Eurasia Daily Monitor Volume: 20 Issue: 21
By: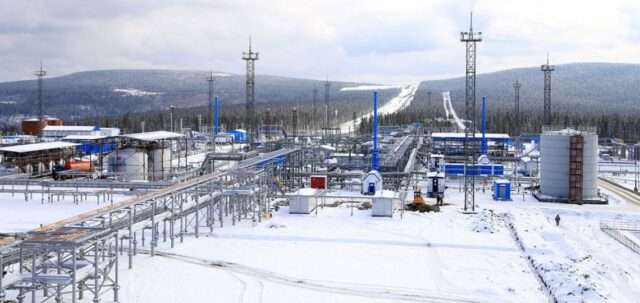 On December 21, 2022, Russian President Vladimir Putin took part, via videoconference, in the commissioning ceremony for the Kovykta gas field, the largest in Eastern Siberia (Kremlin.ru, December 21, 2022). The field's recoverable reserves are estimated at 1.8 trillion cubic meters of natural gas, but they are almost entirely reserved for Chinese consumers. For these purposes, the Power of Siberia pipeline was built, through which it is planned to pump about 27 billion cubic meters of gas to China annually.
According to Tatiana Zabortseva from the Siberian Institute of Geography, today, Eastern Siberia has actually been turned into a "raw materials pantry" for China. And the inhabitants of Irkutsk region itself, where the Kovykta gas field is located, have no opportunity to use this natural resource. Instead, they use primarily coal and firewood for heating, and the level of gasification of households stands at a mere 1 percent, though the Russian authorities promise to bring it up to 3.22 percent in the coming years (Nezavisimaya gazeta, January 16).
In truth, for Moscow, maintaining strong relations with Beijing seems to be much more important than the well-being of its own citizens. In 2014, the Kremlin initiated talks on strengthening political and economic relations with China, immediately following the Russian annexation of Crimea and the subsequent unleashing of fighting in Donbas. These events led to the first sanctions against Russia by the United States and the European Union, but at the time, they had not yet reached a total embargo on Russian oil and gas.
Moreover, even with the start of Russia's full-scale war against Ukraine in February 2022, EU member states continued to purchase large amounts of Russian raw materials, which, in fact, helped finance the Kremlin's war machine. According to some estimates, for the year 2022, Russia may have grossed close to $285 billion in energy sales, mainly from European countries, until the EU began to refuse Russian raw materials and jump-started a wider campaign to diversify away from Russian energy resources (Bruegel.org, July 13, 2022).
Under these conditions, the Russian economy, which is vitally dependent on oil and gas exports, began to look for alternative global consumers—and settled on China, first and foremost, with its massive economy. As a result, for 2022, Russia became the largest oil supplier to China, surpassing Saudi Arabia (RBC, August 20, 2022).
By expanding raw material exports to China, the Kremlin is hoping to compensate for the losses in its heavily diminished trade with Europe, though Russia has been forced to sell oil and gas exports to its eastern partner at significant discounts, up to 30-percent less than average prices on the global market (Gazeta.ru, June 20, 2022). But in this way, the Kremlin is also trying to solve a political problem: to ensure China's neutral position regarding Russia's military campaign against Ukraine, since Moscow has been unable to trigger formal support from Beijing.
However, politically, the Chinese "dragon" is careful, and as such, it is unlikely to officially support Russia's aggression against Ukraine. The Chinese economy, founded on mass production of consumer goods, is apprehensive of international sanctions that could target its activities if Beijing does indeed voice active support for Moscow's war effort. Therefore, the Kremlin's calculation of a friendship with China "against the West" appears to be wishful thinking. In any case, at this point, prospective deliveries of Chinese weapons to Russia seem highly doubtful.
When considering the energy dimension, China will not be able to fully compensate for Russian losses in the European oil and gas market. As a result, Russian commodity revenues will fall significantly in the short term. Alexei Gromov, director of the Moscow Institute of Energy and Finance, stipulates that increased Chinese consumption of Russian gas can only compensate for about 20 percent of those revenues lost in the European market (Mk.ru, October 23, 2022).
Fears often circulate in the Russian media that China might one day seize Russia's Siberia and Far East territories by force. However, Beijing does not need to do this, as Moscow itself provides the necessary access and resources for virtually nothing. Today, Chinese companies own thousands of hectares of forests in Siberia and the Far East on long-term leases, and all the wood that is sourced from these areas is sent to China (Region.expert, September 17, 2019). Meanwhile, in the Far East, with its huge forest resources, not a single pulp and paper mill can be found. This is most likely because its products would be more expensive than raw roundwood, and China is keen to source cheap raw materials.
Thus, Russia's Far East has de facto been turned into a joint Russian-Chinese raw material colony. In this, Moscow and Beijing rarely consider the interests of local residents, as demonstrated by the inability of locals to reap the benefits of the Kovykta gas field due to severely underdeveloped local infrastructure.
If China is indeed trying to build large production facilities in the Far East, then it will most likely push some environmentally dangerous projects. For example, in 2021, in Ayano-Maysky district of Khabarovsk region, a Chinese company wanted to build the world's largest chemical plant for the production of methanol. However, this project was thwarted by a district referendum in which 90 percent of local residents opposed it (Dw.com, April 2, 2021).
However, in response, the Russian State Duma adopted a law regarding regional authorities, which abolished the autonomy of local self-governments and merged them into Moscow's "vertical of power" (Duma.gov.ru, December 14, 2021). Therefore, such local referendums are no longer possible, and Moscow's and Beijing's allies, if they wish, will be able to push potentially dangerous projects without considering the opinion of the local population. Nevertheless, this will not extinguish local frustrations. On the contrary, it will most likely further exacerbate protest moods in the region, perhaps even up to separatist notions. And if this happens, Moscow will almost assuredly be faced with a war on two fronts: in Ukraine and in the Far East.