The South Caucasus: New Realities After the Armenia-Azerbaijan War (Part Two)
Publication: Eurasia Daily Monitor Volume: 17 Issue: 180
By: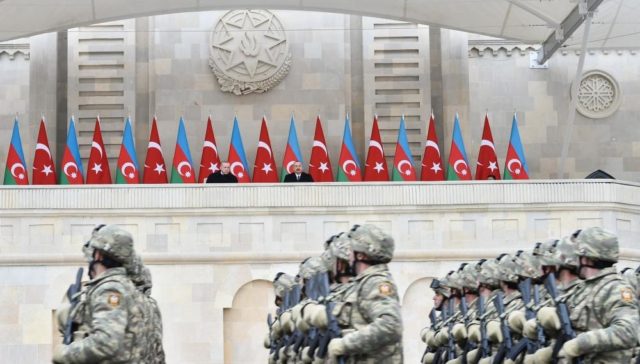 Azerbaijan's successful military action against Armenia's occupying forces in Karabakh this autumn disproved Western diplomacy's admonitions about post-Soviet "frozen conflicts" having "no military solutions" but "only political, negotiated solutions" with "no alternatives." Armenia, however, had imposed its own military solution, without negotiation, in 1994 (modeled on Russia's military solutions elsewhere in former Soviet territories), whereupon Azerbaijan sought redress through negotiations for 26 years, without results. Western diplomacy's admonitions purported to overlook the decisive role of military instruments in shaping political outcomes. For his part, President Ilham Aliyev emphasized in the wake of the armistice that Azerbaijan has achieved a "military-political solution," namely a successful military campaign followed by a negotiated armistice on terms favorable to Baku (Azertag, November 10, 20, 24, 25).
With international law on its side, Azerbaijan had, throughout the 26-year negotiations (including 17 years with Ilham Aliyev's personal involvement), explicitly reserved the right to use force, rather than accept the loss of its territories in perpetuity. The Armenian government of Nikol Pashinian made war inevitable by repudiating the negotiation process outright (see EDM, November 25, and below). That challenge found Azerbaijan well prepared in advance for this eventuality. It went to war within the limits of international law, conducting military operations exclusively on its own territory, and without answering in kind to the Armenian army's shelling of Azerbaijani undefended towns.
Confronted, nevertheless, with disapproval by France and the United States as mediator countries and by other Western authorities, Aliyev responded, "Based on the right of self-defense under the United Nations Charter, we are liberating Azerbaijan's internationally recognized territory from occupation" (Azertag, October 25). Far from an illustration of power politics prevailing over international law, it was force tempered by international law. Tempered, too, by political considerations, Azerbaijan's forces deliberately refrained from entering Upper ("Nagorno") Karabakh's Armenian-populated core areas.
Azerbaijan's complete military victory, therefore, has produced an incomplete political victory. While regaining some 80 percent of the total Armenian-controlled land area, it left some two thirds of Upper Karabakh still under Armenian—and henceforth also Russian "peacekeeping" —control. This situation entails manifold opportunities for Russia to arbitrate and manipulate the still-unresolved conflict.
The negotiating process from 1994 to date—including the "Basic Principles" that governed the negotiations in the last decade—treated Upper ("Nagorno") Karabakh as a territorial unit: legally a part of Azerbaijan, but home to an Armenian community entitled to a yet-to-be negotiated "status" vis-à-vis Baku. This territorial unit, however, has now been partitioned between an Armenian-controlled zone in the north and center, hosting Russian "peacekeeping" troops; and an Azerbaijani-controlled zone in the south, free of Russian "peacekeepers." In accordance with several presidential and governmental decisions, Azerbaijan is installing military-civilian administrations in the regained districts, under direct supervision from the presidential administration in Baku (Azertag, October 29, November 24, December 3).
Only a small number of Armenians resided in Upper Karabakh's southern zone prior to this war, and they apparently moved to the Armenian-controlled zone after the November 10 armistice (although Baku would have preferred that they stay and become one of Azerbaijan's showcase minorities). Absent these Armenians, the "status" issue becomes irrelevant to this southern zone; but it remains topical for Upper Karabakh's Armenian-populated, larger zone and will probably come up for negotiation, once this process resumes in full.
At this stage, however, President Aliyev and Foreign Minister Jeyhun Bayramov take the position that "the Karabakh conflict has conclusively been resolved," in the sense that Yerevan has "capitulated" militarily, the "period of post-conflict reconstruction" has begun, and Azerbaijan reverts to diplomacy with a view to "reintegrating the Upper Karabakh Armenians within our political, social, and economic spaces" (Azertag, November 21, December 1, 3). Baku apparently rules out a territorially based status for Karabakh's Armenian community, if and when it reverts to Azerbaijani jurisdiction. Aliyev has mentioned cultural autonomy or municipal self-governance as possible options for Karabakh Armenians (Azertag, November 20, 24, 25, December 1, 3), apparently envisaging those options as internal Azerbaijani solutions, rather than internationally negotiated ones.
In that post-conflict spirit, Baku is actively facilitating the delivery of Russian humanitarian assistance to Upper Karabakh's Armenian population (Western or other international humanitarian assistance is not forthcoming as yet). Russian assistance cargoes are delivered by air to Yerevan and onward across Azerbaijan, by railway to Barda and by road via Aghdam to Upper Karanakh's administrative center of Stepanakert (Khankendi). Another delivery route is by railway, from Russia into Azerbaijan and onward via Yevlakh to Upper Karabakh. Yet another route of smaller capacity uses Azerbaijan's Ganja airport, where assistance cargoes flown in from Russia are similarly forwarded via Barda and Aghdam by Azerbaijani authorities for final delivery to Stepanakert.
Armenia's government, in the wake of a lost war, still calls for Upper Karabakh's outright "self-determination" away from Azerbaijan, a stop to "Azerbaijan's aggression against Artsakh [Armenian name for Upper Karabakh]" and Azerbaijani "de-occupation [sic] of Artsakh's districts" (TASS, December 3, 8; Arminfo, Armenpress, December 7, 9). This stance flows from Pashinian's pre-war abandonment of negotiations about Upper Karabakh's status and switch to the goal of severing "Artsakh" from Azerbaijan to incorporate it with Armenia (see EDM, November 25).