Too Early for a Political Investment in Transnistria's Shevchuk
Publication: Eurasia Daily Monitor Volume: 9 Issue: 49
By: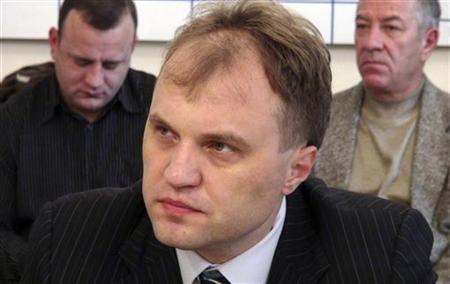 Yevgeny Shevchuk's election as "president" of Transnistria in December 2011 ended the 20-year rule of Igor Smirnov, belatedly replacing a Soviet with a post-Soviet leadership group. Shevchuk defeated the Kremlin-picked candidate (the Supreme Soviet's fossilized chairman Anatoly Kaminski). Moscow campaigned to remove Smirnov as a liability, ahead of a new cycle of international negotiations on the Transnistria conflict (see EDM, March 8), in which Russia seeks to legitimize Transnistria and its leadership. Moscow made no attempt to oppose the election of Shevchuk, whose track record is one of consistent loyalty to Russia. Compared with his superannuated rivals, Shevchuk seems far more presentable internationally as a young, de-Sovietized, "manager"-type, replacing Moscow's carpetbaggers with a local (though Russia-oriented) leadership (see EDM, January 26).
Shevchuk's election has rekindled the earlier interest in him among Western diplomats and Moldovan politicians. This interest dates back to Shevchuk's earlier career as business leader, Supreme Soviet chairman and rival to Smirnov (2005-2010), which overlapped with the deep freeze in international negotiations on the Transnistria conflict. In that situation it was worth exploring whether Shevchuk might become a more open-minded interlocutor than other Tiraspol leaders, and more attuned to local interests than Moscow could ever be. Those faint hopes could not rest on Shevchuk's track record (indistinguishable from Smirnov's and Moscow's on conflict-settlement and the Russian orientation), but rather on generational change and outreach to Transnistria's medium-size enterprises. Cautious overtures were made, without results.
Moldova and its Western partners are prepared to reach out to Shevchuk again, openly and broadly, in his new de facto role. They do not recognize Transnistria's elections or Shevchuk's title as "president," but they accept him readily as an interlocutor. At this stage, the dialogue is of a "problem-solving" nature, confined mainly to economic issues. Depending on results, it could evolve into a political dialogue, though short of any recognition.
Whether "Shevchuk is a man we can do [political] business with" – i.e., whether a political investment in him would be warranted – will be an open question for some time. A political investment would clearly be premature at this stage; it would only reward bad behavior, judging from Shevchuk's record thus far as president. His recent statements have called for: preparing Transnistria's accession to the CIS Customs Union and Eurasian Union (Russia-led groups); further harmonizing Transnistria's civil and commercial [unrecognized] "legislation" with Russia's legislation, so as to increase Russian investments; adopting the Russian ruble for parallel circulation with the Transnistrian "ruble" in Transnistria; and generally pursuing the "Eastern vector of Transnistria's development" (Olvia-press, February 15; RFE/RL, March 7).
Although elected in December 2011, Shevchuk is citing the 2006 referendum as a mandate for his own presidency. According to that [internationally unrecognized] referendum, Transnistria is a state separate from Moldova and is striving for integration with the Russian Federation. He highlights the contrast between Transnistria's eastern (Eurasian) and Moldova's western (European) orientation, suggesting that each should go its own way.
On the occasion of Russia's presidential election (March 4), Shevchuk urged Transnistria's residents with Russian citizenship to vote for "[Vladimir] Putin, whose name is linked with the strengthening of Transnistria's ties to Great Russia." And "I urge all my supporters to support Putin's idea to create a Eurasian Union." "Vote for a strong Russia" (Olvia-press, Interfax, March 2, 4). Russia has "passportized" an estimated 150,000 residents of Transnistria (many of these are likely to hold other passports at the same time, which compromises any Russian claim of extra-territorial "protection"). On March 1, Moldova issued an official protest against the opening of 24 voting stations for Russia's presidential election in Transnistria. This move negates Russia's declarative recognition of Moldova's sovereign integrity (Moldpres, March 1).
Shevchuk himself holds Russian citizenship. His local involvement in Russia's presidential election campaign cannot be surprising. While serving as Supreme Soviet chairman (see above) Shevchuk and his then-counterpart Boris Gryzlov signed a cooperation agreement between Shevchuk's party, Obnovlenie [Renewal], and Putin's United Russia party. Shevchuk's ethnicity is technically Ukrainian, but his linguistic allegiance is Russian, and his political outlook apparently defined by a vague concept of Greater Russia, in which Transnistria finds its niche. It would be difficult to imagine Shevchuk becoming involved in Ukrainian political events and reaching out to Kyiv with the intensity he displays in his outreach to Moscow.
Those statements are in line with Shevchuk's election campaign rhetoric (and indeed with the Smirnov era). Although he has successfully removed Smirnov's team, Shevchuk does not yet command a solid organizational base in Transnistria. His Kremlin connection is a necessary reinforcement to his political authority in Tiraspol. But his current rhetoric is not necessarily a reliable guide to Shevchuk's future policies. Presuming (which is a lot to presume at this moment) that he intends to turn from a Russia-vector to a multi-vector policy, Shevchuk would still need a decent post-election interval for consolidating his power base and changing the signals at some stage.
Tiraspol's performance in the international negotiations on the Transnistria conflict will be a litmus test of Shevchuk's intentions. His "foreign minister" conducting those negotiations, Nina Shtansky, is Shevchuk's most trusted associate. The performance has been highly unconstructive thus far (see EDM, March 8).
Outreach to Shevchuk is undoubtedly worth undertaking (as it also was in 2006-2010 despite the lack of results). However, expectations must be kept at a minimal level, with no pre-emptive concessions that would reward the current behavior. Pre-emptive concessions are a Chisinau specialty, and – therefore – not infrequent advice to Chisinau from some diplomats. A political investment in Shevchuk would be premature and counterproductive at the present stage. The time for this might come later, perhaps.