Top European Officials in Azerbaijan and Turkmenistan Promote Nabucco (Part One)
Publication: Eurasia Daily Monitor Volume: 8 Issue: 7
By: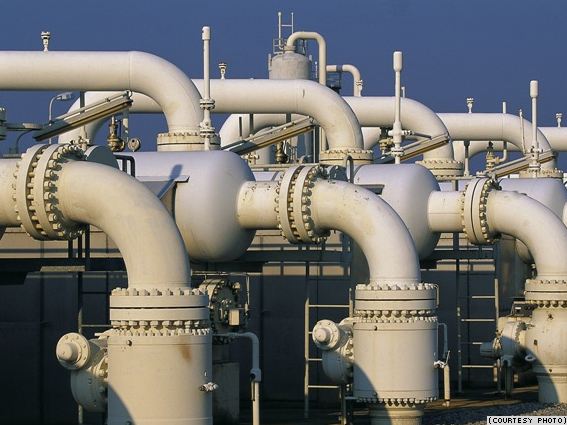 The European Commission's President, Jose Manuel Barroso, and EU Energy Commissioner, Guenther Oettinger, are starting on January 13 an unprecedented joint visit to Azerbaijan and Turkmenistan. They are responding to Turkmenistan's recent positive signals about supplies for the EU's Nabucco transport project, but also to Azerbaijan's recent requests for clarification of Nabucco's commercial terms, ahead of final investment decisions. Nabucco's stakeholders, as well as those in Azerbaijan's Shah Deniz gas extraction project, are keen for investment decisions to be reached during the first half of 2011.
For the first time after years of ambiguity or outright silence, Turkmenistan has spoken up explicitly for a trans-Caspian pipeline solution, to link up via the South Caucasus with the Nabucco project.
In June 2010, Turkmenistan commissioned the construction of its East-West pipeline, due for completion by 2015, at an estimated cost of $2 billion, entirely from the state budget. In September, President Gurbanguly Berdimuhamedov declared (during a Turkic states' summit in Istanbul) that the pipeline is intended to link up with the Nabucco project. This goal had been implied, but Berdimuhamedov made it explicit and public on that occasion. In November 2010, Berdimuhamedov declared that underwater pipelines in the Caspian Sea should be built with the consent of only those countries whose territorial sectors would be traversed by such pipelines. He made this statement in the presence of Russian President, Dmitry Medvedev, during the summit of the five Caspian countries in Baku. With this, Turkmenistan asserted its right to link up with Azerbaijan through a seabed pipeline. Azerbaijan had been the lead country all along in promoting this principle. Russia and Iran claim on the contrary that any trans-Caspian pipeline projects require the consent of all riparian countries, implying a Russian veto. Concurrently with Berdimuhamedov's Baku statement, his First Deputy Prime Minister, Baymurat Hojamuhamedov, offered 40 billion cubic meters (bcm) per year for a trans-Caspian pipeline to Azerbaijan, with a continuation link to Nabucco.
Addressing the annual oil and gas forum in Ashgabat, Hojamuhamedov said that 30 bcm would originate from the supergiant South Yolotan and South Osman fields in Turkmenistan's east, to be delivered at the Caspian shore through the planned East-West Pipeline across Turkmenistan, with another 10 bcm from Turkmenistan's offshore fields. Of this volume, Turkmenistan is ready to sell 5 bcm of gas per year as of 2011, from the first phase of production at offshore Bloc 1, operated by Petronas. The initial pipeline solution need not run coast-to-coast, but rather connect the offshore tips of Turkmen and Azerbaijani projects. In sum, "European countries should not worry [about gas supplies]" (EDM, June 8, September 17, 21, December 10, 2010).
Given Ashgabat's habitual reluctance to irritate Moscow through unnecessary announcements, those statements are major milestones. They are now eliciting the appropriate response from the EU, as the Barroso-Oettinger visit demonstrates. The US seems to remain a bystander, however. This attitude ignores Turkmenistan's need for security assurances, which the EU cannot provide, from hypothetical Russian retaliation if Ashgabat decides to join the EU's project. A reversal of roles has taken place between Washington and Brussels. The US had led the efforts to access Turkmen gas for European energy security during the Clinton administration; but allowed itself to be distracted during the Bush and Obama administrations. For several years Washington has been unable even to nominate an ambassador to Turkmenistan; three tentative nominations collapsed for personnel reasons, not political ones. The White House's concern to protect its "reset" with Russia also seems to account for Washington's muted response to Ashgabat's offers. Thus, the EU bears the burden of engagement, without a hands-on US involvement.
Tied to the Barroso-Oettinher trip, Russian Prime Minister, Vladimir Putin, declared that Gazprom's South Stream project has stronger chances to materialize, compared with the EU's Nabucco (Interfax, January 10). The statement implicitly underscores South Stream's political function to stop the Nabucco project by discouraging investment and hinting that Moscow could block a trans-Caspian pipeline solution for Turkmen gas. In a similar vein, a seemingly orchestrated leak from an anonymous Turkmen diplomat claims that Ashgabat needs Moscow's approval for joining the project; and that the EU has "no new offers" and "no new ideas" anyway, even as the two EU top officials are about to embark on their visit (EUObserver, January 13). A throwaway remark by the US Ambassador to Italy, David Thorne, about a hypothetical merger of Nabucco with South Stream (La Stampa, January 10), is being misinterpreted in the media as signifying a US gesture to please Putin and Italian Prime Minister, Silvio Berlusconi, at Nabucco's expense. In fact, Gazprom's partner South Stream, Italian ENI, proposed last year to merge South Stream with Nabucco because it had lost confidence in Gazprom's project. The EU Commission has responded that it has no intention to merge the two projects (press release, Brussels, January 10).
Barroso and Oettinger are embarking on this visit with a dual agenda: first, to "turn Nabucco into a success story" through gas supplies commitments leading to investment decisions; and, more broadly, to demonstrate that the EU's common energy security policy can become "the next great European integration project," as well as a growth-enhancing sector in Europe (Euractiv, January 9).