TRANS-BLACK SEA PIPELINE: ANOTHER CHANCE FOR GEORGIA AND EUROPE
Publication: Eurasia Daily Monitor Volume: 5 Issue: 20
By: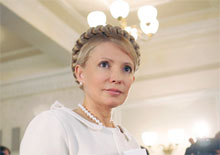 Ukrainian Prime Minister Yulia Tymoshenko has proposed that the European Union and Ukraine join a project for a gas pipeline from Turkmenistan via the Caspian Sea, South Caucasus, and Black Sea to Ukraine and EU territory. Tymoshenko termed this concept "White Stream" when presenting it to top EU officials during her January 28-29 visit to Brussels. It re-launches a concept originally outlined by Tymoshenko in 2005 during her first premiership to reduce Ukraine's and the EU's dependence on Russian-delivered gas at Russian-defined prices.
White Stream is coincidentally the brand name of a project outlined by the London-based GUEU White Stream Pipeline Company, with Georgian participation. It was presented last July at an energy conference in Tbilisi and again last October at the Energy Security Conference of heads of state and governments in Vilnius. The GUEU's (Georgia-Ukraine-European Union) White Stream envisages a first-stage pipeline for Azerbaijani gas, via Georgia and the seabed of the Black Sea to the Crimea, with two options to reach Central Europe: either via Ukrainian or Romanian pipelines. White Stream's second stage would carry Turkmen gas via Azerbaijan and Georgia to Europe across the Black Sea.
The two concepts clearly dovetail with each other, but there is no sign that they are coordinating with each other. Such lack of coordination could become mutually counterproductive. The same risk arises from uncoordinated moves by either group of transport planners on the one hand and the gas producers in Azerbaijan and Turkmenistan on the other hand.
Originally a Georgian initiative, the London-based project has resulted in an engineering blueprint for the seabed section, which is the most challenging on the proposed pipeline route. White Stream envisages transporting Caspian gas — from Azerbaijan in the first stage and Turkmenistan in the second — through a pipeline that would branch off in Georgia from the Baku-Tbilisi-Erzurum gas export pipeline. This would become feasible, once the second phase of field development reaches full volume at Azerbaijan's Shah-Deniz field. The Georgian pipeline section would run overland for approximately 100 kilometers, from a point west of Borjomi to the Black Sea coast near Supsa.
From there, the pipeline is projected to run some 650 kilometers in ultra-deep waters to Ukraine's Crimean shore near Feodosiya, then cross the Crimean peninsula for some 250 kilometers, with two continuation options possible: either connecting with Ukraine's mainland pipeline system, or continuing on the seabed to the Romanian coast for 300 kilometers in shallow waters.
Several European engineers who had formerly worked for the Italian ENI/Saipem on the construction of the world's deepest seabed pipeline, Blue Stream, are said to participate in GUEU's White Stream project. White Stream's deep-water construction would benefit from the technical experience gained when laying the ENI-Gazprom Blue Stream seabed line from Russia to Turkey. The White Stream project envisages using a J-lay barge of the same type as that used by ENI/Saipem, which was key to that technological accomplishment.
Ukraine is as indispensable as Georgia to this project. Tymoshenko outlined a Ukrainian vision of White Stream in Brussels to European Commission President Manuel Barroso, other top EU officials, and at a hearing in the European Parliament. Noting with concern that several pipelines currently under construction would increase the EU's supply-dependence and price-dependence on Russia, Tymoshenko called for direct EU involvement in construction of oil and gas corridors via the Caspian and Black Seas, directly to Europe.
Tymoshenko underscored that this concept is closely interrelated with Ukraine's goal to import oil and gas directly from Kazakhstan and Turkmenistan and provide transit for these commodities to EU territory. The trans-Black Sea pipeline would be key to Ukraine's goal to cut dependence on Gazprom and its notorious intermediary RosUkrEnergo, she told the EU leaders. She urged them to proceed with the necessary investment decisions now, rather than waiting for "another 20 years." Ukraine can offer the spare capacity of its transit pipelines, which are under loaded already and will be substantially underutilized if Russia carries out its plans to reroute large gas export volumes from Ukrainian to other pipeline routes.
Given the latest Russian-inflicted setbacks to the EU's Nabucco project, Tymoshenko portrayed the Ukrainian concept of White Stream in Brussels as a possible alternative to Nabucco. Such a conclusion is premature, however. Nabucco and the two dovetailing versions of White Stream are all necessary in order to stimulate Western investment in extraction in the Central Asian upstream as well as acceleration of production in Azerbaijan. Absent these transport options and the markets along their routes, Caspian gas production growth would slow down; and existing Russian pipelines would absorb growing volumes of that production, to the economic and strategic detriment of Europe.
(Interfax-Ukraine, UNIAN, January 27-30; see EDM, December 7, 2006, October 12, 2007)