Tunisia's Counterterror Efforts Hampered by Weak Institutions
Publication: Terrorism Monitor Volume: 15 Issue: 4
By: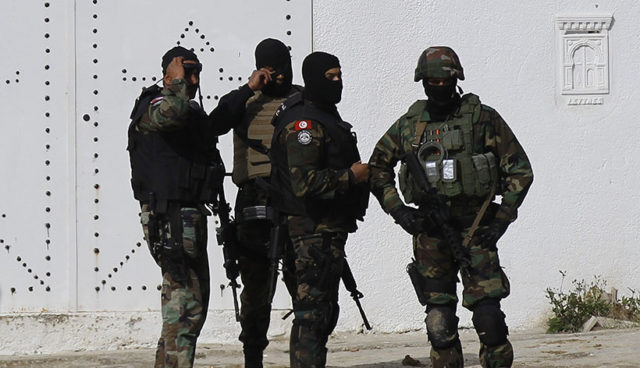 About 800 suspected jihadists have returned to Tunisia from abroad, putting pressure on the Tunisian authorities and potentially undermining Tunisia's political transition. The country is struggling to establish a comprehensive counterterrorism strategy and, beyond the immediate security concerns, institutional constraints are stymieing efforts to tackle domestic terror threats.
Perhaps as a consequence, Tunisia has produced the highest number of foreign fighters — both in absolute terms and per capita — in the world. According to official data from the Tunisian interior ministry and the United Nations, since 2013, about 6,000 individuals left Tunisia to join jihadist groups, the majority joining Islamic State (IS) in Syria, Iraq and Libya.[1]
A further 12,000 have been prevented from travelling abroad. [2] Recent public debate in Tunisia, however, has been focused on the issue of returning jihadists, with public opinion divided on suggestions of an amnesty for returnees.
Contradictory Policies
The case of Anis Amir, the Tunisian man accused of perpetrating the Berlin lorry attack on August 19, 2016, is instructive. Amri's case revealed Tunisia's contradictory policy regarding the repatriation of its citizens when they are expelled from other countries. Both Italy, where Amri was detained for four years between 2011 and 2015, and Germany, where he requested but was denied asylum in 2016, had tried to deport Amri back to Tunisia, but the Tunisian authorities refused to accept him.
In the case of the Italian requests, Tunisian authorities denied Amri was a Tunisian citizen; while in the German case, the request was delayed by the turgid Tunisian bureaucracy (Il Fatto Quotidiano, December 22, 2016). Amri reportedly had no passport when he applied for asylum in Germany, and Tunisian officials were slow to issue replacement documents (Der Spiegel, December 22, 2016).
In recent months, Tunisia has equivocated over the policies it should adopt toward returning militants. On the one hand, the government is routinely detaining returning jihadists under the country's 2015 Counterterrorism Law. Meanwhile, it has also sent contradictory messages about a possible pardon, a move that caused massive protests.
In December 2016, Tunisia repatriated two jihadists from Sudan and from Italy. The first, Moez Fezzani, was repatriated on December 23 and is accused of having taken part in organizing the Bardo Museum attack, and of having attempted to perpetrate a bombing attack against the Habib Bourguiba mausoleum in Sousse in 2013 (Kapitalis, December 24, 2016). [3] The second, Nasreddine Bin Dhiab, was repatriated from Italy on December 29 and is accused of having organized a jihadist cell in Italy (Kapitalis,  January 7, 2017). According to Italian investigators, Bin Dhiab declared loyalty to IS and last November was ordered to carry out a Paris attacks-style operation in Italy in retaliation for Italian operations in Libya against IS.
The arrests are in apparent contrast to a statement by Tunisian President Beji Caid Essebsi, who, while on a visit to France on December 2, declared that returning jihadists would not be automatically detained (L'Orient Le Jour, December 2, 2016). Such leniency, however, provoked outrage from both the public and the police unions and continues to inform current popular debate.
Tunisia's Islamic-oriented Ennahda party has called for a de-radicalization program that would treat returning jihadists as individuals who require physical and psychological support. The most prominent and influential national union, the Tunisian General Labor Union (UGTT, Union Générale Tunisienne du Travail), meanwhile, declared its objection to any form of pardon for the returning jihadists, calling for them to be processed under the 2015 Counterterrorism Law.
Members of the ruling Nidaa Tounes party and the liberal Afek Tounes party also expressed their concern over returning jihadists and don't want them back. The security forces and police unions have taken even harder positions, with some calling for the withdrawal of citizenship for those found guilty of terrorism offences, although such a measure would likely be prohibited by Tunisia's new constitution, approved in 2014, which states in Article 25 that no citizen shall be deprived of citizenship or exiled.
De-radicalization Initiatives
In order to defuse the controversy, Essebsi announced returning militants would be processed according to the provisions of the 2015 Counterterrorism Law. That, however, is problematic. According to Tunisian and international civil society organizations, the law is unsuited to deal with the kind of terrorist threat Tunisia faces. [4] Indeed, the law is often considered too focused on security and overly repressive, providing for some controversial measures, such as the re-introduction of the death penalty for terrorism-related offenses. It also fails to take into consideration the political, social and economic causes of radicalization. Indeed, the law makes no provision for the de-radicalization of suspected jihadists.
Civil society organizations have proposed some initiatives on this point. The Rescue Association of Tunisians Trapped Abroad (RATTA), for example, has detailed a proposed de-radicalization program based on the identification of five different levels of radicalization. [5]
Under RATTA's proposal, the top three levels of individuals identified — those who have committed terrorist acts and killed others; those who have received training, but have not carried out an attack; and those who have been indoctrinated, but have not received training — are to be kept within de-radicalization centers, where they will follow a program intended to reintegrate them into society.
Below these, the lower two levels are reserved for individuals who show early signs of radicalization, but have not been fully indoctrinated. Some will remain in de-radicalization centers but carry out community work in the day, while those of least concern would be released but must undergo periodic psychological evaluation. The proposal has yet to be implement, and RATTA complains of a lack of cooperation from government institutions.
Institutional Difficulties
Another concern is structural difficulties at an institutional level. In terms of managing national security, it is not always clear which offices have responsibilities, neither is the role of the president or the prime minister clearly defined in this regard. The result is overlapping, or possibly even conflicting, responsibilities that only stand to get worse when the president and prime minister belong to different political parties.
It is unclear whether the president could promulgate specific executive orders in the field of counterterrorism, or whether the head of the government could bypass the president by promoting laws and creating ad hoc commissions.
Tunisia's bureaucratic difficulties and institutional weaknesses are perhaps most evident in the overlapping of responsibilities of the National Guard and the army.
The main driver of jihadism in Tunisia is the infiltration of militants across the border from Libya, a result of the increasing influence of jihadist groups linked to IS there. The emerging "Libyan connection" is borne out by the fact that about 70 percent of Tunisian jihadists received training in Libya. The National Guard — which answers to the interior ministry — and the army do not have a clear mandate over border operations, creating a major obstacle to counterterrorism efforts.
Without a de-radicalization program or an amnesty, returning jihadists are likely to face imprisonment. Here Tunisia faces a logistical problem — the authorities say there is not enough space to safely detain all returning and domestic militants (Webdo.tn, December 3, 2016). There is also the concern that prisons themselves are places of radicalization.
According to data from Tunisia's ministry of justice, currently there are 1,647 people being held for terrorist offenses in Tunisia, some of which could become recruiters of newly radicalized young people.
Tunisia's institutional systems are impeding its counterterrorism efforts, and public opinion is divided on the issue. Against this background, the 2015 Counterterrorism Law has been unhelpful. Meanwhile, a national commission on counterterrorism has been appointed and is due to outline a new strategy, but this has yet to be published. 
NOTES
[1] See Foreign Fighters. An Updated Assessment of the Flow of Foreign Fighters into
Syria and Iraq, The Soufan Group, (December, 2015). Available here.
[2] Author's interview with Tunisian officials, Tunis (February, 2016)
[3] See "Un kamikaze se fait exploser à Sousse et un autre attentat déjoué à Monastir", Leaders (30 October, 2013). Available here.
[4] See Amnesty International, Tunisia Annual Report (2015/2016). Available here.
[5] Author's interview with RATTA Director, Tunis (February 2016)