Turkey and Pakistan Cooperate on Counter-Terrorism Efforts
Publication: Terrorism Focus Volume: 5 Issue: 17
By: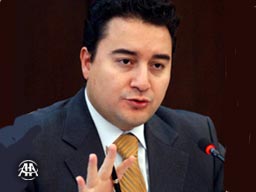 Facing well-entrenched insurgencies and numerous acts of terrorism, Turkey and Pakistan have initiated cooperative efforts to increase their security in the face of these threats. Following a two-day, high-level official visit to Pakistan by Turkish Foreign Minister Ali Babacan, the two nations announced "strategic" cooperation on a number of fronts, including defense, trade, and diplomacy (The News International [Islamabad], April 20). The visit, the first to Pakistan by a Turkish foreign minister, heralds a new era in cooperation between the two Muslim nations (Associated Press of Pakistan [APP], April 20).
Foreign Minister Babacan made explicit mention of Turkey's desire for an enhanced level of defense industry cooperation with Pakistan. Babacan described the volume of trade with Pakistan as having risen to the level of $690 million in the past five years, noting that—with the increased efforts of private-sector firms in both nations and the creation by Turkey and Pakistan of a business-friendly environment—there was the hoped-for potential of reaching one billion dollars in trade in the next two years (APP, April 20).
While increased revenues from any and all categories of international economic trade can be expected to provide a welcome boost to both nations' economies overall, Babacan's explicit mention of trade in the area of defense industries carries with it the possibility of cooperative efforts in developing counter-terrorist technology. Pakistan, for example, has just recently rolled out its first-generation Unmanned Aerial Vehicle (UAV), announcing on April 20 that its first indigenously-produced UAV has been incorporated into the Pakistani Air Force (Xinhua, April 20). The use of intelligence obtained by the Turkish military's UAVs in recent months has led to successful strikes against the facilities and guerrillas of the Kurdistan Workers' Party (PKK) (see Terrorism Focus, April 9). The future development of UAVs by Pakistan has the potential to provide Turkey with a number of enhancements to its own military operations. As stated by the chief of Pakistan's Air Staff, Air Chief Marshal Tanvir Mahmood Ahmed, the UAV technology with its added flight endurance and ability to provide time-critical targeting intelligence will enhance Pakistan's fighting potential. In a statement calculated to provide no comfort to Pakistan's and Turkey's terrorist foes, Air Marshal Ahmed said that Pakistan is planning to equip the UAVs with the most modern and lethal payloads as well as enhancing their capabilities (Dawn [Karachi], April 21; Xinhua, April 20). The similarity of the topography of Pakistan to that of much of Turkey and northern Iraq will make access to the technology and operational experience of Pakistan's UAV program that much more valuable to Turkey in its ongoing battle against the PKK. In return, Pakistan can also expect to benefit from the knowledge gained in Turkey's recent experience in the use of time-sensitive, actionable intelligence information.
Although non-terrorism topics were addressed in the meeting's final statements, the issue of terrorism again assumed center stage several times. Pakistani Foreign Minister Shah Mehmood Qureshi announced that Pakistan had Turkey's support on the issue of Kashmir and reiterated his country's support for the Turkish position on the division of Cyprus (Turkish Daily News, April 21). More importantly, the two countries announced that Turkey will host a trilateral summit meeting with the presidents of Pakistan and Afghanistan in June in an effort to smooth differences between the two nations over Afghan accusations that Pakistan is not doing enough to stop militants from entering Afghanistan from Pakistan (Today's Zaman, April 21). When questioning turned to the reported capture of Turkish militants in Pakistan, however, Foreign Minister Qureshi issued an outright denial of the reports, characterizing them as "baseless" (The News International, April 20). Unnamed Pakistani intelligence officials had already announced on April 4 that four individuals, three of whom were carrying Turkish passports, had been arrested the day before with over 1,000 rounds of Kalashnikov ammunition and "jihadi" materials in their possession (Today's Zaman, April 5).
Although the PKK has garnered the lion's share of Turkish media attention in recent years, the responsible counter-terrorism components of Turkey's law enforcement and intelligence organizations give a high priority to maintaining a close watch on al-Qaeda affiliates within Turkey following several devastating al-Qaeda attacks in recent years. Turkey's continuing interest in Pakistan's progress against al-Qaeda leadership figures and training facilities is very understandable. Concurrent with the ongoing battles with the PKK is the threatening presence of al-Qaeda and al-Qaeda-inspired terrorists inside Turkey. The November 2003 twin suicide-attacks in Istanbul that killed and wounded hundreds of people brought with them the realization that Turkey, like a number of other Muslim nations, was unwittingly harboring an active al-Qaeda presence. Almost every year since has brought with it additional evidence of the al-Qaeda presence. Arrests within Turkey of suspected al-Qaeda members and seizures of weapons, explosives and false documents continued in 2004, 2006, and 2007, reinforcing the seriousness of the threat (see Terrorism Focus, June 12, 2007). A firefight between members of a Turkish al-Qaeda cell in northern Iraq and U.S. Forces on June 23, 2007, underlined the active role of Turkish al-Qaeda in the nearby Iraq theater of conflict (Today's Zaman, June 29, 2007; see Terrorism Focus, July 10, 2007). As recently as early April, Turkish police and security authorities arrested over 50 members of al-Qaeda, uncovering attack plans and bomb-making materials in the process (Sabah, April 2; Today's Zaman, April 2).
While not receiving the media attention accorded the high-level meeting of foreign ministers, the simultaneous conduct of a joint military exercise—Indus Viper—by the two nations' Air Forces further underscores their heightened degree of cooperation. In Exercise Indus Viper, held from April 19 through April 30, five of Turkey's F-16 aircraft and 49 Turkish Air Force personnel were deployed to Pakistan's Mushaf air base in Sargodha, Eastern Punjab province (Dawn, April 22). While no details of the exercise were announced beyond saying that it is to be a "multi-dimensional exercise, in which the combat crews will be exposed to near realistic scenarios," and will carry out "various [simulated] combat missions," it is noteworthy that Turkey's F-16s have deployed frequently on ground-support missions over southeastern Turkey and northern Iraq against PKK guerrillas (see Terrorism Focus, April 9). Pakistan can expect to benefit from Turkish-supplied improvements in ground-support doctrine as well, given the relatively high number of casualties in its forward-deployed Frontier Corps against al-Qaeda, Taliban, and other irregular foes in recent years.
The virtually identical nature of Pakistan's and Turkey's interests in heightening their level of counter-terrorism cooperation—encompassing terrain, military doctrine, nature of opposition forces and level of internal threats—multiplies its symbiotic effect, making it a "win-win" proposition for the two nations and even beyond to both the United States and Western Europe. Success in the Turkish-Pakistani effort could produce large and lasting dividends in regional counter-terrorism efforts, especially if supported and encouraged along the way by both nations' allies.