Turkey Sees Opportunity in Trans-Caspian Gas Pipeline Project
Publication: Eurasia Daily Monitor Volume: 9 Issue: 164
By: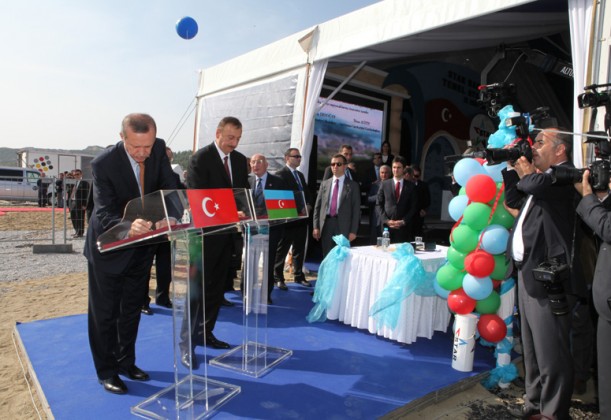 Turkey is revisiting the trans-Caspian gas pipeline project after a decade-long hiatus. Ankara is now aligning with the European Union, Azerbaijan and Turkmenistan, supporting the transportation of Turkmenistan's gas to Turkey and onward to Europe. Ten years ago, Turkey failed to capitalize on the first trans-Caspian pipeline project (see below). But the EU is reactivating it in the framework of the Southern Gas Corridor to Europe, along with the Azerbaijan-led Trans-Anatolia Pipeline project (TANAP) in Turkey. Thus, Ankara is justified in seeing great opportunities in the construction of a large-capacity trans-Caspian pipeline, connecting via Azerbaijan with Turkey, and maximizing the gas flow through the TANAP pipeline to Europe.
On September 3, the EU's Energy Commissioner Guenther Oettinger, Turkish Energy and Natural Resources Minister Taner Yildiz, and Azerbaijani delegates held talks with President Gurbanguly Berdimuhammedov and other Turkmenistani officials in Ashgabat. A new Turkish policy emerged on this occasion. Yildiz announced explicitly that Turkey intends to import and transport Turkmenistan's gas through the proposed trans-Caspian and TANAP pipelines. Turkey would "buy" certain volumes for its own needs while allowing other volumes to "flow beyond Turkey." According to Yildiz, Azerbaijan is both a source and a transit country for Caspian gas, "helping" Turkey on both counts. Ankara now favors expanding TANAP's capacity to as much as 60 billion cubic meters (bcm) annually in its final phase, doubling the 30 bcm hitherto envisaged for that final phase. Yildiz characterized Turkey's role as that of an outlet for Turkmenistan's gas to international markets and an integral component of the EU's supply diversification strategy. He unveiled these ideas before and after his meeting with Berdimuhammedov (Hurriyet, September 3, 4; Zaman, September 9).
With Turkmenistan having offered 40 bcm per year for delivery to Europe (30 bcm from onshore and another 10 bcm from offshore deposits), and Azerbaijan's export potential rising above 20 bcm annually after 2020 (and more thereafter) from proven reserves, TANAP offers the unique advantage of being scalable to accommodate such volumes. The line is planned for capacity increases by adding compressor power and parallel loops in a phased process correlated with the supply volume growth. According to Baku's latest estimates, the capacity increase to 30 bcm could raise TANAP's construction costs from the initially estimated $5 billion to $7 billion, anticipating higher returns on the investment thanks to the larger transportation volume (Hurriyet, August 24; Zaman, September 9).
In Ashgabat, Yildiz distinguished between Turkmenistani gas volumes that Turkey would itself consume and volumes to be transported via Turkey to international markets. It does not seem clear at this stage whether Turkey would provide transit service for Turkmenistan's gas en route to markets, or whether it would propose buying and re-selling some of those volumes to third parties at a profit to Turkey. The concept of a "gas hub" tends to be used imprecisely or ambivalently in Turkish debates.
Turkey's interests are five-fold in seeking to maximize TANAP's gas flow: to meet the growing internal demand, to reduce dependence on Russian gas supplies, to replace Iran's overpriced and interruption-prone deliveries, to boost Turkey's role in the energy corridor to the European Union, and to enhance TANAP's profitability and investor appeal.
With Oettinger and Yildiz in Ashgabat, Berdimuhammedov reaffirmed Turkmenistan's interest in reaching European gas markets as soon as possible through a trans-Caspian pipeline and onward through TANAP; while Azerbaijan confirmed its interest in a transit role. Ashgabat conducted the meeting with its usual discretion and minimal publicity. The meeting also confirmed Ashgabat's and Baku's positions that any trans-Caspian pipelines are a matter for the two participant countries; and can go ahead without awaiting or prejudicing the final delimitation of sectoral borders. This implies that a trans-Caspian gas pipeline would not be held hostage, either to Russo-Iranian vetoes or to the Ashgabat-Baku dispute over their maritime border. In that dispute, Baku proposes joint development of a contested oil field while Ashgabat prefers international arbitration or litigation. Ankara is now offering to mediate the dispute (TDH [Turkmen state news agency], Trend, September 4; Today.Az, September 10).
Promptly reacting to the Ashgabat meeting, Tehran offers to transport Turkmenistani gas through Iranian overland pipelines, circumventing the Caspian Sea to connect with TANAP in Turkey. The National Iranian Gas Company proposes to transport the same gas volume as Turkmenistan would deliver via a trans-Caspian pipeline to Azerbaijan for TANAP (Trend citing Mehr, September 5, 8; Trend, September 10). However, this proposal is a non-starter on cost grounds alone, apart from the international sanctions on Iran.
A decade ago, Turkey helped Russian Gazprom to kill the trans-Caspian pipeline project. At that time (until 2002), Turkey was the designated market for 16 bcm of Turkmenistan's gas annually from the trans-Caspian pipeline's first phase. Turkey (along with Azerbaijan and Georgia) was also the designated transit country for another 16 bcm of Turkmenistani gas to Europe, from the trans-Caspian pipeline's second phase. The United States championed this project and the Turkish state was officially on board. Trumping the state, however, influential Turkish interest groups joined forces with Gazprom to build the Blue Stream pipeline from Russia to Turkey, on the seabed of the Black Sea and onward to Ankara. Laid in 2002 and designed for the same capacity of 16 bcm annually, Blue Stream defeated the trans-Caspian project in the race for the Turkish market. It also defeated Turkey's national interest, as Gazprom's gas was priced far above that offered by Turkmenistan. The latter was cut off from Turkey and Europe for another decade.
In 2011, the European Union's 27 member countries mandated the European Commission to assist Turkmenistan and Azerbaijan in creating a legal, regulatory and commercial framework for a trans-Caspian gas pipeline. This year, the Azerbaijan-led trans-Anatolia pipeline project with scalable capacity has opened the way for Turkmenistani gas to enter the Southern Gas Corridor to Europe. These developments can resolve Turkey's energy supply dilemmas, as well as make Turkey a major transit route for both Azerbaijani and Turkmenistani gas to the EU. Apparently, Ankara has decided to capitalize on this opportunity, the potential magnitude of which exceeds the lost opportunity of ten years ago.