Turkey Tries to Engage Mongolia, Despite Dim Prospects
Publication: Eurasia Daily Monitor Volume: 7 Issue: 199
By: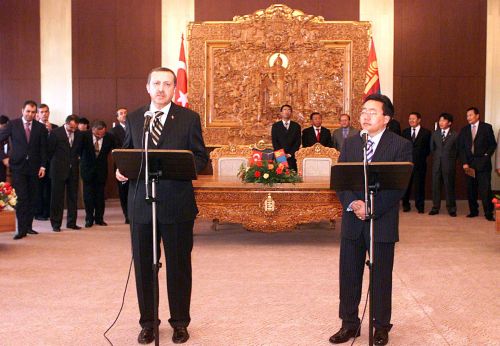 Turkey and Mongolia held their sixth Joint Economic Commission (JEC) meeting in Ulaanbaatar on October 26. Deputy Prime Minister, Bulent Arinc, headed the Turkish delegation, and Mongolia's Environment and Tourism Minister, Luimed Gansukh, signed a memorandum of understanding to boost economic and commercial relations. Related protocols also signed during Arinc's four-day trip concerned an exchange of experience between KOSGEB (Small and Medium Enterprises Development Organization) and its Mongolian counterpart, and cooperation between the Turkish State Planning Organization and Mongolia's planning unit on development (Anadolu Ajansi, October 26; www.kosgeb.gov.tr, October 27).
Turkey established diplomatic relations with Mongolia in 1967. As a corollary of Ankara's growing interest in Central Asia following the independence of the Turkic republics, Mongolia also started to attract Ankara's attention. The two countries signed a trade, economic and technical cooperation agreement in May 1992, which also initiated the JEC, and heralded a wave of other agreements to follow in subsequent years (www.tika.gov.tr, Mongolia Country Report, July 2005). Turkey set up its permanent diplomatic mission in Ulaanbaatar in 1996, while Mongolia opened its representation in Ankara in 1997. Through various agreements, Turkey stepped in to share the experience it accumulated in free market economics with Mongolia, which was seeking to move away from a socialist economy, and facilitate the latter's integration into the world economy. Ankara specifically concentrated its assistance on the creation of basic economic and administrative infrastructure and the emergence of small and medium scale companies in a free market economy.
Although Mongolia joined the World Trade Organization in 1997, its overall foreign trade volume remains low. Its exports are largely in minerals, leather and textiles, while it imports machinery and fossil fuels. Trade relations between Turkey and Mongolia also remained very limited, largely due to distance, and lack of direct transportation routes. The bilateral trade volume reached $14 million in 2008, while it dropped to $5.5 million in 2009 after the global financial crisis. There is an enormous trade imbalance in Turkey's favor (www.mfa.gov.tr). While Turkey exports processed food, machinery and soap, it imports some animal products. Turkish investments and construction operations in the country have also remained at negligible levels. Various Turkish trade associations, seeking to expand Turkish business opportunities in Mongolia, had urged Turkish firms to invest in energy, natural resources, agriculture, telecommunications, construction and tourism (www.btso.org.tr, May 4, 2005).
During Recep Tayyip Erdogan's historic visit to Ulaanbaatar in July 2005, the first prime ministerial visit since the establishment of diplomatic ties, both parties issued a joint declaration to boost bilateral cooperation. The Turkish Eximbank offered a $20 million credit to Mongolia, an issue which had been lingering for some time (www.ankara.mfat.gov.mn, July 19, 2005).
Although this visit and subsequent JEC's increased Turkey's assistance to Mongolia's economic transformation, such calls overall failed to prompt Turkish businessmen to invest in Mongolia. The Turkish-Mongolian Business Council, organizing a meeting in Istanbul ahead of Arinc's trip, stressed the low volume of Turkish investment. The council pointed to the growth potential of Mongolia in the future, and called on Ankara not to fall behind Chinese, Russian and Western companies that increasingly invest in the untapped natural resources of this country (www.deik.org.tr, October 7).
Unlike the poor standing of their economic ties, Turkey and Mongolia had close political relations, as was reflected in a myriad of bilateral agreements and mutual visits. Mongolia became one of the major recipients of development assistance, provided by Turkey's official agency, the Turkish Cooperation and Development Agency (TIKA). Since 1994, TIKA has carried out various educational, social and cultural programs in Mongolia, and opened a coordination office in 2005. TIKA projects focused on the improvement of Mongolia's administrative infrastructure, training of bureaucrats and security personnel, developing statistics and accounting practices, among other initiatives (www.tika.gov.tr, July 2005).
TIKA has also run a project since 1995, entitled "Turkish Monuments in Mongolia," which emphasized the historical-cultural dimension of Turkey's interest in this country. Mongolia hosts many historical monuments remaining from the earlier Turkish states established in Central Asia. Energized by the approaching eighth centennial celebrations of the Mongolian Empire in 2006, the Turkish government accelerated this project. Following Erdogan's 2005 visit, Turkey has spent substantial resources on the excavation and renovation of many Turkic and Mongol monuments. Moreover, in recent years Turkey has funded the construction of roads to enable access to those historical sites. Perhaps, this historical significance of the country and the linguistic affinity explain Turkey's political interest in Mongolia, incommensurate with the extent of their economic ties. The Turkish foreign ministry also acknowledges the role played by the shared cultural background in facilitating political ties (www.mfa.gov.tr).
Similarly, Turkey has provided scholarships to many Mongolian students to enable them to study at Turkish universities and military academies. Various private Turkish-Mongolian schools also offer education up to high school level in Mongolia, while Turkology departments have been opened in some Mongolian universities. The Turkish Directorate of Religious Affairs offers scholarships to Muslim Mongolian citizens of Kazakh origin to receive Islamic education in Turkey. Overall, there is a lively educational and cultural exchange between the two countries.
Most Turkish analysts agree that Mongolia is a distant, yet culturally close country. Nonetheless, some Turkish analysts find Ankara's policy towards Mongolia lacking. They portray Mongolia as a country seeking to balance the pressures from its large neighbors, namely China and Russia. They believe Turkey could serve as the virtual "third neighbor," if it pursues correct policies. Turkish analysts further contend that the poor standing of economic relations between Turkey and Mongolia, and most importantly their inability to develop closer military cooperation, are largely due to pressures from Russia and China. Moscow and Beijing have blocked Turkey's shipments of military equipment to Mongolia or joint exercises between the Turkish and Mongolian Special Forces. Therefore, some analysts support the Turkish government's development assistance, educational exchange programs and cultural projects, while urging Ankara to go further and facilitate Ulaanbaatar's efforts to play a more influential role in international organizations in order to break its encirclement. Moreover, Turkish Airlines have failed to launch direct flights to Ulaanbaatar, which would symbolically mark establishing of a direct link to Turkey (www.usak.org.tr, January 4; Turkiye, March 31).