Turkey Works to Prevent Sectarian Rift in Iraq
Publication: Eurasia Daily Monitor Volume: 9 Issue: 12
By: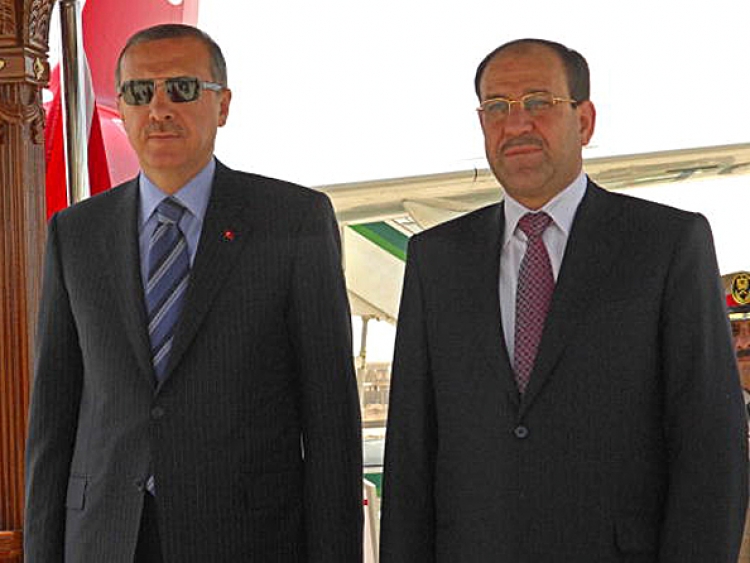 As Turkey struggles to avert crises involving its neighbors Syria and Iran, Iraq has emerged as yet another issue that needs immediate attention from Turkish diplomacy. Iraqi Prime Minister Nouri al-Maliki's recent remarks critical of what he considered to be Ankara's "interference" in Iraqi internal affairs threatens to worsen the already tense situation in the Middle East.
In an interview broadcast by state television, Maliki sent a stern warning to Ankara asking it to stop its interventions in Iraqi domestic affairs. Maliki maintained that Turkey had acted as though it ruled Iraq, and went on to claim that the current path taken by Ankara might invite disaster and civil war in the region. He warned that if Turkey continued the same rhetoric, it might suffer repercussions from its actions, because it also has different sects and ethnic groups (Anadolu Ajansi, January 13).
Maliki's inflammatory rhetoric was triggered by Turkish Prime Minister Recep Tayyip Erdogan's remarks in the previous week. Both in his conversation with Maliki and in his public addresses, Erdogan urged the Iraqi leadership to take swift measures to reduce tensions in Iraq, which were caused by an arrest warrant being issued for the Vice President Tariq al-Hashimi (Anadolu Ajansi, January 10). Maliki issued an arrest warrant for Hashemi, a leading Sunni politician, shortly before the withdrawal of US forces on the grounds that he was leading a death squad targeting Iraqi politicians. Fearing for his safety, Hashemi escaped to northern Iraq controlled by the Kurdistan regional government. The clampdown on Hashemi and other Sunni ministers triggered a new wave of attacks against the Shiites, raising questions about the sustainability of the fragile coalition government, as well as the future of the country as a unified entity.
Turkey initially refrained from direct involvement in the unfolding crisis over the arrest warrant against Hashemi and exclusion of Sunnis from key government positions. It drew attention to the risks that the recent rift could escalate into sectarian conflict, with destabilizing effects for the entire region. It also maintained communication with the Kurdistan regional government to forge national consensus. Regionally, Foreign Minister Ahmet Davutoglu also sought to mobilize a joint Turkish-Iranian response to address the Shiite-Sunni disagreements, which lie at the core of the ongoing crises in Syria, Bahrain and Iraq (EDM, January 10).
However, the recent spree of bombings in Baghdad prompted Erdogan to raise this issue publicly. Raising concerns about the inability of Iraqi political authorities to prevent bloodshed, Erdogan maintained that he has lost his optimism for the future of democracy in this country, as the government laid siege to the houses of coalition partners. Erdogan challenged Maliki to assume his historical responsibility and work to maintain the unity of Iraq, adding that those who instigate chaos with sectarian instincts would go down in history as devils. Echoing speculation that Iran might be behind the recent political crisis in Iraq, Erdogan also warned other countries endeavoring to exert influence in Iraq to act in a prudent and responsible manner (Anadolu Ajansi, January 10).
While Erdogan was trying to promote common sense on the part of his Iraqi counterparts, he also provided further ammunition to Maliki and his Shiite block that seem determined to take a stand against Turkey to bolster their position in Iraqi domestic politics. Following Maliki's televised criticism of Ankara, the Turkish envoy in Baghdad was summoned by the Iraqi deputy foreign minister to be reminded of Iraq's expectation that Turkey must avoid actions which could disturb good neighborly relations (Anadolu Ajansi January 16). In response, the Turkish foreign ministry summoned the Iraqi ambassador in Ankara, who was told that Turkey found unacceptable the allegation that it is interfering in Iraq's internal affairs. It was only natural for Turkey to pursue the stability of its neighbors, according to Turkish foreign ministry officials (www.ntvmsnbc.com, January 16).
This development is likely to invite a harsh response from the Turkish side in the days ahead, but it has already pleased Hashemi and his supporters. Reportedly Sunni politicians, who feel threatened by the government crackdown, were approaching Turkish officials to take a more effective role in order to thwart a sectarian conflict. Hashemi also expressed his debt to Turkey, adding that Erdogan had personally worked to support his cause in recent months. Reiterating his concerns about receiving a fair trial in Baghdad, he vowed not to return to the capital before his safety is ensured (www.ntvmnsbc.com, Today's Zaman, January 16).
Clearly, this dispute raises many questions about Turkey's Middle East policy. At one level it reignites the possibility of sectarian conflict in the region. Turkey has purposefully refrained from sectarian considerations in its foreign policy, and has sought to embrace all major groups, a policy which was most clearly observed in Iraq. When a violent civil war destabilized Iraq in the wake of the US-led invasion in 2003, Ankara played a major role in convincing the Sunni groups to withdraw their support from the insurgency and join the political processes in Baghdad. During the government vacuum that ensued after the Iraqi elections of 2010, Turkey again prioritized Iraqi unity and urged the al Iraqiyye list representing Sunni groups to work with the Maliki-led coalition.
As the risk of sectarian conflict may have increased in the wake of the Arab Spring, Turkey once again wants to spearhead preventive measures to avert such a scenario. In Iraq, while seeking to play a similar role and prevent further polarization and eventual partition of the country along sectarian lines, Turkey arguably runs the risk of being drawn into sectarian divisions, as the Sunni groups are obviously in search of an ally to balance Maliki's bloc that interestingly is supported by not only Iran, but also the United States.
Also, this might have repercussions for the Turkish-US relationship. Despite its objections against the invasion of Iraq, Turkey worked closely with the United States, hoping that this would be the best way to prevent the country's descent into chaos and total breakdown. In the process leading to the withdrawal of US forces, Ankara again coordinated its policy with Washington. However Washington's support for Maliki, whose reckless show of force and exclusion of Sunni groups from government positions, might also expose new divisions between Ankara and Washington.