Turkey's Pivot West Disrupts Relations With Russia
Publication: Eurasia Daily Monitor Volume: 20 Issue: 124
By: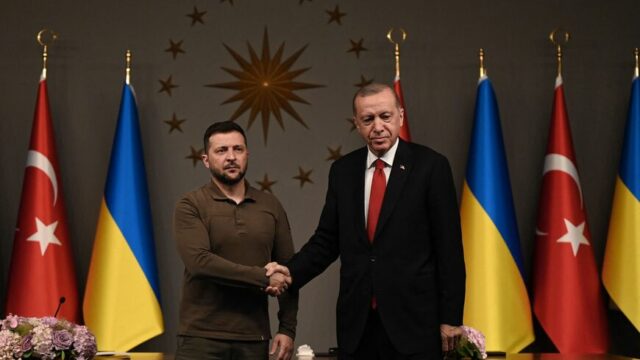 On July 9, Turkey freed the commanders of the well-known Ukrainian Azov regiment after months of hosting them as a part of a deal with Russia (Ukrinform, July 31). The fighters surrendered to Russian forces after weeks of brutal siege and resistance at the Azovstal Iron and Steel Works in Mariupol, even after the rest of the city had fallen following Russia's devastating and relentless assaults (Kyivpost, May 17). Ankara's surprise move came during Ukrainian President Volodymyr Zelenskyy's first official visit to Turkey since the Russian invasion in February 2022 to meet his counterpart, President Recep Tayyip Erdogan, and discuss the possibilities of deepening their strategic partnership. Amid rhetoric on expanding the two countries' cooperation in defense and security, Erdogan also declared, "Ukraine deserves to be a NATO [North Atlantic Treaty Organization] member" (Al-Monitor, July 7).
Indeed, Turkey's decision to return the Azov fighters to Ukraine without informing the Russian authorities along with its vocal support of Kyiv's prospective NATO membership has raised eyebrows in Moscow, as Kremlin spokesman Dmitry Peskov claimed that Turkey "violated prisoner exchange agreements by returning the Azov commanders" (Kyiv Independent, July 8). Unsurprisingly, Turkey's recent moves resulted in Russian lawmakers and hardline nationalists bitterly denouncing Erdogan while raising concerns about whether the Turkish leader is making a lasting, fundamental pivot away from Russia.
Although not radically different from past approaches, new paradigms in Turkish foreign policy have become more visible since the re-election of Erdogan in May 2023 (see EDM, July 6). Following the elections, the Turkish president appointed a new ministerial cabinet, with the lion share of the appointments signaling Ankara's willingness to restore its ties with Western partners, particularly within the NATO bloc. Relations between Turkey and its Western allies have been experiencing a tense period due to the implications of Ankara's and Moscow's partnership in defense and economic matters (Setav.org, July 10). In fact, deepened Russian-Turkish cooperation came about mainly due to the close personal relations between Erdogan and Russian President Vladimir Putin, though the alliance seemingly was not formed for long-term geopolitical goals (Al-Monitor, July 13).
As such, Turkey's ongoing diplomatic normalization of relations with neighboring states, including Syria and Armenia (see EDM, November 2, 2022), as well as its assertive policy in the Caucasus and Central Asian regions should not come as a surprise in light of Russia's waning influence. The shifting geopolitical landscape inevitably affected Turkey's stance on first Finnish, then Swedish membership in NATO. Notably, Erdogan's consent to green-light Sweden's accession during the recent NATO summit in Vilnius serves as a key indicator of the potential trajectory of Turkish foreign policy (Turkish Minute, July 14). In exchange for this shift, Ankara has sought to renew negotiations on European Union membership and a final deal to receive the long-awaited F-16 fighter jets after a period of tumultuous relations with the United States. With Ankara's support of Ukraine and Sweden's membership in NATO, US President Joe Biden agreed to urge Congress to provide the final permission for sending shipments of the fighter jets to Turkey (Al-Arabiya, July 11).
In a step that further concerns Moscow, the Vilnius Summit Communiqué signed by all NATO countries may compel Turkey to make some radical decisions regarding its relationship with Russia in the Black Sea region. For example, paragraph 79 of the communiqué highlights the importance of stability in the Black Sea basin, which is at risk due to Russia's war of aggression against Ukraine (Nato.int, July 11). This statement seemingly signals NATO's upcoming plans to boost security in the Black Sea in close partnership with Turkey (see EDM, July 26, 27, 31). In fact, for many decades, Turkey has resisted a substantial NATO presence in the Black Sea so as not to antagonize Russia and maintain the status quo. Hence, the significant changes to Ankara's policy in favor of NATO could significantly disrupt Turkish-Russian relations (Turkish Minute, July 14).
Considering the potential consequences of its re-engagement with NATO, Ankara will likely attempt to convince Russia that it will not join Western sanctions and that the release of the Azov commanders "should not overshadow the bilateral partnership." In relaying this position and delivering a strong message, Turkish Foreign Minister Hakan Fidan held a phone conversation with his counterpart, Russian Foreign Minister Sergei Lavrov, to discuss "new aspects of potential cooperation" (RBC, July 10).
Even so, Ankara's efforts to assure Russia of its goodwill approach contradict its deepening partnership with Ukraine. Notably, Zelenskyy's visit to Turkey coincided with another major event—the start of construction on the Baykar plant in Ukraine to produce Turkish-made combat drones. Although the agreement was signed several years ago, construction has been postponed several times for political reasons. Now, the drones produced at the plant will be equipped with Ukrainian-made engines, and the facility will include a training center for Ukrainian pilots (Al-Arabiya, July 10).
As a result, this shift in the defense partnership between Ankara and Kyiv has left Moscow with little room for maneuver, with Lavrov's recent complaints to Fidan regarding the "destructive implications of Turkey's continuous arms supply to Ukraine" highlighting the growing tensions between the two sides (RBC, July 10).
Notwithstanding Russia's harsh criticism, Turkey appears to be quite at ease with the new geopolitical conditions, wherein Moscow's influence is limited and relations with NATO are gradually normalizing. Moreover, the Kremlin will likely continue its partnership with Ankara despite the Turkish government's strong commitment to Ukraine, considering that Turkey maintains the position as Russia's top economic and energy partner. Therefore, moving forward, relations between Ankara and Moscow will largely be characterized by pragmatic diplomacy amid uncertainty while avoiding public debates regarding the war in Ukraine.